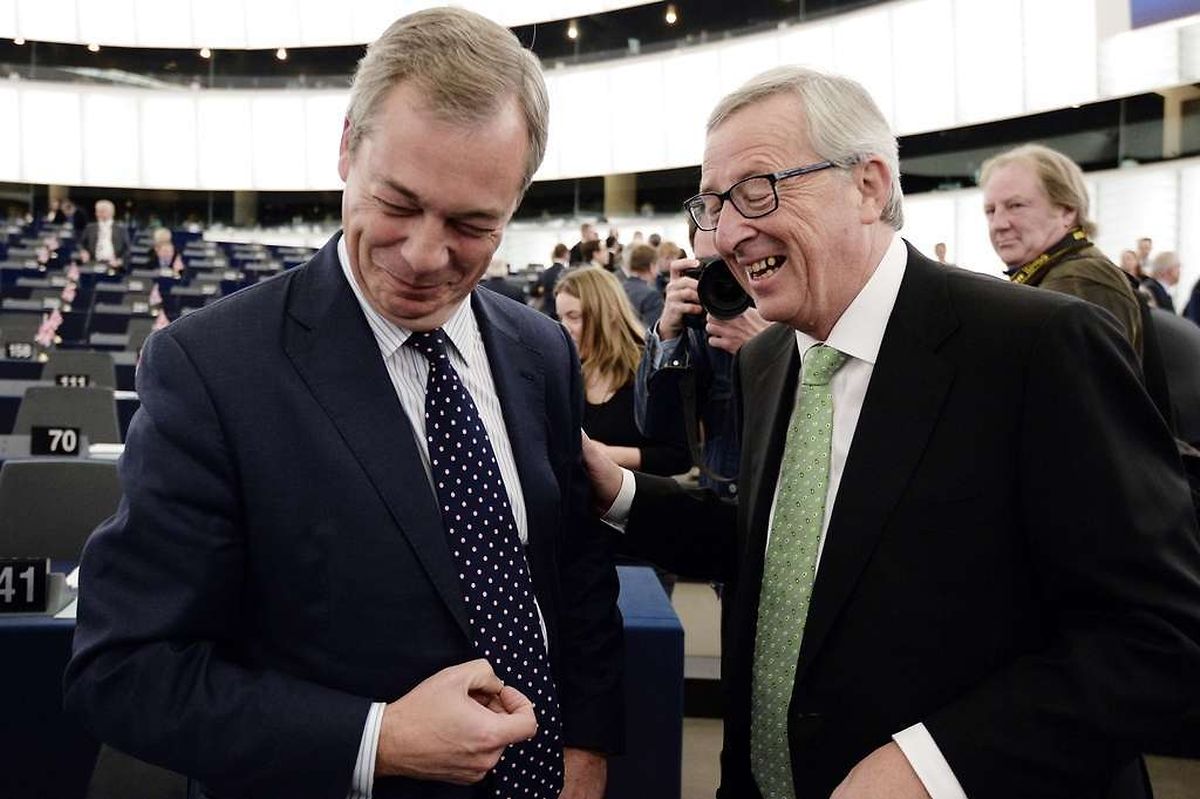 European Commission President Jean-Claude Juncker (R) laughs with Britain's eurosceptic UK Independence Party (UKIP) leader Nigel Farage on October 22, 2014 at the European Parliament before presenting his team of 27 commissioners-designate for approval before discussing the future commission's work program priorities in the northeastern French city of Strasbourg. AFP PHOTO/FREDERICK FLORIN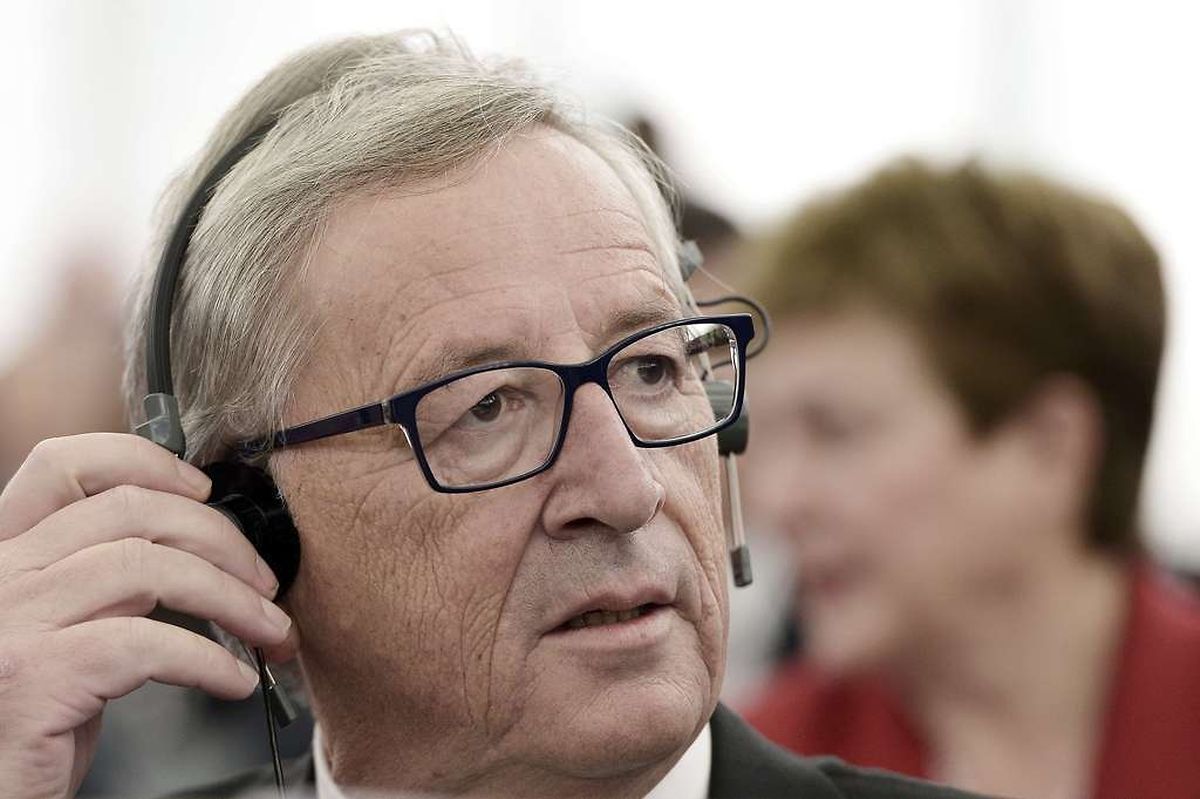 European Commission President Jean-Claude Juncker is pictured prior to present his team of 27 Commissioners-designate and to discuss the future Commission's work programme priorities, on October 22, 2014, in the European Parliament in Strasbourg, eastern France. AFP PHOTO/FREDERICK FLORIN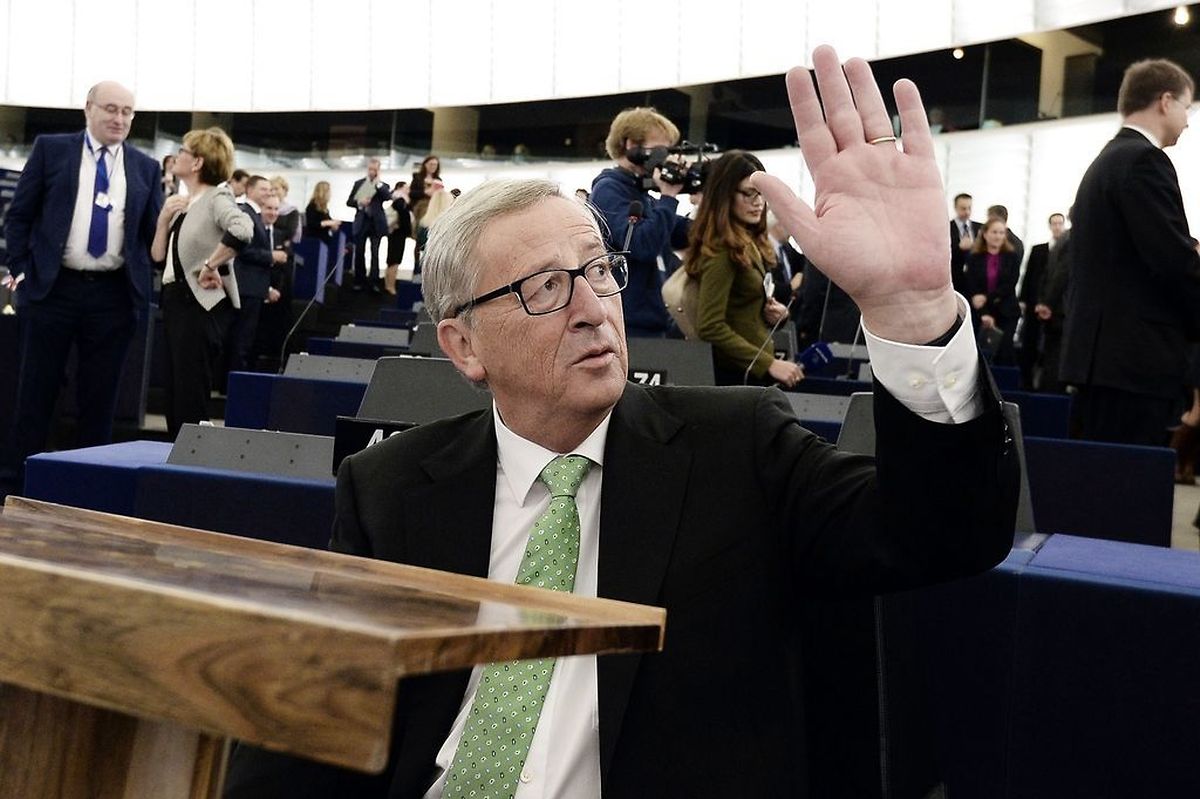 European Commission President Jean-Claude Juncker is pictured prior to present his team of 27 Commissioners-designate and to discuss the future Commission's work programme priorities, on October 22, 2014, in the European Parliament in Strasbourg, eastern France. AFP PHOTO/FREDERICK FLORIN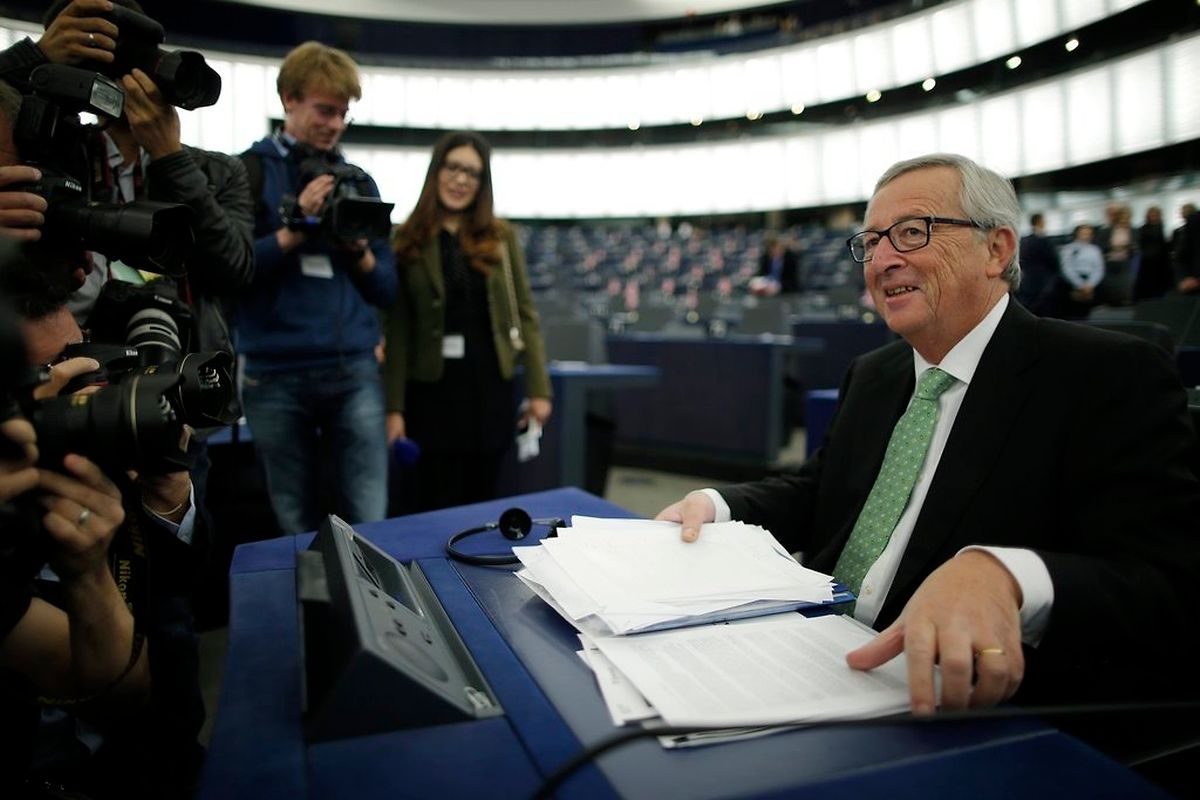 Jean-Claude Juncker, the incoming president of the European Commission, takes his seat as he arrives to attend the presentation of the college of Commissioners and their program during a plenary session at the European Parliament in Strasbourg, October 22, 2014. REUTERS/Christian Hartmann (FRANCE - Tags: POLITICS MEDIA)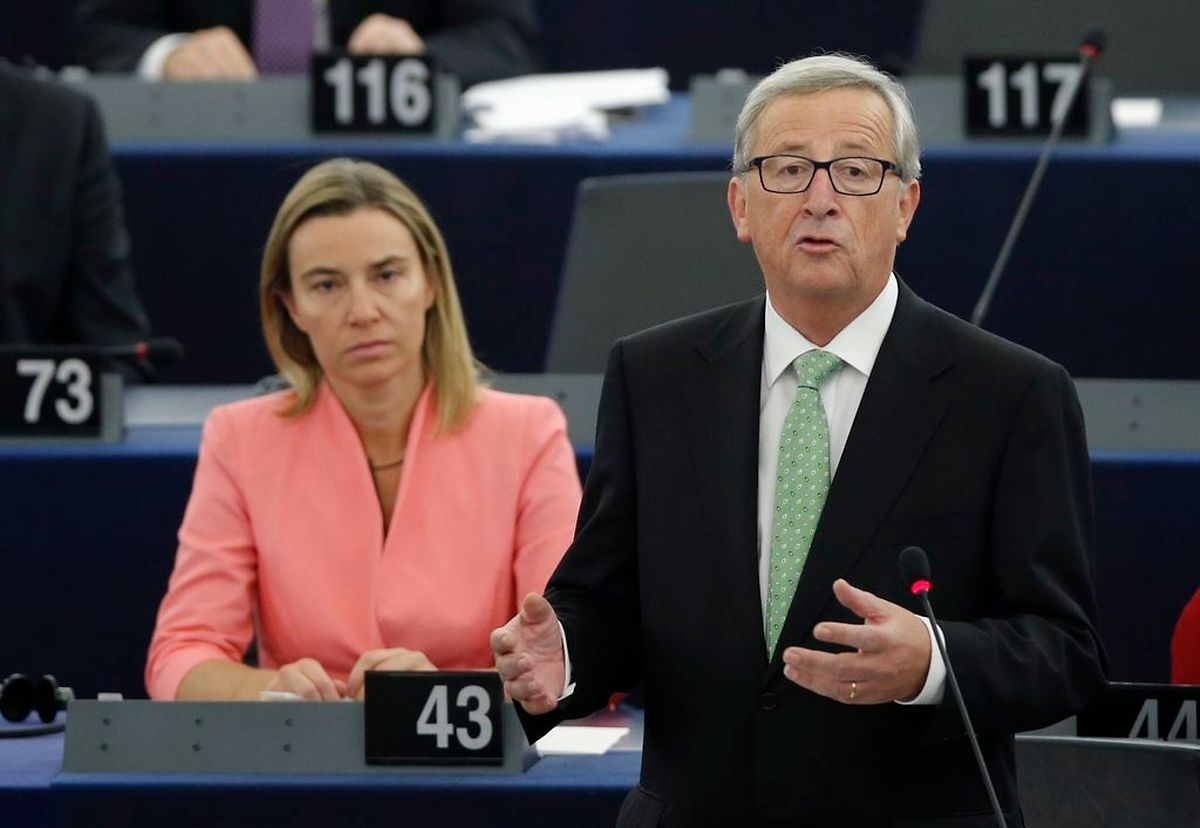 Jean-Claude Juncker, the incoming president of the European Commission, delivers his speech as he attends the presentation of the college of Commissioners and their program during a plenary session at the European Parliament in Strasbourg, October 22, 2014. REUTERS/Christian Hartmann (FRANCE - Tags: POLITICS)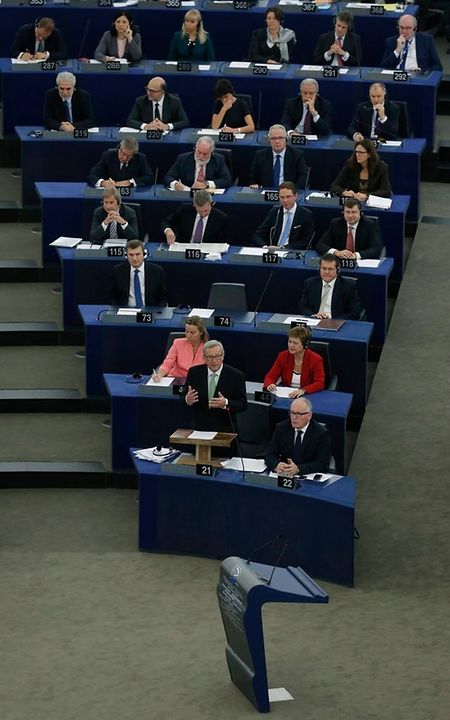 Jean-Claude Juncker, the incoming president of the European Commission, delivers his speech as he attends the presentation of the college of Commissioners and their program during a plenary session at the European Parliament in Strasbourg, October 22, 2014. REUTERS/Christian Hartmann (FRANCE - Tags: POLITICS)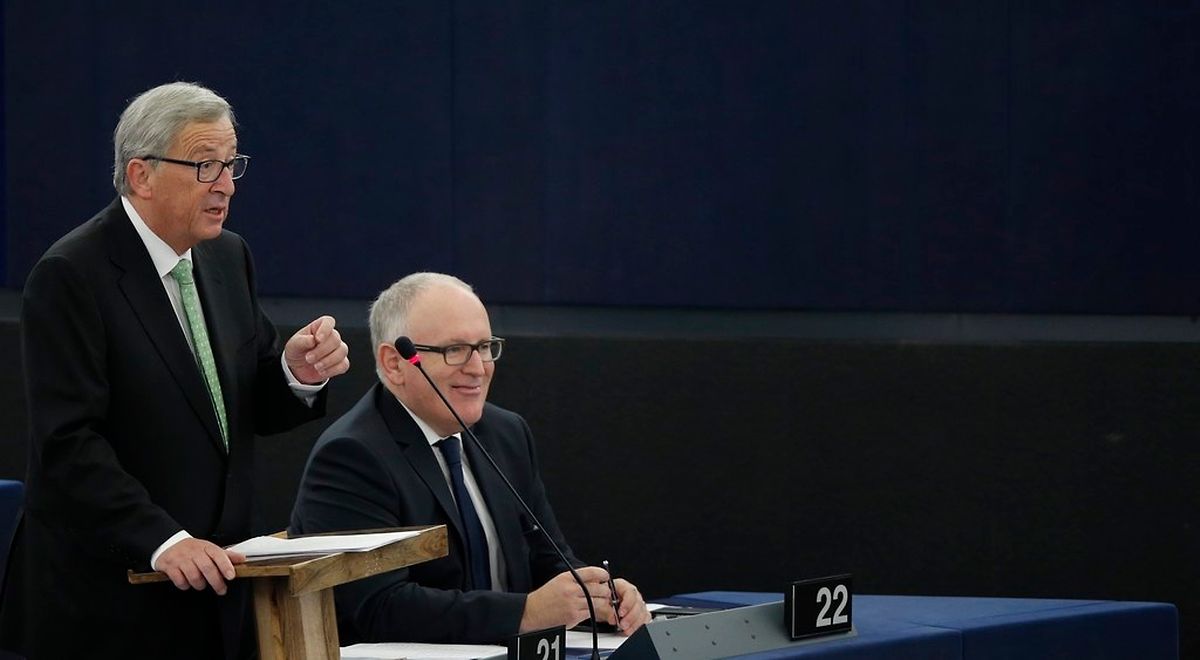 Jean-Claude Juncker, the incoming president of the European Commission, delivers his speech as he attends the presentation of the college of Commissioners and their program during a plenary session at the European Parliament in Strasbourg, October 22, 2014. REUTERS/Christian Hartmann (FRANCE - Tags: POLITICS)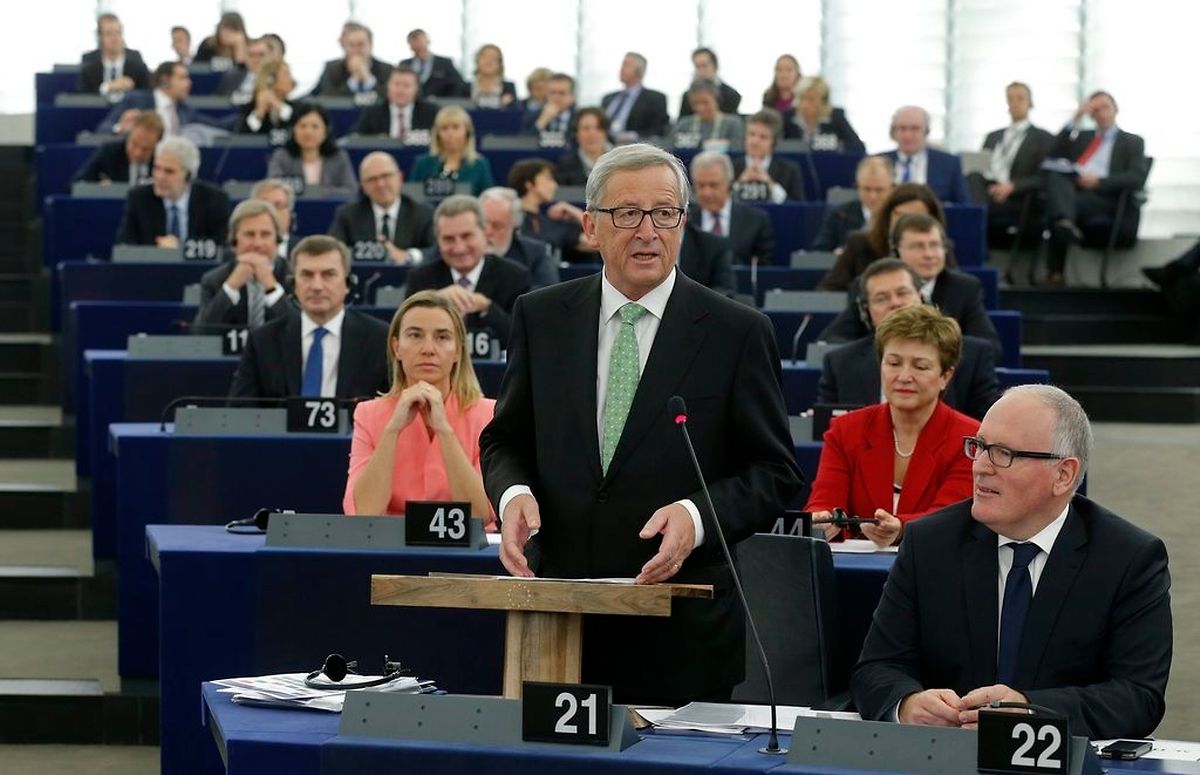 Jean-Claude Juncker, the incoming president of the European Commission, delivers his speech as he attends the presentation of the college of Commissioners and their program during a plenary session at the European Parliament in Strasbourg, October 22, 2014. REUTERS/Christian Hartmann (FRANCE - Tags: POLITICS)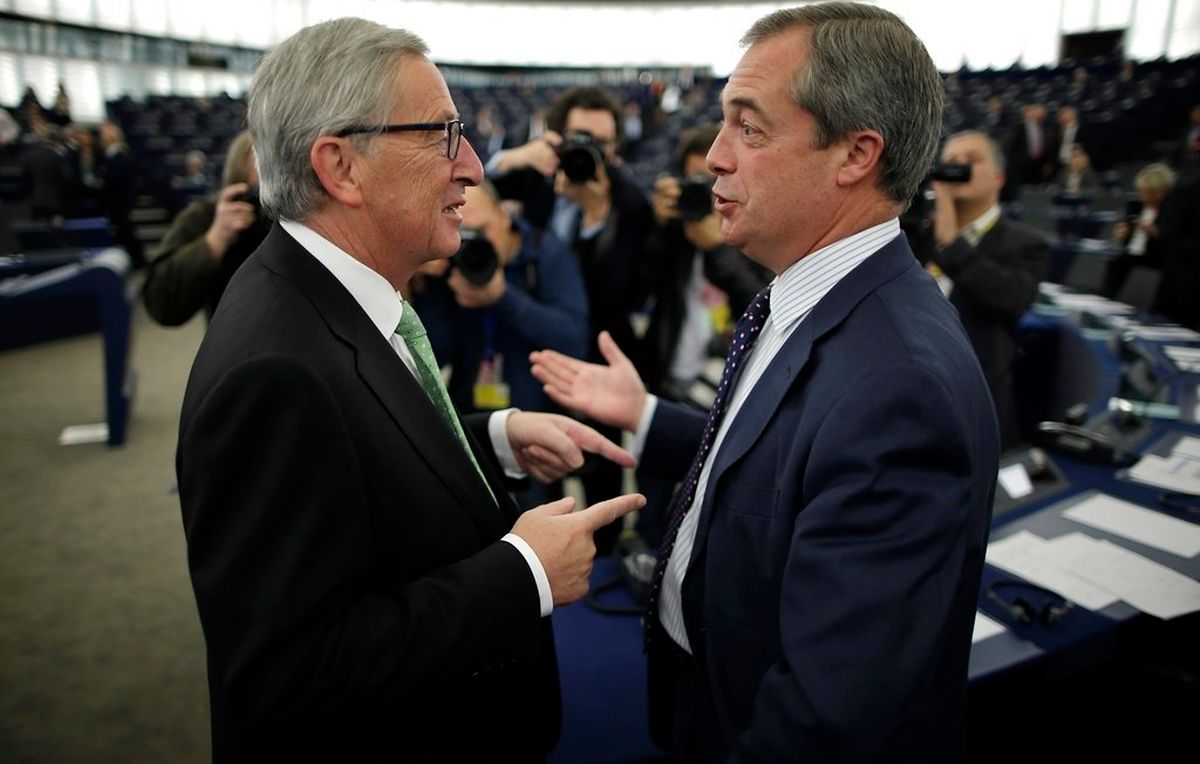 Jean-Claude Juncker, the incoming president of the European Commission, talks with UK Independence Party (UKIP) leader Nigel Farage as he arrives to attend the presentation of the college of Commissioners and their program during a plenary session at the European Parliament in Strasbourg, October 22, 2014. REUTERS/Christian Hartmann (FRANCE - Tags: POLITICS)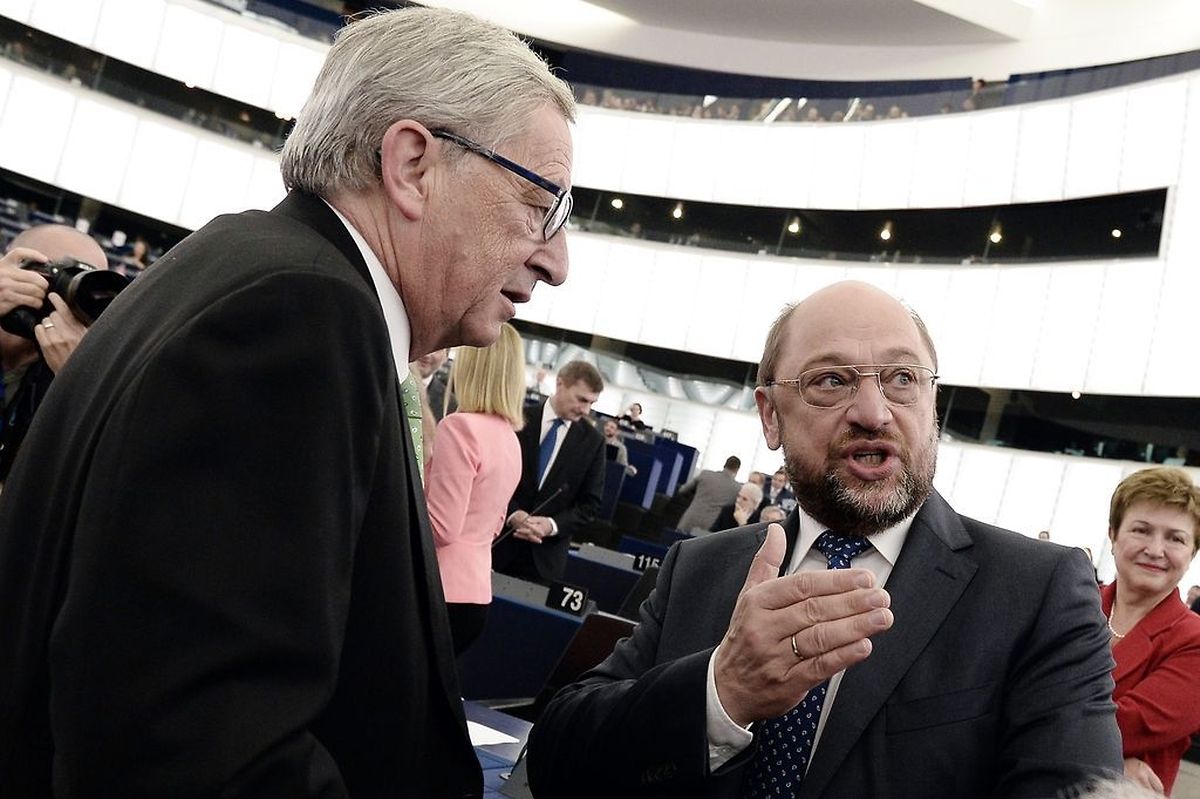 European Commission President Jean-Claude Juncker (L) speaks with European Parliament President Martin Schulz on October 22, 2014 at the European Parliament before presenting his team of 27 commissioners-designate for approval before discussing the future commission's work program priorities in the northeastern French city of Strasbourg. AFP PHOTO/FREDERICK FLORIN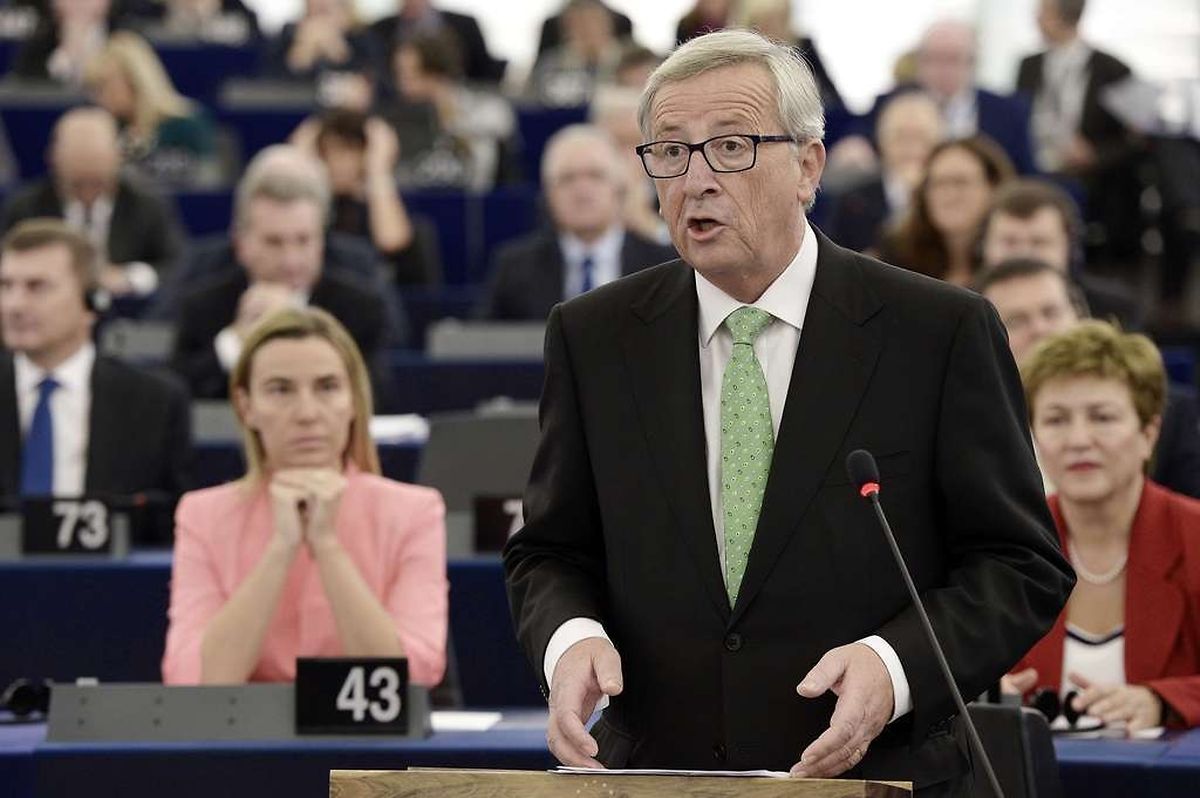 European Commission President Jean-Claude Juncker addresses on October 22, 2014 the European Parliament, presenting his team of 27 commissioners-designate for approval before discussing the future commission's work program priorities in the northeastern French city of Strasbourg. AFP PHOTO/FREDERICK FLORIN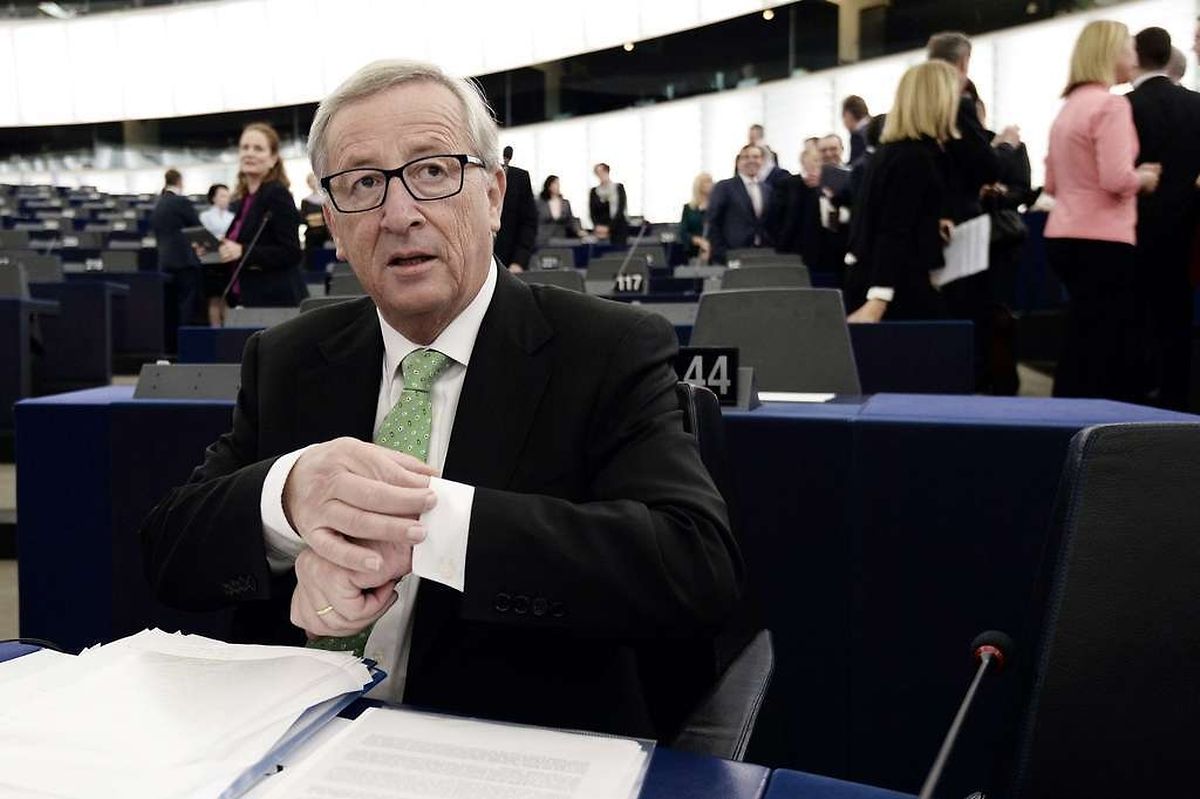 European Commission President Jean-Claude Juncker waits on October 22, 2014 before presenting his team of 27 commissioners-designate for approval before the European Parliament and to discuss the future commission's work program priorities in the northeastern French city of Strasbourg. AFP PHOTO/FREDERICK FLORIN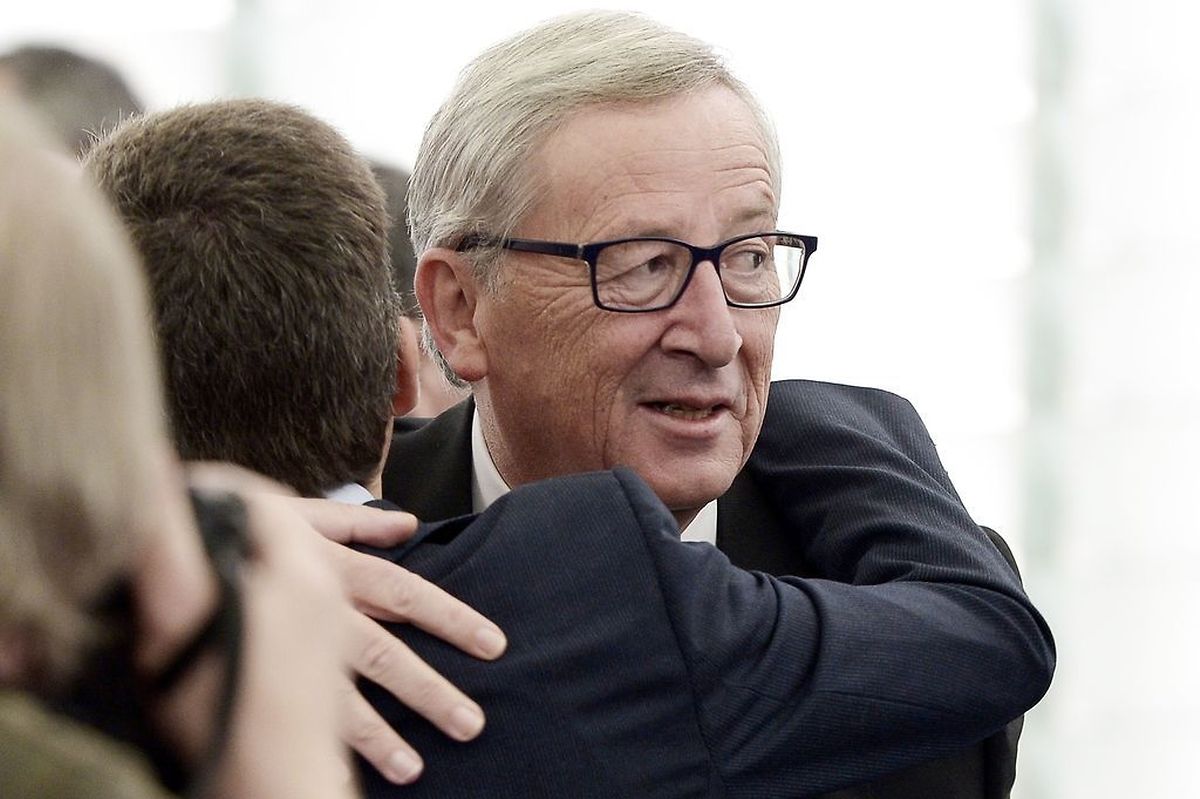 European Commission President Jean-Claude Juncker arrives on October 22, 2014 before presenting his team of 27 commissioners-designate for approval before the European Parliament and to discuss the future commission's work program priorities in the northeastern French city of Strasbourg. AFP PHOTO/FREDERICK FLORIN
(AFP) The EU's incoming chief Luxembourg's ex-prime minister Jean-Claude Juncker vowed on Wednesday to unveil a huge growth investment package before Christmas but also promised to enforce budget rules as lawmakers prepared to vote on his new team.
"Let's get Europe moving again," Juncker told lawmakers as the world watched for signs of how the European Commission, which will oversee the bloc for the next five years, would stop the continent sliding back into recession.
In his keynote address to the European Parliament before it voted on whether to approve the 28-member commission, future Commission President Juncker called on legislators to back his 300-billion-euro investment package to boost the economy and create employment.
"If you give us your support today, we will present the jobs, growth and investment package before Christmas," Juncker said.
"To those who think excessive austerity will automatically revive growth and create more jobs, they should drop those ideas."
World markets plunged last week on concerns that the fragile eurozone economy was set for a triple-dip recession.
The European Union is driven by a fierce debate between Germany and its allies which want more austerity to tackle national deficits, and those such as France which want to spend their way back into economic health.
Juncker, the former prime minister of Luxembourg, promised to be "tough when we need to be tough", with one of his commission's first tasks likely to be dealing with France over its budget deficit.
Last week, France presented a spending plan with a deficit -- the shortfall between revenue and spending -- of 4.3 percent of output, far above the 3.0-percent ceiling set by the European Union for member states.
Juncker said that he would take a careful look at a controversial yet central element of a proposed giant EU-US free-trade deal which would enable corporations to sue governments.
Juncker also said the EU had to do more to tackle issues such as the Ebola virus outbreak ravaging west Africa, the threat of the Islamic State militant group in Iraq and Syria, and the wave of migration from the Mediterranean.
"We only reacted when the Ebola problem arrived on EU shores. We should have acted much sooner," he said.
Referring to the self-styled Islamic State group, he said it was an "enemy of EU values."
Juncker however made no mention of the crisis in Ukraine, which has raised tensions with Russia.
Do not miss the news - sign up to receive the wort.lu newsletter in English delivered to your inbox six days a week.