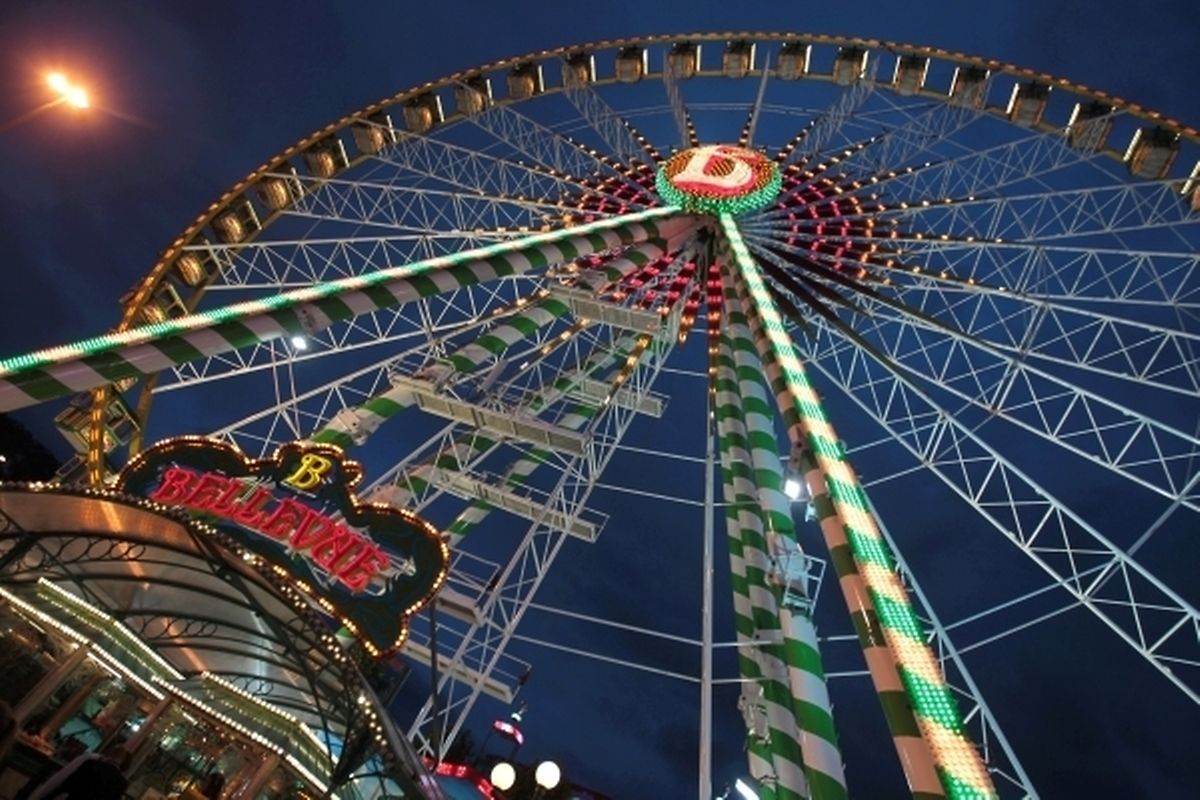 This year's Schueberfouer brings seven new rides, including a 80m high swing carousel, a new child security system and increased public transport links.
The 677th edition of the annual fair on the Glacis starts on Wednesday and ends with a fireworks display on September 11.
While the total surface area allocated for the event is slightly smaller than last year -- down from 4.61 hectares in 2016 to 4.54 hecatres this year -- it is set to welcome 50 attractions, 63 game stalls, 15 restaurants, 35 brasseries, snack trucks and drinking stalls as well as 17 stands selling sweets.
New rides include the Jules Verne Tower, which stands 80m tall, a water log, laser pistols, giant tobbogans and dodgems. Many of the rides which were popular last year, such as the Tornado Power, Eurocaster and Power Tower 2, will be returning.
All the restaurants and stands selling food and drinks will be situated on the Allée Scheffer side and the food area will be able to host 6,500 people at once.
Police will be handing out security badges to children from the police stand near the main entrance which will enable them to trace the location of the badge if the child is reported missing.
Works on the tram line in the area have finished and will not disturb the fair.
Transport and parking
Motorists will have to pay to park in Limpertsberg until 1am from Monday to Friday and from 2pm until 1am on Saturdays and Sundays.
A number of shuttle buses will be put in place and will run every 10 minutes between the Glacis and the P+R in Bouillon and Howald.
Bus number 37 from P+R Bouillon, stopping at P+R Stade, will drop people off at the car park opposite the chapel at Glacis (boulevard Joseph II/boulevard de la Foire) while the bus stop to return to the Bouillon car park is located in front of the former Institut National des Langues building on boulevard de la Foire.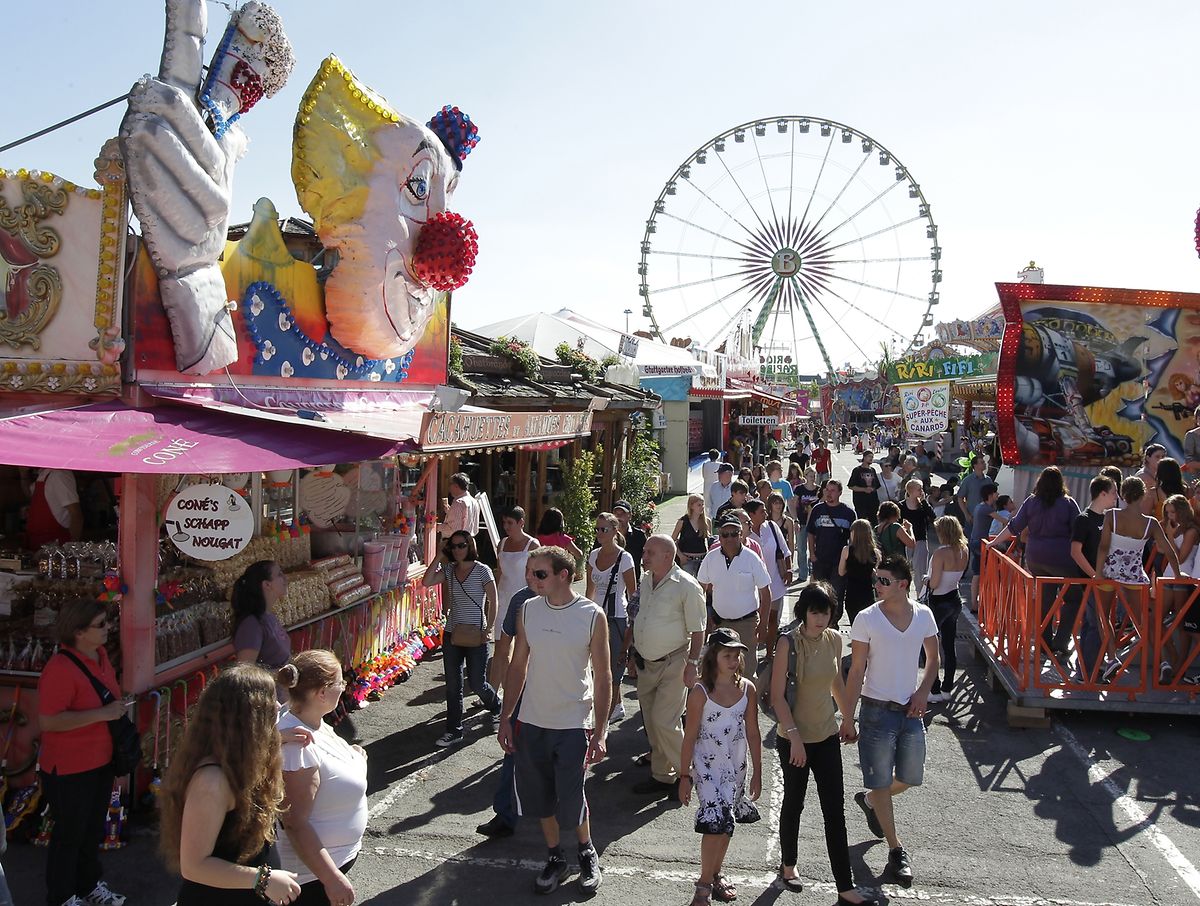 Upon request, the number 37 bus service will stop at certain bus stops in Belair -- Athénée (boulevard Pierre Dupong), Place de Liège (boulevard de Verdun) and Belair Kierch (rue d'Amsterdam).
Due to the reduced number of parking spaces at the P+R Kirchberg car park, the number 38 bus, which runs from P+R Howald, will not stop at Parking Foire but will leave from the Marcel Fischbach stop on rue Alphonse Weicker, near the Auchan supermarket.
Car parks accessible by foot or shuttle bus
P+R Bouillon (2,440 free spaces until the 24th hour of parking) Number 37 to Schueberfouer
P+R Howald, Luxembourg-Sud (877 free spaces until the 24th hour of parking) Number 38 to Schueberfouer
P+R Kockelscheuer (567 free spaces until the 24th hour of parking)
Place de l'Europe
Trois Glands
Auchan
Konrad Adenauer
Coque 1 and 2
Parking du Stade. Number 37 to Schueberfouer
Free buses and night servicesSome Ville de Luxembourg buses will be free to use between the Gare or city centre and the Schueberfouer (Fondation Pescatore or Glacis bus stops) from 6pm during the week and from 1pm on Sundays. The free services are on lines 1, 2, 3, 4, 7, 8, 16, 18, 19, 20 and 30. On Saturdays, buses are free all day on all AVL lines.
Additional bus routes will be available at night, except on Sunday-Monday nights. These services run from Fondation Pescatore to Bertrange, Walferdange, Kockelscheuer, Strassen, Weimerskirch, Cents-Hamm, Rollingergrund, Gasperich-Cessange and Bonnevoie.
The City Night Bus will run on Friday-Saturday night and Saturday-Sunday night until 4am . The CN1 line links to the Upper Town, Hollerich, Gare, Clausen, Neudorf and Cents. CN2 goes to Limpertsberg, Belair and Merl, CN3 to Bonnevoie, Gasperich and Cessange and CN4 goes to Weimerskirch and Kirchberg.
The Call-a-Bus service will be available from Monday to Saturday until midnight and reservations must be made at least 45 minutes in advance by calling 47 96 47 97.
For people with reduced mobility, the Fouer-Call-a-Bus will run every day from 3.15pm until 10.30pm from P+R Bouillon to the Schueberfouer. This service is available to anyone using a wheelchair. No prior reservation is required and those wishing to use the service should report to the control staff.
Free-of-charge wheelchairs will be available during the Schueberfouer opening hours and can be collected from the fire and ambulance services stand near the main entrance between midday and 2pm and can be reserved by calling 47 96 42 15.
Further information
The Ville de Luxembourg will monitor noise levels, in particular between 11am and 7pm when small children are likely to be visiting and again from 10pm onwards to ensure minimum disturbance to nearby residents.
For more information about the rides, stalls and events during the Schueberfouer period, visit fouer.lu or download the 'Schueberfouer' app.
(Heledd Pritchard, heledd.pritchard@wort.lu, +352 49 93 459)