'Family Of The Year' will soon be here!
'Family Of The Year' will soon be here!
Family of the Year are an American indie rock band based in Los Angeles who recently released their third (and self-titled) studio album. Founding member Sebastian Keefe took some time to talk to Sam Steen ahead on Luxembourg concert.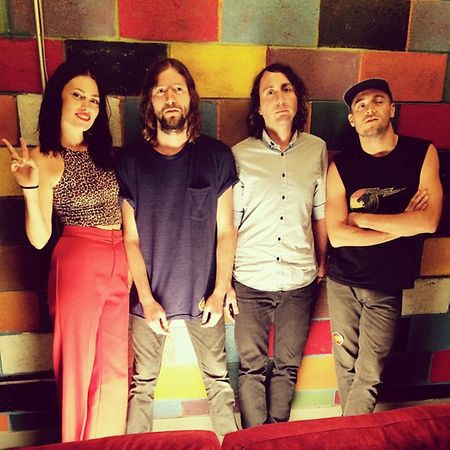 By Sam Steen
Family of the Year are an American indie rock band based in Los Angeles who recently released their third (and self-titled) studio album.
The four piece are perhaps best known for their hit single Hero. Released in 2012 it has become synonymous with the award winning film Boyhood in which it featured.
The new album has so far been very successful in its own right though and drummer and founding member Sebastian Keefe took some time to talk to Sam Steen about it ahead of their performance at den Atelier next week.
It has been three years since Family Of The Year released Loma Vista, their second and so far most commercially successful record. The latest eponymous album marks a new chapter in the bands story and Sebastian says that is part of the reason why they named it after the band.
"We were just feeling that this record is like a line in the sand, a marking point for us. We had spent so much time with Loma Vista touring and trying to establish who we are and what we do while also trying to figure out who we are and what we do", he explained, "it just took us so long to kind of get our feet on the ground that by the time this record was made we had kind of become a different band than we had been before the last record so we felt we didn't need to name it anything other than ourselves."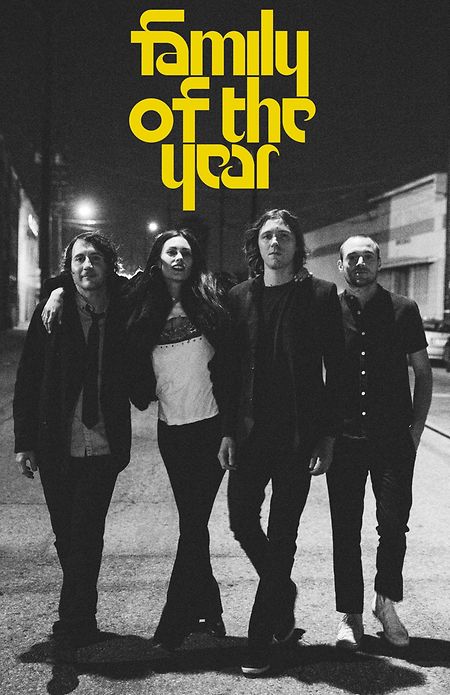 After spending so much time with the material on Loma Vista it was clearly liberating for the band to explore new ideas and as a result they are very close to the songs on Family Of The Year. "We feel like we have a closer identity to this music because the other stuff was made so long ago and we just changed so much in the course of promoting that record and becoming who we are that this one feels a little closer to the heart, said Sebastian, "This one is emotionally more intimate and at this point much more meaningful to us in what we are singing about."
The new material offered them the chance to address certain issues they had neglected while touring Loma Vista and Sebastian says that this a theme that runs through all of the songs featured on the album.
"There's a lot more personal reflection going on and the same time there's a lot of speaking to your friends through the music", he revealed, "Us speaking to each other, us speaking to loved ones after having your head in the bubble of touring for two or three years and not avoiding the things you should have been paying attention to but be default you don't get to keep up with people or maintain the contact you otherwise would like to have so it's kind of like coming up for air and kind of taking stock of where you are and where your loved ones are and speaking to them."
It's difficult to speak to the band without bringing up Hero, the bands biggest hit to date. The song featured prominently in the film Boyhood and was a top ten hit all over the world. Indeed at one point in the interview Sebastian says that without the song they wouldn't be touring in Europe this autumn.
Having the song included in the Oscar winning film was clearly a major thing for the four piece from LA. Sebastian said that the first time they really noticed how big it was, was when they randomly happened to be watching the Golden Globes and when the film won an award the song began to play in the background.
"That was very cool, it felt sort of real. We've had our music in lots of different things, TV and commercials and movies and stuff but it's usually some kind of insignificant show, you know it's never normally as meaningful as being in a project like Boyhood or like a major international awards show. Certain marks we hold with more weight than others and Boyhood was certainly the highlight as far as movies and television usage. We've had stuff in certain scenes here and there in the background but to be an important part of a film was a first and that was really a big honour", he added.
After 3 years on the road with Loma Vista will they spend as long touring Family Of The Year?
"Absolutley not!" Sebastian begins emphatically, "It was basically twice as long because we did the whole cycle in America and a bit of Europe and then at the very end of that, all of a sudden Europe started for real. So we kind of did another record cycle so it was basically twice as long. Ideally we'd like to be putting an album out every year or eighteen months but it's just not the nature of the business right now things take so long. We definitely have a lot of music that we'd like to share but sometimes it gets bottlenecked, we'd like to put more stuff out" he said before adding, "It's funny, we're already excited to get a new record made."
Family of the Year's latest album is full of perfect and infectious indie pop songs that will have you singing along soon after hearing them. Added to their hit filled back catalogue and touring experience that guarantees a solid performance this is sure to be a great live show. Don't miss them when the come to play at den Atelier on Tuesday the October 6.
Listen to the interview with Sam Steen below:
Family Of The Year album is out now, visit the band's website: www.familyoftheyear.net
Get tickets at www.atelier.lu
Sam's Scene!
Read Sam's other articles in his very own dossier on wort.lu : Sam's Scene!_________________________________________________________
Sam Steen on ARA City Radio
You can catch Sam in his "Freshly Squeezed Breakfast Show" on ARA City Radio every weekday morning from 6-9:30am. For more info visit the website: www.aracityradio.com_________________________________________________________
Don't miss the news – sign up to receive the wort.lu newsletter in English delivered to your inbox six days a week.