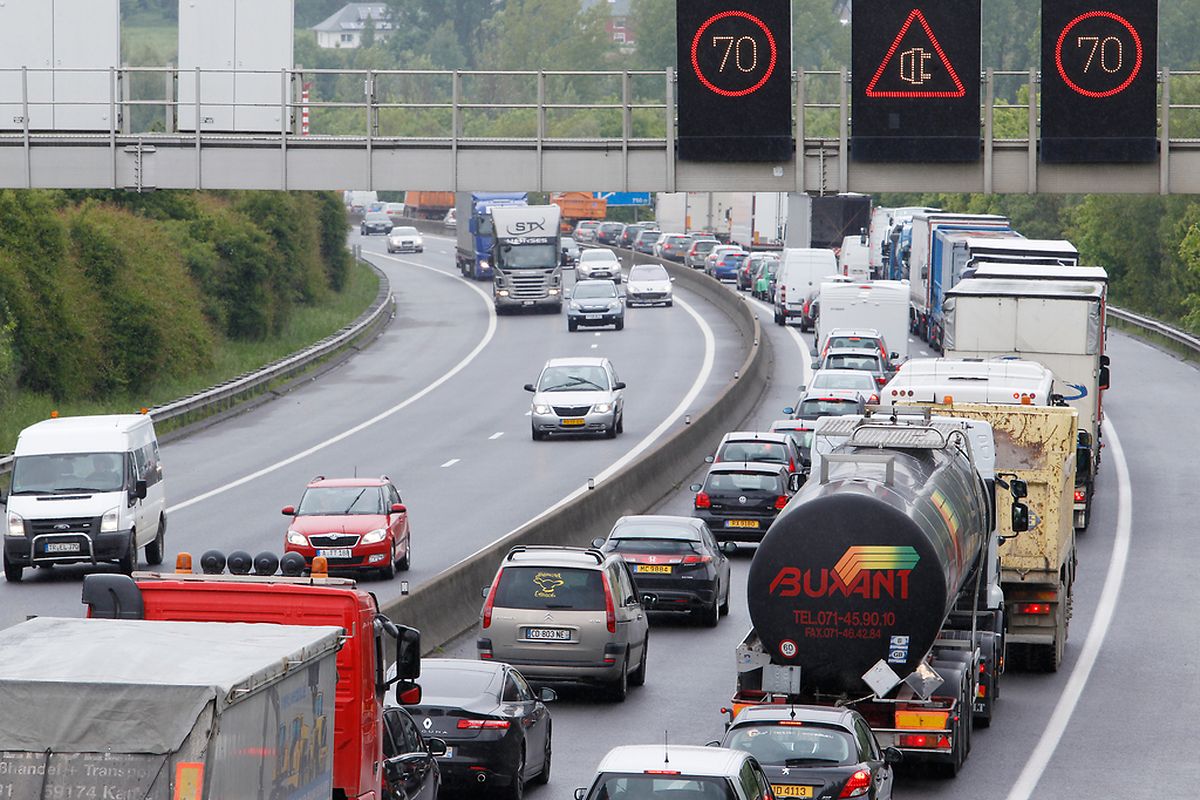 Cross-border workers make up around 45% of Luxembourg's workforce (Serge Waldbillig)
A study looking into cross-border workers' financial situation shows that almost three-quarters are homeowners, and more than 20% of their financial assets and liabilities are held in Luxembourg.
The study, carried out by the Luxembourg Central Bank (BCL) and the Luxembourg Institute of Socio-Economic Research (LISER), looked at more than 2,400 households in France, Germany and Belgium with at least one member working in the Grand Duchy.
Last year, cross-border workers filled nearly 45% of jobs in Luxembourg.
The survey looks at trends in cross-border workers' investment choices, profiles, average commuting times and salaries compared with employees who live in Luxembourg.
Jobs, commuting
Results show that commuters into Luxembourg tend to be natives of the country where they live. They also tend to be married or in an official partnership and have a high level of education.
Most commuters are on permanent contracts and have been working in the Grand Duchy for around 10 years.
In comparison with Luxembourg residents, commuters are more likely to be working in retail and wholesale, or in the financial sector.
Their most popular means of transport is by car, and their average journey to work is 46 minutes – twice as long as the average of 23 minutes for those living within Luxembourg.
Wealth, home ownership
The wealth breakdown for cross-border residents and Luxembourg residents are similar, with real assets accounting for more than 80% of average wealth, and mortgage debt making up around 80% of average total debt.
For both groups, investments in equities and mutual funds represent less than 20% of households' financial assets.
A total of 71% of the surveyed cross-border workers own their home, with the highest percentage of homeowners living in Belgium, at 79%, and the lowest in Germany, at 60%.
The study states that, while real assets are mostly held in the country of residence, "more than 20% of the total financial assets and liabilities of these cross-border households are held in Luxembourg".
Salaries
The median gross income of cross-border workers is significantly higher than for residents of bordering countries who also work in their country of residence.
When considering all households, including those where only one member works in Luxembourg, the median gross income of Luxembourg residents is 30% higher.
The study explains that around 20% of cross-border household income comes from the salary of one of the two adults who work in the country of residence.
Investment risks
The survey shows cross-border households are more averse to risk, with mainly a savings account and life insurance or pension saving plans.
The most educated households tend to take higher risk and are more likely to earn higher salaries.
They are also more likely to invest in stocks and mutual funds.
Cross-border workers use services in Luxembourg and in their country of residence and spend almost 20% of their household wages in Luxembourg.
Finances
Commuters' net patrimony stands at around half of that of employees living in Luxembourg, according to the study.
Commuters' average net patrimony increased by around 9% between 2010 and 2017, from €239,900 to €261,900.
In median terms, it increased by around 20%, from €167,000 to €239,900.
The difference in figures between workers living in the Grand Duchy and those living in bordering countries is mainly due to the higher value of real estate.