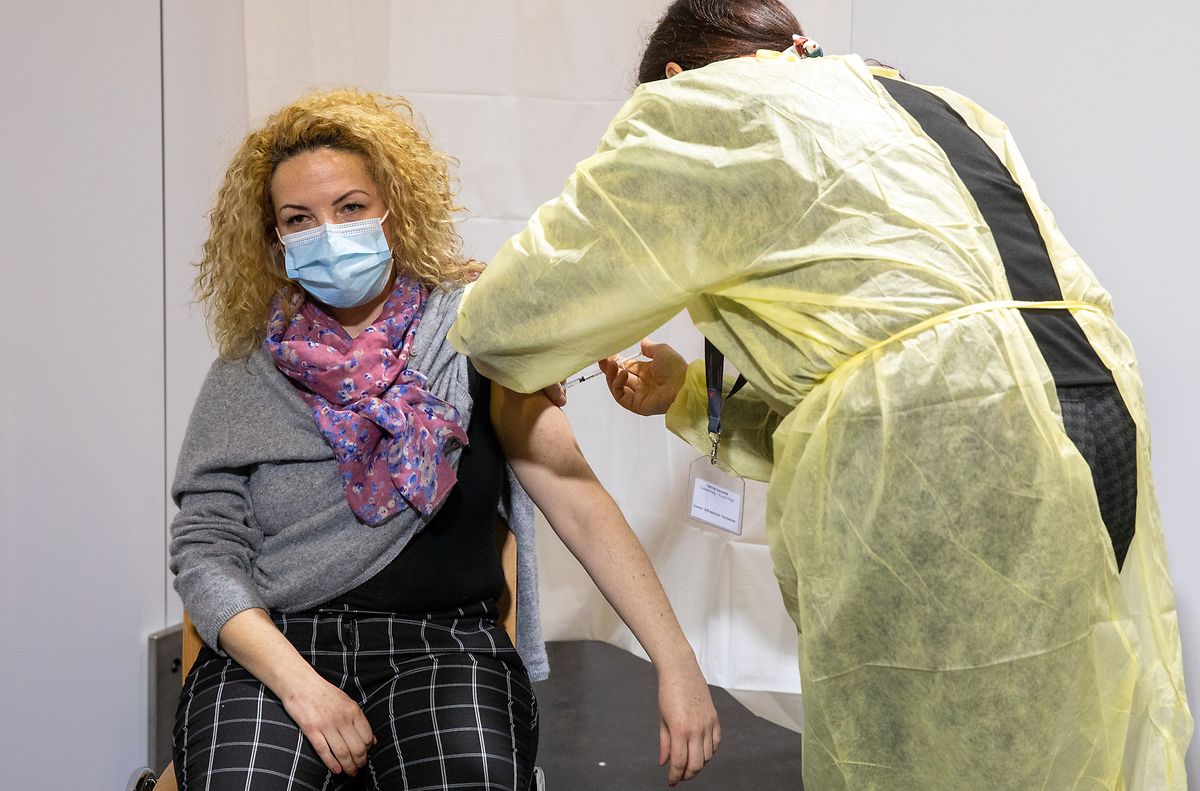 Chief Nurse Catarina Fernandes (L) of the Centre Hospitalier Luxembourg was the first person to receive the Pfizer/BioNTech vaccine in Luxembourg Photo: Chris Karaba
Two nurses were the first to receive the vaccine against Covid-19 in Luxembourg on Monday, providing a glimmer of hope in the fight against the coronavirus that has forced the country to impose far-reaching restrictions on social contacts and business activity.
The first 9,400 Covid-19 vaccines arrived in Luxembourg on Saturday and will be injected to 1,300 residents over a period of three days. A booster injection is required after 21 days.
Vaccinations started at 12h15 in Luxembourg City, with chief nurse, Catarina Fernandes from the Centre Hospitalier Luxembourg and nurse Kevin Nazarro receiving the first two inoculations.
Among the first to receive the vaccine will be 430 more employees of the country's four emergency hospitals. On Wednesday, another 430 nursing home employees will be vaccinated at the same location, the Victor Hugo Hall in the Limpertsberg area of the capital.
But there is still uncertainty on what will happen afterwards in January once the first shots run out, and High Commissioner for National Protection Luc Feller recently said he expected there to be enough vaccines for only 6,000 people by the end of January.
The 17,000 health professionals, 90,000 people over 65 years of age and 132,000 people who are considered at risk will have priority access to the vaccine and will be personally invited to vaccination by post.
The vaccine comes from Pfizer's factory in Puurs in Belgium and its transport route and storage location are kept confidential and under close surveillance after Interpol warned against the risk of theft, Reginald Decraene, the managing director for Pfizer Luxembourg, said.
The BioNTech and Pfizer vaccine was approved by the European Medicines Agency (EMA) after pressure from governments, including Germany, to bring forward the approval date to 21 December as other countries are already using the vaccine.
The UK approved the vaccine on 2 December and the US followed suit on 11 December, with both countries rolling out their respective campaigns after the regulators consented to it.
Approvals for other vaccines, such as those by Moderna and AstraZeneca, are also underway.
(Additional reporting by Patrick Jacquemot, Marco Meng and Yannick Lambert)
---
The Luxembourg Times has a brand-new LinkedIn page, follow us here! Get the Luxembourg Times delivered to your inbox twice a day. Sign up for your free newsletters here.