Five stories you may have missed
Five stories you may have missed
In case you missed them, the Luxembourg Times has selected five top news stories of the week for you.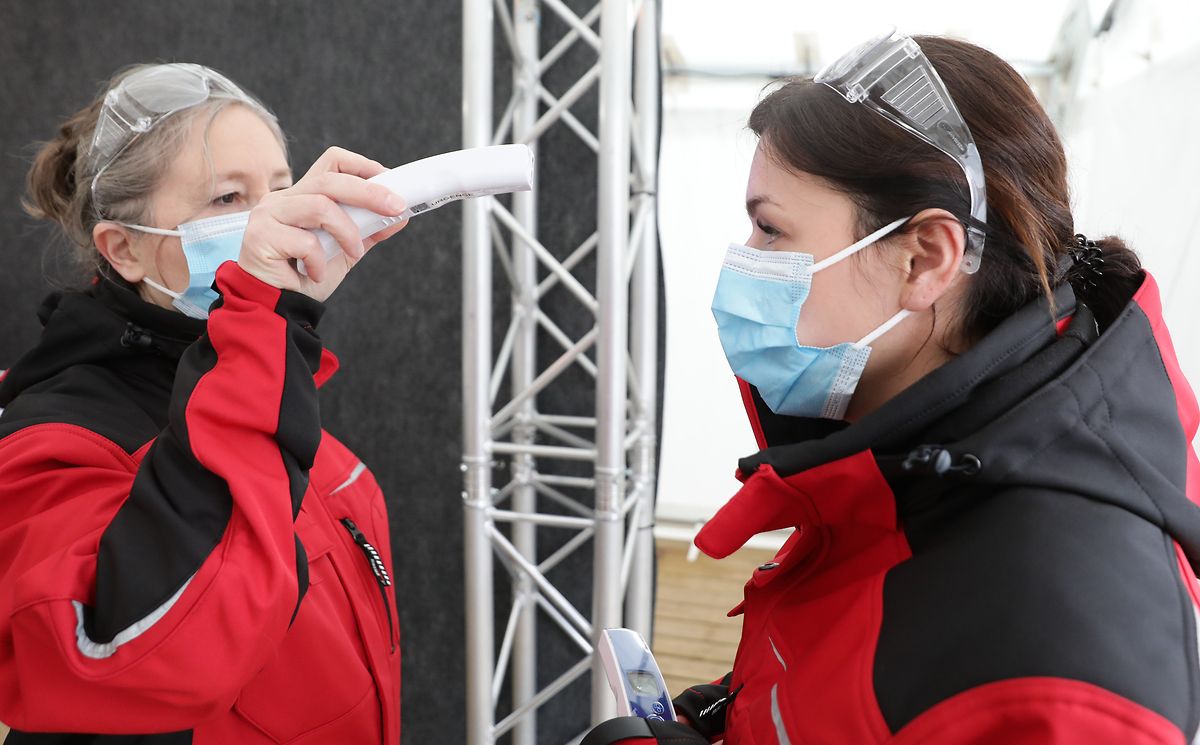 Hospital workers at Robert Schuman Hospital in Kirchberg where a screening tent has been set up outside Photo: Chris Karaba
First corona death in Luxembourg as public life grinds to a halt
Luxembourg recorded its first death related to the COVID-19 virus on Friday, only two weeks after the country confirmed its first case, as the government put in place drastic measures to contain the virus that brought public life to a near halt.
The patient who succumbed to the virus was 94 years old, the government said in a press conference on Friday. The total number of patients now stands at 38, with 12 new cases registered on Friday.
---
Verdict in spy case that ousted Juncker expected on 30 April
Luxembourg's district court is set to deliver a verdict next month against three former intelligence service agents accused of illegal wiretapping, in a scandal that ended Jean-Claude Juncker's tenure as prime minister.
The former head of the secret service, Marco Mille, and former agents Frank Schneider and André Kemmer were charged for recording a conversation with a source in 2007, and then tapping the source's phones for several days without acquiring proper approval.
The court will read its verdict on 30 April.
---
POST vying for EU space funding to fight fake news
Luxembourg's POST is vying for funding from the European Space Agency to develop a product that will fight against fake news and to protect intellectual property rights.
Cyberforce, a department of the Luxembourg postal service and mobile network provider, is working on a project it calls Skytrust, and is at the "final stages of discussions" with the Luxembourg Space Agency, whose approval POST needs before it can request EU funding.
The project will use satellite technology to help fight fake news and protect digital assets by looking at when a picture or video was created, and by whom.
---
Shady deals, a legal fight and a halted ski lift
When the ski lifts stopped at one of the most luxurious resorts in the Swiss Alps at peak season in 2018, the super-rich and workers alike were left out in the cold. It was an effective show of force from the pugnacious Czech oligarch behind a Luxembourg real estate firm.
But this story is not about an annoying skiing hiatus for Europe's jet-set. This is a story about the opaque financial structures that figure in many similar tales, and that can be used to mask sometimes deceptively simple misdeeds. It shows how regulators struggle to put an end to these practices, even if they know all the facts.
---
Coffee capsules, wet wipes and single-use plastics in Luxembourg bins
Luxembourgers threw out more than 54 million coffee capsules and 116 million pieces of single-use plastic last year, a government waste analysis released Tuesday showed.
An analysis of waste samples collected from grey bins, which should be used for non-recyclable waste only, found the overall amount of trash decreased, the environment ministry reported. The study was carried out over eight weeks in 2018 and 2019 with waste from 16 communes.
---
Get the Luxembourg Times delivered to your inbox twice a day. Sign up for your free newsletters here.