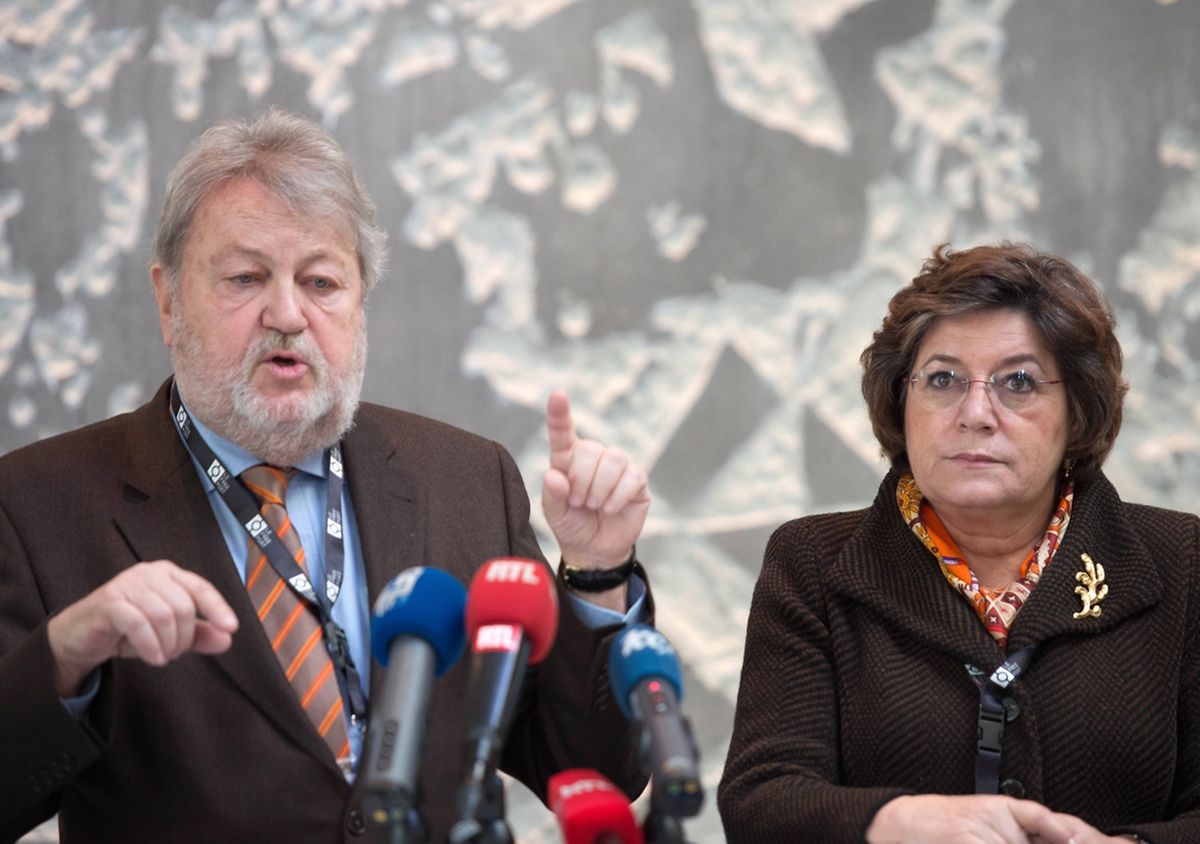 Freeport president Robert Goebbels and MEP Ana Gomes during a press conference on Monday (Chris Karaba)
European parliamentarians on Monday vowed to ask further questions about Luxembourg's Freeport, a vast fortress-like building which houses works of art and other valuables for rich owners, with the country's customs authorities.
A group of six MEPs visited the high-security facility at Luxembourg's Findel airport, at the invitation of its president, Robert Goebbels – himself an ex-MEP – following a parliamentary report on money laundering, tax evasion and tax avoidance in December which raised doubts about the use of VAT and customs-free 'freeports'.
During an at-times fractious press conference with Goebbels, Portuguese MEP Ana Gomes said she still had questions following the visit, which she would "redirect" to Luxembourg's customs authorities.
"With the visit we got a better idea of how it operates but many of the questions we had at the time [of the report] remain to be answered because it is not the competence of the Freeport, it is a question for the authorities," Gomes argued.
Gomes, standing alongside Austrian MEP Evelyn Regner, said the Freeport is a private company which rents out its high-security and climate-controlled rooms – while Luxembourg's customs authorities were ultimately responsible for processing goods and identifying the 'beneficial', or true, owner of the artefacts that enter and exit the Freeport.
The Portuguese MEP maintained the facility could be "mis-used" for illegal activities like money laundering.

"We have concerns about the operation of all warehouses of this type," she said, also pointing to similar facilities in Switzerland. "We know that this can be a conduit for those who found that bank accounts are controlled, who found shell companies are being exposed, now they found that the way is to actually invest in any valuable goods – art, metals, precious metals, anything, cars, wine, cigars."
Goebbels was quick to defend the Freeport, which opened in 2014, saying every item that enters is "controlled, scanned, registered" and the beneficial owners are identified by the customs authorities – including three on-site officials. He said the site abides by all anti-money laundering rules.
"Everything is controlled, the beneficial owners are known, and if you wanted to commit a fraud there are locations much less securitised, much less expensive, to commit a fraud," he said.
The ex-MEP described the building, which includes high-tech security features like finger print recognition locks and climate-controlled rooms for storing wine or art, as "probably the best secured" building in Luxembourg.
He said the Freeport, which is majority owned by Swiss art dealer and businessman Yves Bouvier, was a small part of the government's strategy to turn Luxembourg into an international logistics hub.