Government denies meddling in Sarkozy corruption case
Government denies meddling in Sarkozy corruption case
France's Socialist government on Thursday rejected claims it was using the justice system for political ends after ex-president Nicolas Sarkozy accused his enemies of being behind corruption charges.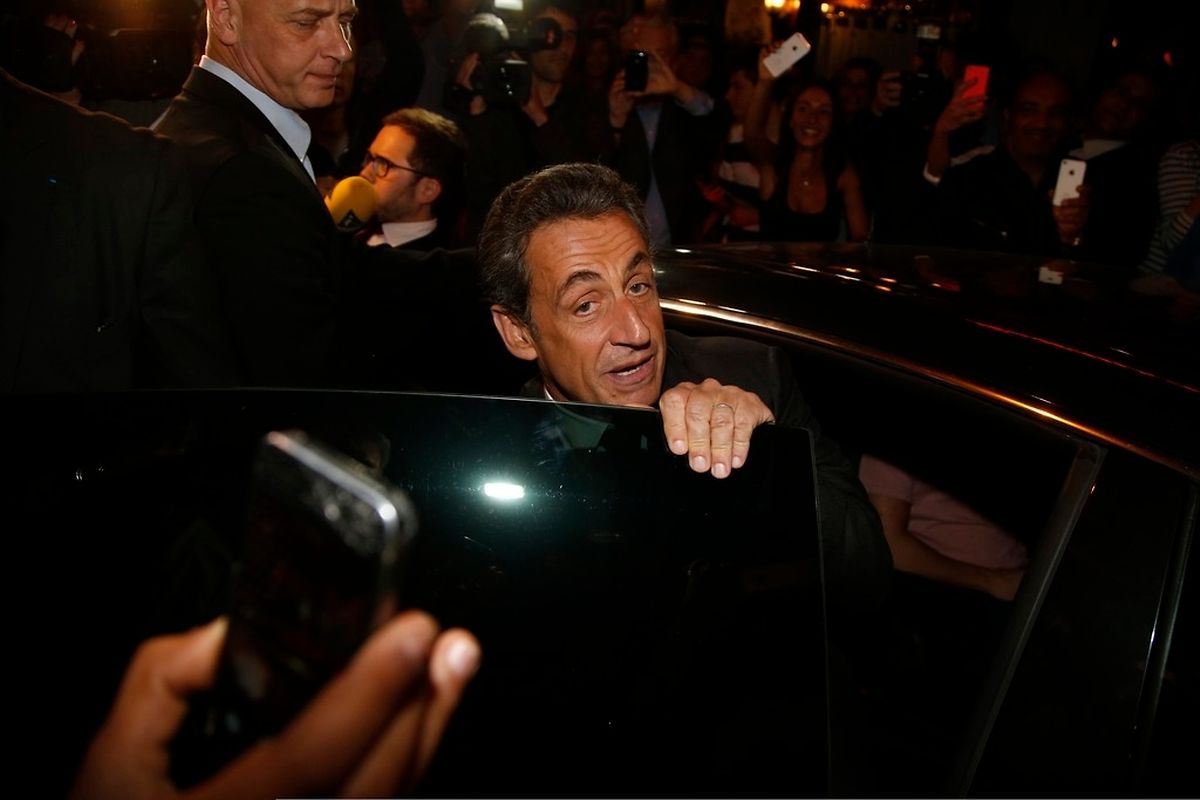 Former French President Nicolas Sarkozy leaves a restaurant in Paris July 2, 2014. Sarkozy said on Wednesday France's justice system was being used for political ends, after he was put under investigation on suspicion of using his influence to gain details of a probe into his 2007 election campaign. The conservative politician denies wrongdoing in a string of investigations where his direct or indirect implication has cast doubt on his viability as a candidate in the 2017 elections. REUTERS/Benoit Tessier (FRANCE - Tags: POLITICS CRIME LAW SOCIETY)
(AFP) France's Socialist government on Thursday rejected claims it was using the justice system for political ends after ex-president Nicolas Sarkozy accused his enemies of being behind corruption charges.
Charged with three corruption-related counts on Wednesday, the right-winger angrily hit back in a televised interview, denying he broke the law and denouncing "political interference" in the case.
Sarkozy insisted his political career was not over, but an opinion poll released Thursday showed nearly two-thirds of French voters against a comeback by the conservative who ran France from 2007 to 2012.
"The judiciary is independent, there is no longer any intervention," government spokesman Stephane Le Foll told Europe 1 radio.
"Some people have a hard time believing this, for reasons I don't want to comment on," Le Foll said, in a reference to left-wing allegations that Sarkozy's government unduly influenced the justice system.
By accusing the judiciary of bias, including singling out one judge in the case, Sarkozy "is trying to divert public attention to politics, conspiracies or who knows what," Socialist Party leader Jean-Christophe Cambadelis said.
- Berlusconi-style 'victimisation' -
Some have compared Sarkozy's attack on the judiciary with former Italian leader Silvio Berlusconi's tirades against judges he accuses of being behind his many legal woes.
Pierre Musso, a university professor and author of "Le Sarkoberlusconisme", said Sarkozy appeared to be taking a page from Berlusconi's playbook in reacting to the charges.
"It's talk show democracy... victimisation," he told AFP. "The powerful man presents himself not only as a victim but as weakened, it's an appeal to compassion."
Sarkozy, 59, was hit Wednesday with charges including corruption and influence peddling after he was quizzed for 15 hours by judges investigating an alleged attempt to interfere in judicial proceedings in another case.
Sarkozy's longtime lawyer Thierry Herzog and senior magistrate Gilbert Azibert were also charged.
After being charged, Sarkozy was allowed to return to the Paris home he shares with his ex-supermodel wife Carla Bruni and their young daughter, but he can be recalled for questioning at any time.
The charges against Sarkozy carry a theoretical maximum prison term of 10 years.
They were a huge setback to Sarkozy's hopes of a comeback after his defeat by Francois Hollande in the 2012 presidential vote.
A BFMTV poll of more than 1,000 adults, conducted over Tuesday and Wednesday, showed 65 percent of voters against Sarkozy trying to return to the presidency.
He remains incredibly popular on the right however, with the survey showing 72 percent of supporters of Sarkozy's UMP party backing his return.
In his 20-minute televised interview on Wednesday, Sarkozy denounced the charges against him as "grotesque" and said his unprecedented detention in custody was intended to humiliate him.
"I have never committed any act contrary to the values of the republic or the rule of law," Sarkozy said in the interview, his first major television appearance since leaving office.
He said there was "no question" of giving up politics and that he would announce in late August or early September whether he planned to run for the leadership of the UMP in the autumn.
- 'Thirst for revenge' -
Right-wing newspaper Le Figaro backed Sarkozy's accusations, saying the left was "driven by an unquenchable thirst for revenge".
"If these new suspicions also vanish into thin air, what will be remembered? That a beleaguered government used judicial harassment against a hated opponent in a bid to obtain his political death," Le Figaro wrote in an editorial.
But left-wing daily Liberation lashed out at Sarkozy for attacking the judiciary instead of addressing the accusations against him.
"Nicolas Sarkozy did not provide one concrete answer to the extremely serious corruption accusations against him," it wrote.
At the root of the current case against Sarkozy is a previous investigation into allegations he was helped to victory in the 2007 election with envelopes stuffed with cash from France's richest woman, L'Oreal heiress Liliane Bettencourt.
Sarkozy is alleged to have offered to help Azibert secure a post in Monaco in exchange for information on the Bettencourt case.
Charges against Sarkozy in the Bettencourt case were dropped last year.
The current case was opened based on recordings obtained after judges authorised tapping Sarkozy's phone in another investigation into accusations he received up to 50 million euros ($70 million at the time) from former Libyan dictator Moamer Kadhafi for the 2007 campaign.
Sarkozy dismisses the Kadhafi claims as ridiculous but an investigation is ongoing -- one of a several cases that has seen Sarkozy facing repeated legal battles since he left office.
Sarkozy is not the first former French leader to be charged with corruption. Jacques Chirac was convicted in 2011 on graft charges, but escaped prison on compassionate grounds due to ill-health.