Grand Duke Henri addresses the nation
Grand Duke Henri addresses the nation
This Christmas Eve, as tradition dictates, Grand Duke Henri sends his greetings to Luxembourg in his annual address to the nation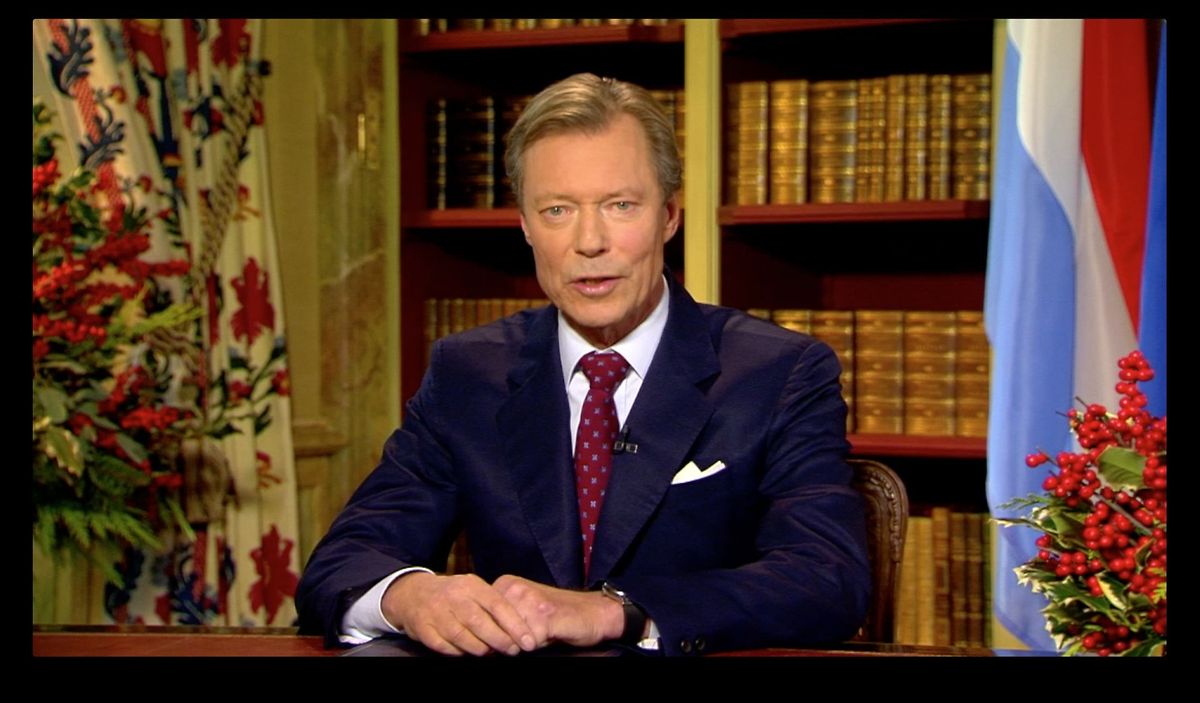 The Grand Duke's annual Christmas Eve speech is seen as an important moment as it is one of the rare times the sovereign talks to cititzens, giving his opinion and political actions of the year.
In his message, he not only evokes this year the rise of populism, the new means of transport in Luxembourg, but also and above all, his concern about global warming.
Below is a translation of Grand Duke Henri's speech in full:
Populism
"My dear compatriots, let us remember the atmosphere that prevailed at the end of last year, fears and latent tensions in western societies that marked the political debate.
In the eyes of observers, the rise of populism seemed inexorable to some of our neighbours. The events of the last few months have not gone in that direction.
The project of European intigration came out strengthened, even if initial indications showed otherwise. The confirmed economic upturn, is also at the origin of this change of climate that we observe.
The change of ambiance restores confidence to approach the future: it's time again to debate ideas and concrete projects, especially deepening the European integration which is more necessary than ever. This is a sign that fear and self-surrender has been replaced by a more determined approach to face challenges of our time.
Climate change
My dear compatriots, if I had to remember a" political "memory in the broad sense of the term of this year 2017, I would gladly talk about a moment that struck me a lot during my participation in the COP 23 in Bonn in November.
It was in a room, just before the plenary session, where the heads of state of the countries represented at the Conference had met informally. The atmosphere was serious, even heavy.
I found myself surrounded by leaders of countries that will suffer the most as a consequence of global warming in the coming decades. Developing countries or countries at the other side of the world, they will either suffer the effects of increasingly devastating disruptions of future weather, of which we have had some frightening examples this year, or they are simply destined to disappear because of the rise of the oceans.
Many of the micro-states of Asia-Pacific with their population are in this despicable situation. They simply do not have a future or are unlikely to have any, because their lands will be submerged, if we do not do enough in our power. There is no worse fate. Being a part of such distress is heart-wrenching. This distress calls for action.
I could feel how vital it was for them, as for us, that the mechanisms to fight against global warming begin and that we all move up a gear, going further in the measures announced, in finding new partners and new funding - something that Luxembourg excels at - or simply adopting new behaviour as individuals.
Time is of the essence because scientific studies show that we are on the verge of irreversibility. During this holiday season, where the concept of "solidarity" takes on a particular resonance, let us be fully aware of our responsibility to others and to the planet. Our society, has frameworks that allows us to go beyond our personal interests. It is primarily within the family that basic solidarity is practised.
And if our "living together" is still expressed mainly in the national context, we see at the same time that the European construction gradually gives rise to a solidarity between Europeans that we have never known before.
And then, beyond that, there is the solidarity between men and women, all inhabitants of the same planet. This is where one has to play a major role to overcome the challenges humanity has rarely known.
Luxembourg infrastructure
My dear compatriots, a few days ago, the Grand Duchess and I had the pleasure of witnessing the inauguration of the tram, connected to the rail network by the funicular railway.This great day for mobility marks an important step in the history of the infrastructure of our country.
The dramatic development of our economy in recent years has congested our day-to-day road infrastructure. With the implementation of efforts to improve public transport, our country is developing a tool that is proving itself elsewhere.
Other projects are rising to make it even more attractive. I express the wish that this new service meets the success it deserves so that everyone can play their part by spending less time to get to work. But also so that the economic development of our country is not thwarted and that it can continue in a sustainable and harmonious way.
Rejoice but remember
On this Christmas Eve, think of all these reasons we have to rejoice to live in a prosperous and supportive country. Let us not forget, however, that too many of our fellow citizens find it difficult to make ends meet month by month and that they are not in a position to benefit from the general well-being. They require our full attention.
Our "Gemittlechkeet", this faculty that we have comfort one another, is part of our DNA, let's cultivate it and focus more on it. The Grand Duchess and I rejoice with all those for whom these holidays represent a moment of joy with family and friends. We think very strongly of those for whom these moments of celebration are synonymous with loneliness or illness, wishing them to find better days soon.
My dear fellow citizens, With the Grand Duchess, Grand Duke Jean, Prince Guillaume and Princess Stéphanie, we wish you all the best in spending a very happy Christmas and a new year full of joy and success."