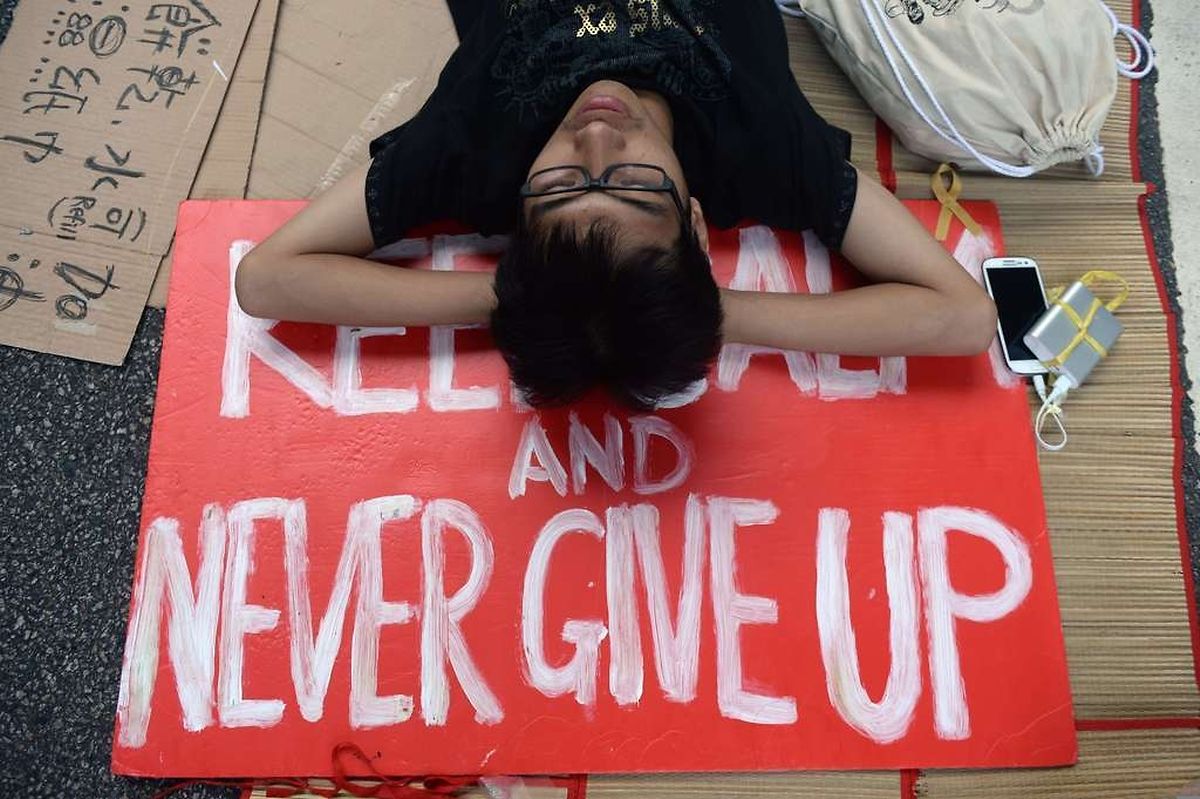 A pro-democracy demonstrator rests after overnight protests near the Hong Kong government headquarters on October 2, 2014. Hong Kong has been plunged into the worst political crisis since its 1997 handover as pro-democracy activists take over the streets following China's refusal to grant citizens full universal suffrage. AFP PHOTO / DALE DE LA REY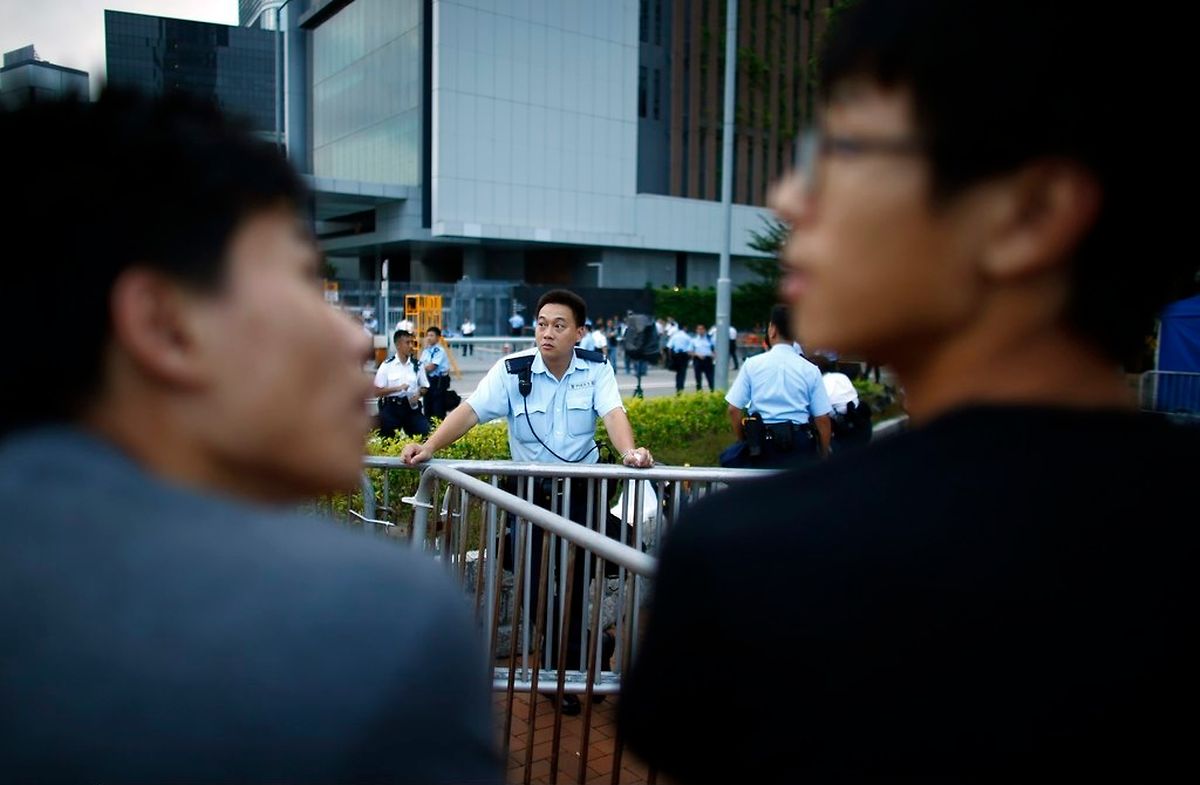 A police officer stands next to metal fences as protesters block the entrance of Hong Kong Chief Executive Leung Chun-ying's offices, next to the government headquarters building in Hong Kong, October 2, 2014. Hong Kong's leader is willing to let pro-democracy demonstrations blocking large areas of the city go on for weeks if necessary, a source close to him said, while defiant protesters vowed they would not budge. REUTERS/Carlos Barria (CHINA - Tags: CIVIL UNREST POLITICS)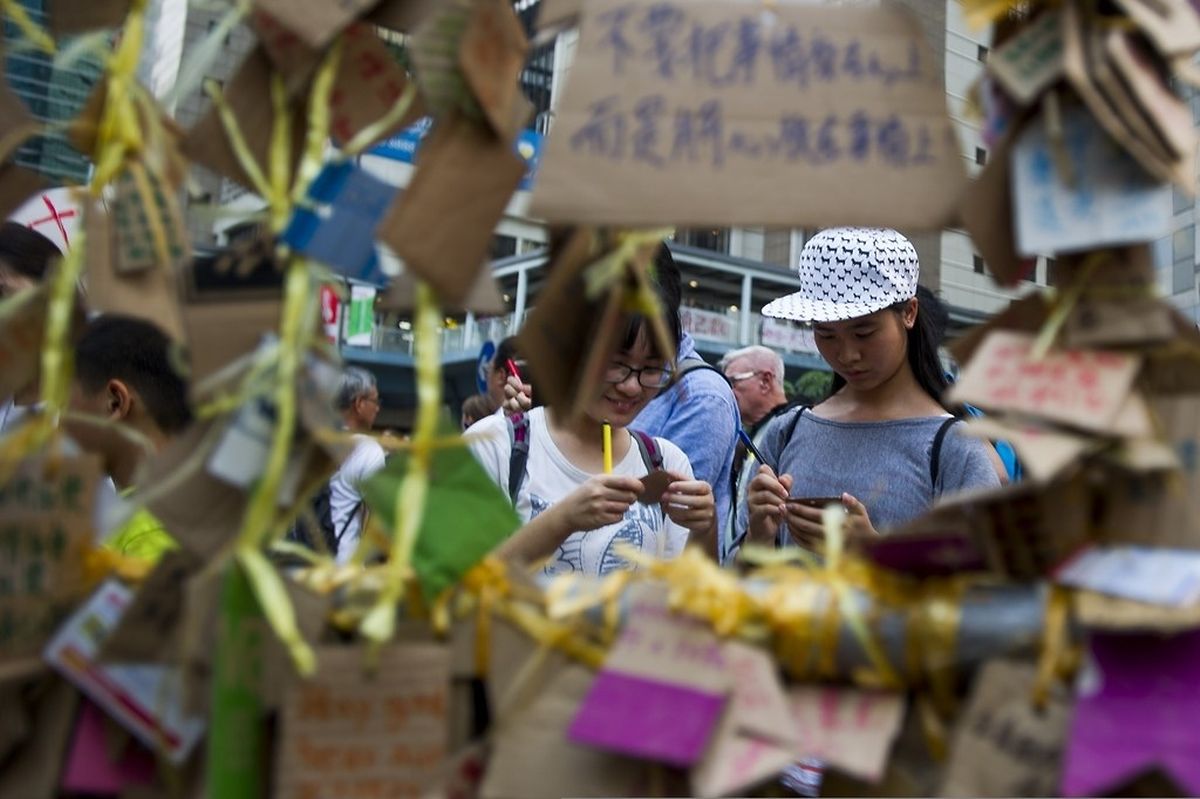 Two students write messages of in the Admiralty district of Hong Kong on October 2, 2014, as pro-democracy protesters remain gathered for the fifth day in a push for free elections of the city's leader. Tensions rose in Hong Kong on October 2 as the government urged demonstrators to "disperse peacefully as soon as possible" after police were seen unloading boxes of rubber bullets. AFP PHOTO / XAUME OLLEROS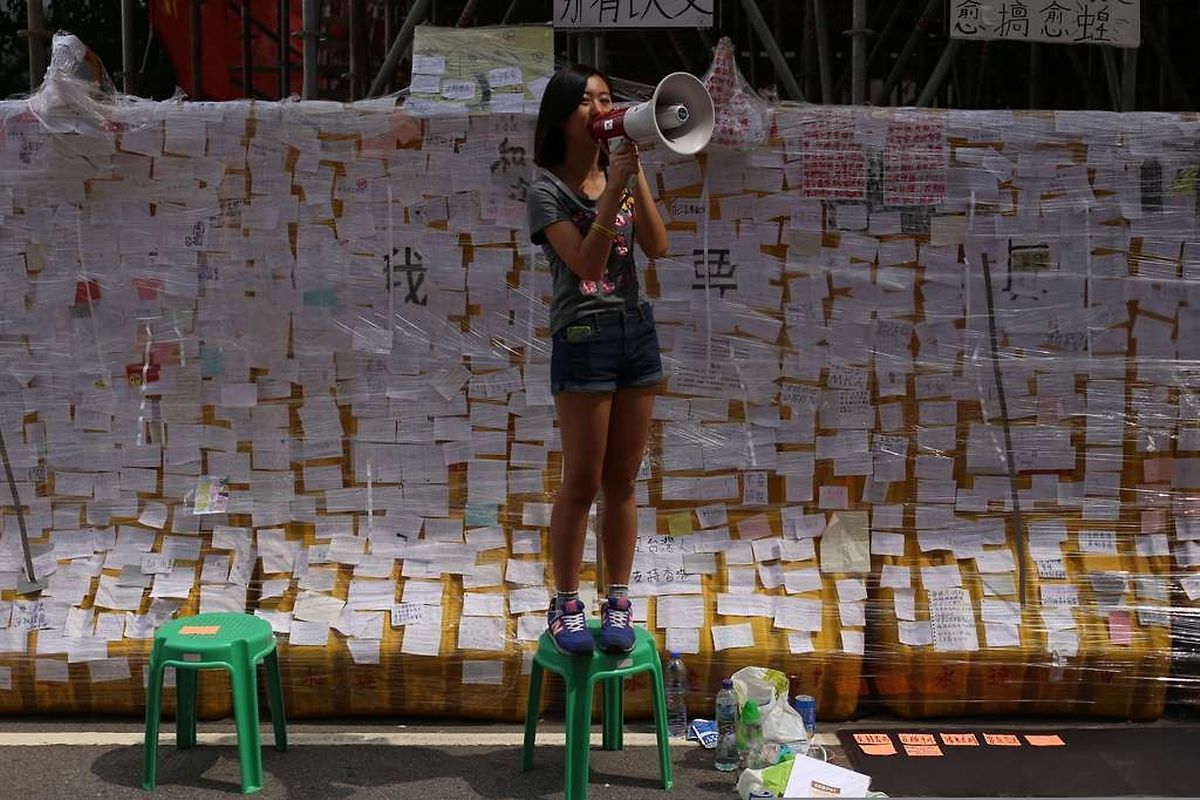 A student protester speaks into a microphone in front of a "democracy wall" filled with notes supporting the pro-democracy protest in Hong Kong on October 2, 2014. Tensions in Hong Kong soared after police were seen unloading boxes of tear gas and rubber bullets close to the city's besieged government headquarters as the authorities urged pro-democracy demonstrators to disperse "as soon as possible". AFP PHOTO / AARON TAM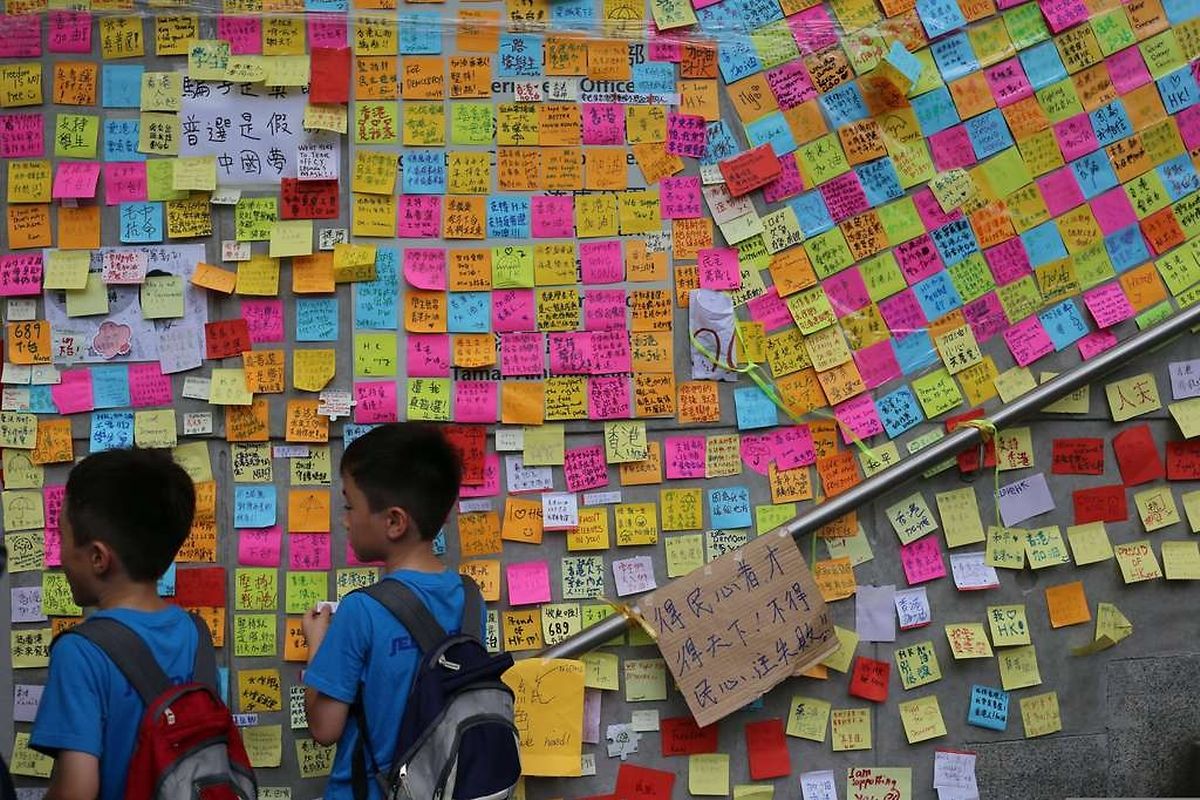 Children stand in front of a wall filled with sticky notes supporting the democratic movement near the Hong Kong government headquarters on October 2, 2014. Tensions in Hong Kong soared after police were seen unloading boxes of tear gas and rubber bullets close to the city's besieged government headquarters as the authorities urged pro-democracy demonstrators to disperse "as soon as possible". AFP PHOTO / AARON TAM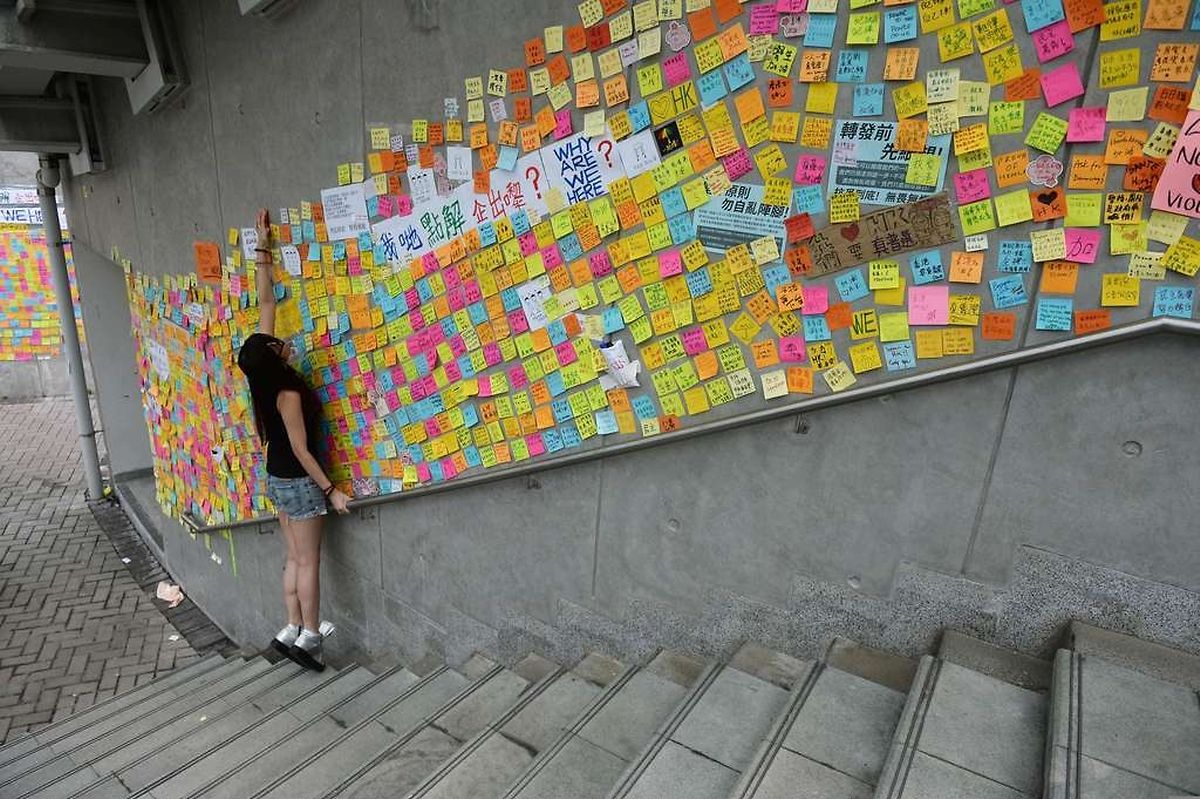 TOPSHOTS A pro-democracy demonstrators places messages of support along a wall near the Hong Kong government headquarters on October 2, 2014. Hong Kong has been plunged into the worst political crisis since its 1997 handover as pro-democracy activists take over the streets following China's refusal to grant citizens full universal suffrage. AFP PHOTO / DALE DE LA REY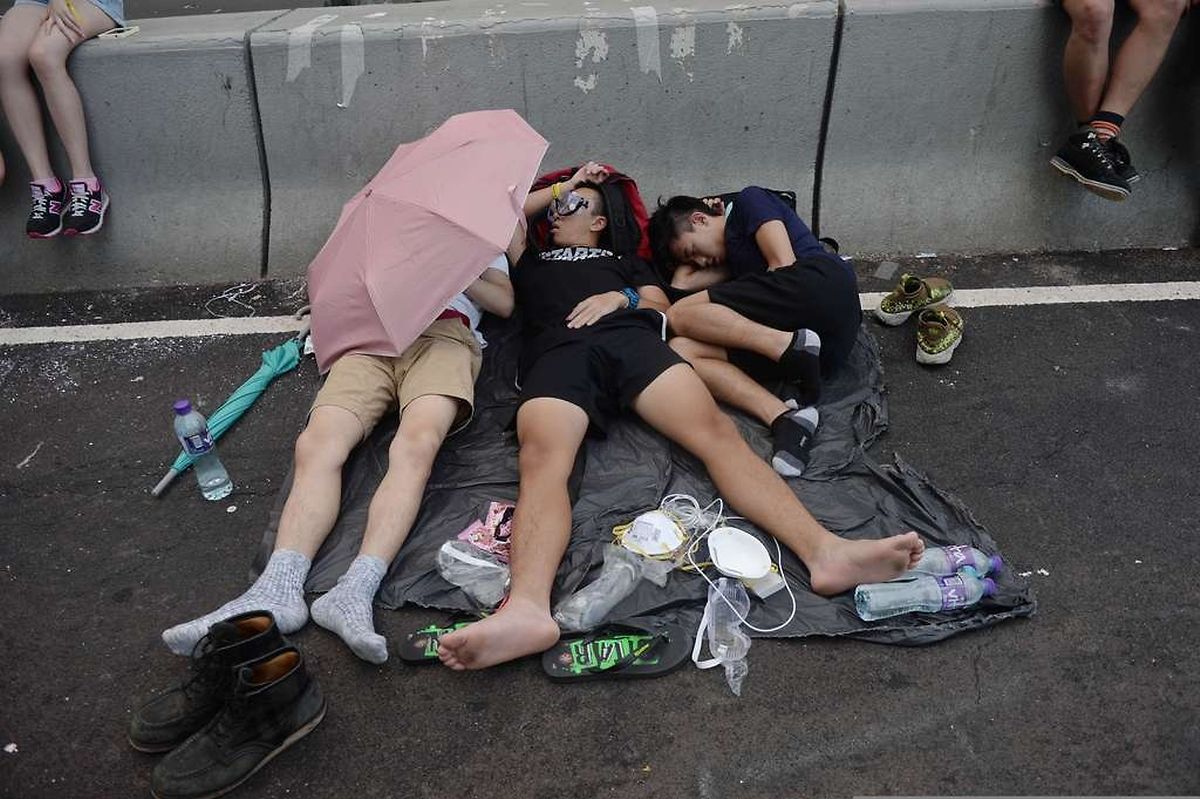 TOPSHOTS Pro-democracy demonstrators rest after overnight protests near the Hong Kong government headquarters on October 2, 2014. Hong Kong has been plunged into the worst political crisis since its 1997 handover as pro-democracy activists take over the streets following China's refusal to grant citizens full universal suffrage. AFP PHOTO / DALE DE LA REY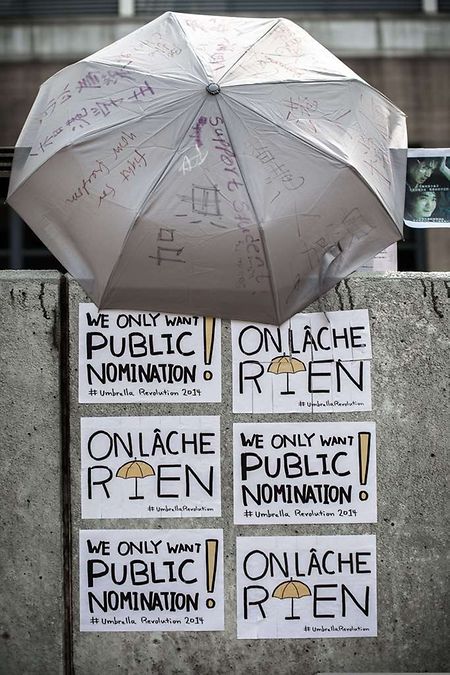 Support messages in French and English are seen displayed under an umbrella a gathering point of pro-democracy demonstrators in Hong Kong on October 2, 2014. Hong Kong has been plunged into the worst political crisis since its 1997 handover as pro-democracy activists take over the streets following China's refusal to grant citizens full universal suffrage. AFP PHOTO / Philippe Lopez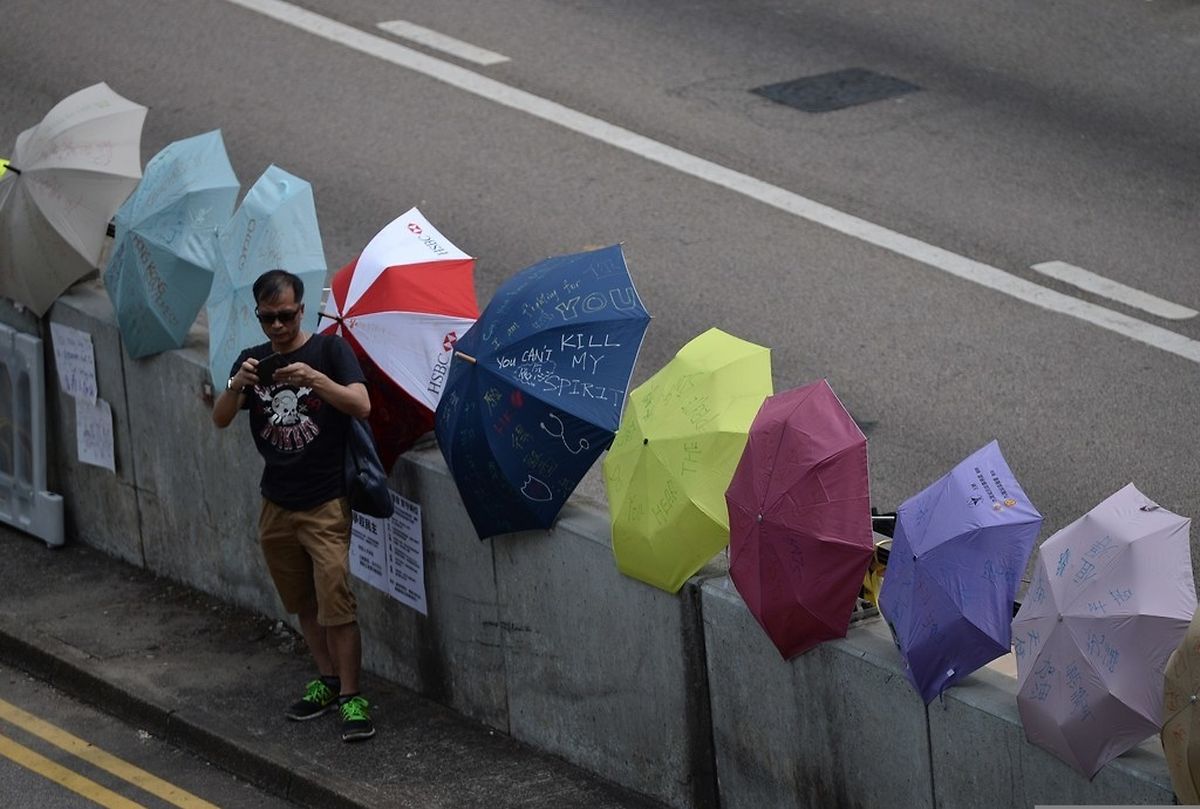 A man stands near umbrellas displayed on a road during a protest near the Hong Kong government headquarters on October 2, 2014. Hong Kong has been plunged into the worst political crisis since its 1997 handover as pro-democracy activists take over the streets following China's refusal to grant citizens full universal suffrage. AFP PHOTO / DALE DE LA REY
(AFP) Hong Kong's pro-democracy protesters have stamped a uniquely Hong Kong feel on the demonstrations. Here's an overview of some of the latest quirky happenings on the street:
Translation
University students are offering free translation services to the foreign media. Volunteer pro-bono linguists have been wandering the protest sites, hunting out journalists who might be in need of their language skills for interviews and translation of announcements, posters and signs.
Protesting pooches
Even Hong Kong's canine residents have joined the protest movement with dogs seen on the street with their owners. Some pooches have even had yellow ribbons -- the symbol of the protest movement -- tied to their tail, legs and collars.
Lyrical banners
Many of the protesters have adopted famous song lyrics as their protest calls. A large hand-painted banner with a line from John Lennon's song Imagine was strung across a pedestrian footbridge in Admiralty: "You may say I'm a dreamer but I'm not the only one". The famous anthem from Les Miserables -- "Do you hear the people sing?" -- is a Hong Kong protest favourite with the line adorning everything from umbrellas to banners.
Recycling
The "Umbrella revolution" has already gained a reputation as being very environmentally aware. The protestors' penchant for recycling has now taken an artistic turn with an huge umbrella made of water bottle caps seen adorning a barricade in Causeway Bay. A giant sculpture of multiple umbrellas has also popped up on commandeered street barriers decorated with yellow ribbons near the government complex.
Multilingual protest
The length of a flyover that has been occupied by protestors has been adorned with yellow handwritten signs expressing support for the protest movement in multiple languages.
Do not miss the news - sign up to receive the wort.lu newsletter in English delivered to your inbox six days a week.