Hong Kong takes next step on political reform
Hong Kong takes next step on political reform
Hong Kong will take the next step in its contentious political reform process Wednesday when the government unveils new proposals for how the city should choose its next leader.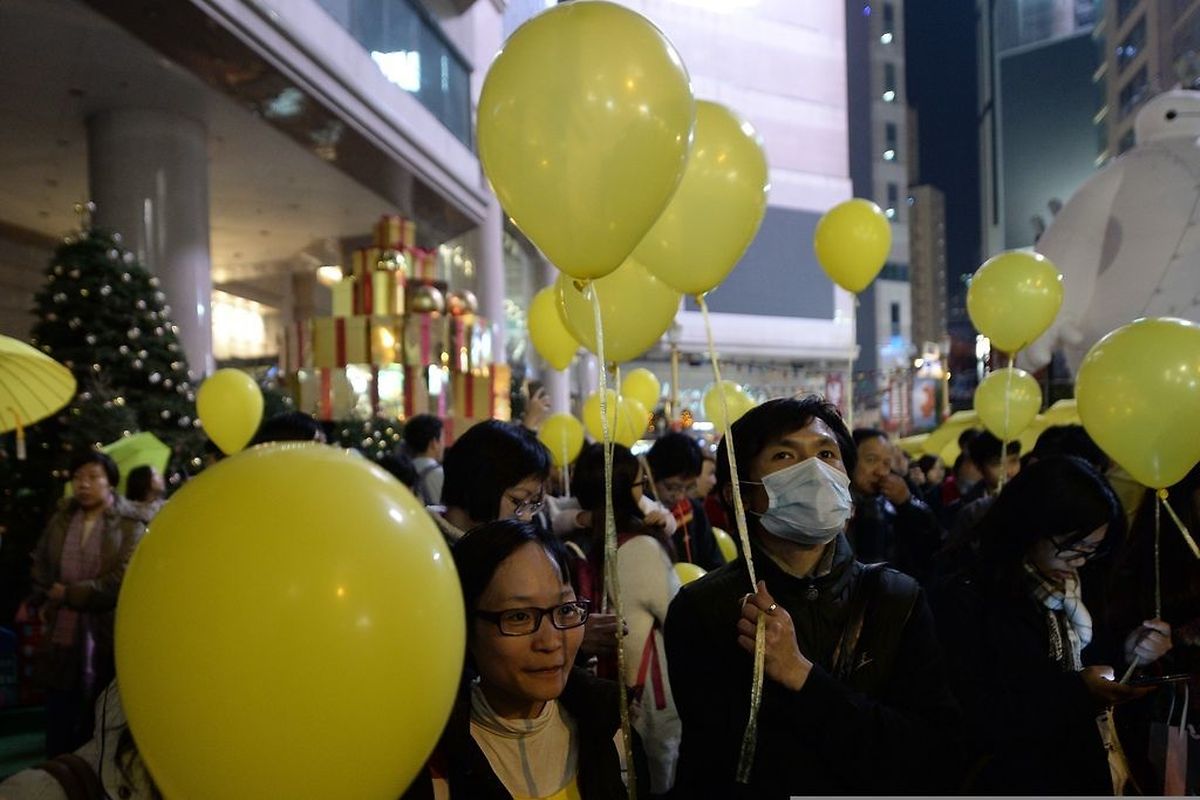 Pro-democracy protesters hold yellow balloons outside a Hong Kong shopping mall to call for true universal suffrage for the city in 2017, on December 31, 2014. After Hong Kong authorities cleared major protest sites that occupied stretches of highways for more than two months, democracy campaigners have found different ways to make their voices heard, with large banners appearing on landmarks and smaller protest gatherings taking place. The yellow colour is a symbol of the city's democracy movement. AFP PHOTO / AARON TAM
(AFP) Hong Kong will take the next step in its contentious political reform process Wednesday when the government unveils new proposals for how the city should choose its next leader.
Tensions remain high following more than two months of mass protests for fully free elections that failed to win concessions for pro-democracy campaigners.
China has pledged that voters in Hong Kong can elect the city's next chief executive in 2017 - the first time there has ever been a public vote. But China insists that only two or three candidates can stand, and that they will be vetted by a loyalist committee.
That decision sparked mass rallies that brought tens of thousands onto the streets at their height, before protest camps were cleared in December.
Wednesday sees the launch of a second public consultation on the electoral process, with more specific proposals expected to be outlined by the government.
The consultation document will be presented to Hong Kong's de facto parliament in the afternoon and posted online so that residents can give their views.
While the government has billed the reform process as "historic", campaigners have branded it fake democracy and hold little hope for meaningful changes.
Protesters from the pro-democracy Civic Party gathered outside the legislative council building Wednesday morning holding yellow umbrellas - the symbol of the democracy movement. However, they were shouted down by around 30 pro-government demonstrators waving a large Chinese flag.
'Harmonious discussion'
The second round of consultation is the last official gauge of public opinion before a finalised proposal on electoral reform is put before the legislative council.
Pro-democracy lawmakers have vowed to vote against the plan unless it revokes the vetting of candidates - something that authorities in Hong Kong and Beijing have consistently said is out of the question.
If the final framework fails to pass with a two thirds majority it would mean a delay in the introduction of universal suffrage to Hong Kong.
Activists say they would rather have no public vote in 2017 if it is not fully free.
Currently the city's leader is chosen by a pro-Beijing committee.
Political analyst Sonny Lo said it was "too early to say" whether the final reform bill would be passed, with the possibility that some pro-democrats could be persuaded by public opinion to vote for it.
"Public sentiment in Hong Kong is politically pragmatic. Most people in the public would like to see a more harmonious way of discussion over political reform," he said.
Although the protest camps have been cleared there is still discontent and fears about China's increasing influence over the semi-autonomous city. At the same time, many residents became frustrated with the fragmented democracy movement and camps which brought parts of the city to a standstill.
Chief executive Leung Chun-ying warned against further protests Tuesday ahead of the consultation, saying that "coercive actions" would not influence government policy.
Hong Kong was handed from Britain back to China in 1997 and enjoys freedoms not seen on the mainland.