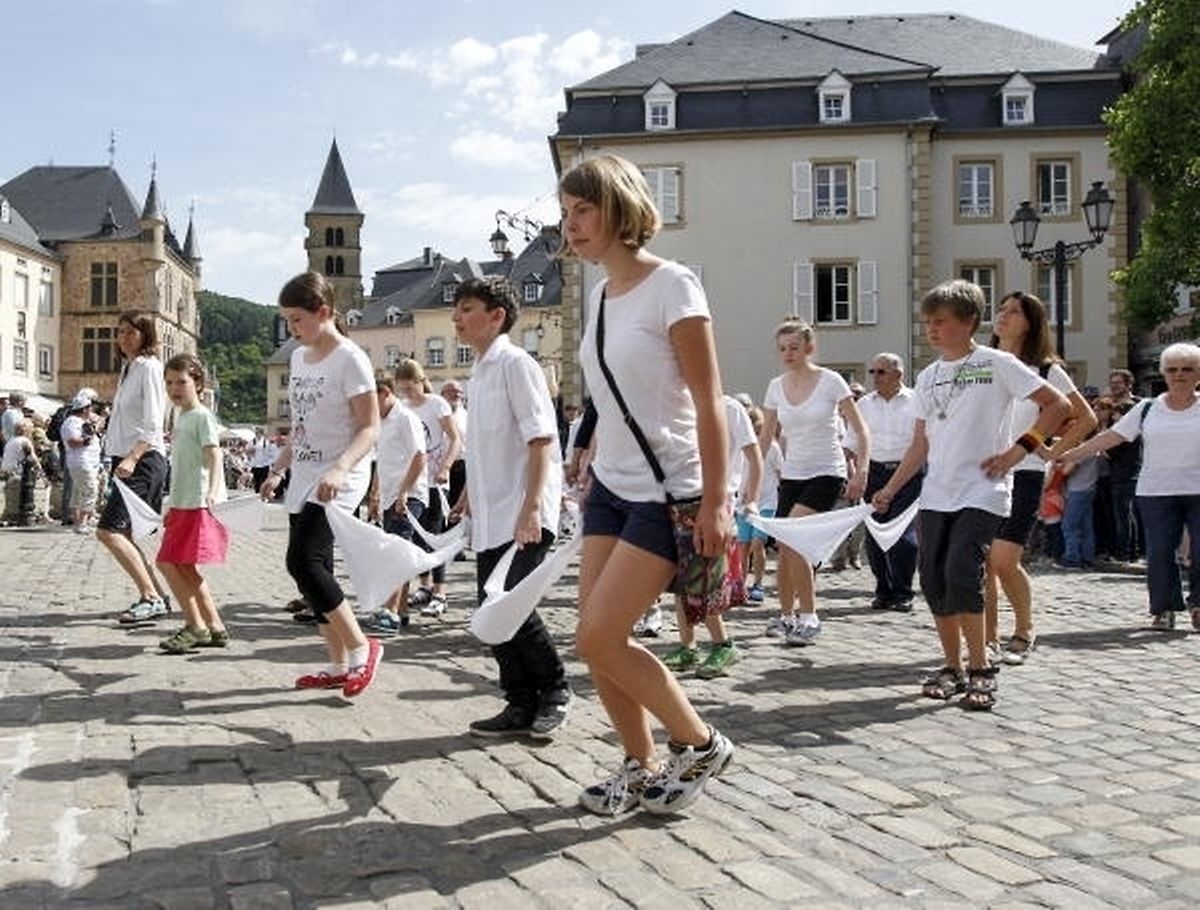 This Tuesday, May 17, the hopping procession of Echternach takes place, as it does every Pentecost Tuesday.
The Luxembourg tradition, known well beyond the borders of the country, attracts thousands of believers and onlookers annually. It is therefore no coincidence that this tradition was added to the UNESCO Representative List of the Intangible Cultural Heritage of Humanity on November 16, 2010.
How does the dance work?
The dancing procession works like this: you jump two steps to the left, two steps to the right.
Formerly, the dancers hopped three steps forward and two back (even today, Luxembourgers sometimes say jokingly that something is "advancing like the procession of Echternach").
Dancers line up in rows of five to six people, holding the end of handkerchiefs, and hop to upbeat sounds and a unique melody, which tends to get stuck in the ears of spectators even many hours later.
The melody is not only played by Luxembourg bands but also by accordionists and fiddlers. The music and hopping continue for nearly three hours through the streets of the neighbourhood and eventually past the tomb of Saint Willibrord, which stands in the crypt of the basilica.
The day's program
5:15am: welcoming the youth of the EUREGIO pilgrimage
5:30am: mass for the youth of the EUREGIO pilgrimage
6:45 am: mass in honour of St Willibrord at the crypt
7:30am: Echternach bridge: welcoming the Gross-Prüm and Waxweiler pilgrims. Procession of the pilgrims towards the basilica.
8:00am: papal mass celebrated in the basilica
Starting at 8:30am: participants from the groups A-K and 1-10 gather in the abbey courtyard
9:15am: address by Msgr . Jean-Claude Hollerich Archbishop of Luxembourg
9:30am: start of the hopping procession. Meeting of groups 11-40 in the abbey courtyard
Around 1pm: the last groups of pilgrims arrive at the basilica . Closing celebration, followed by a mass.
3:15pm: the "Lof en zegen van't" sacrament takes place
4:15pm: mass in the crypt