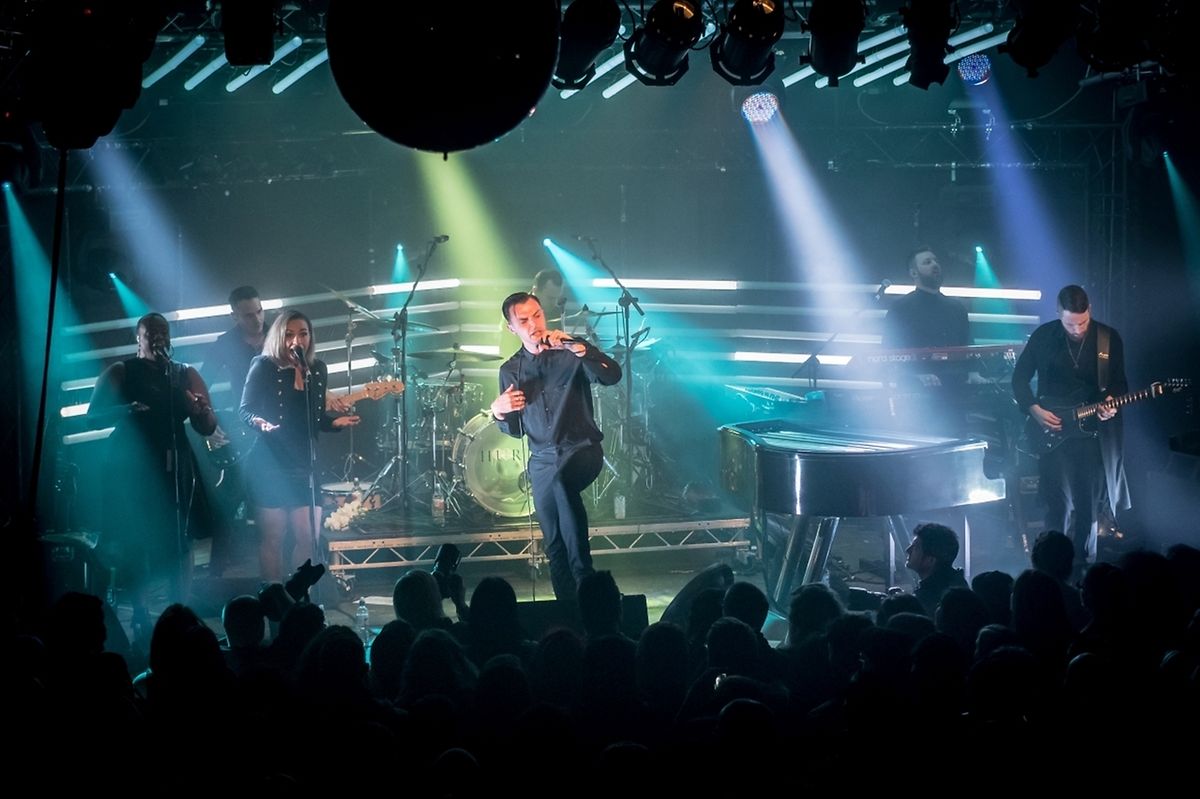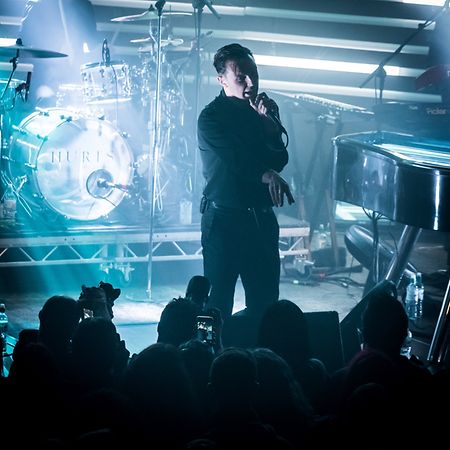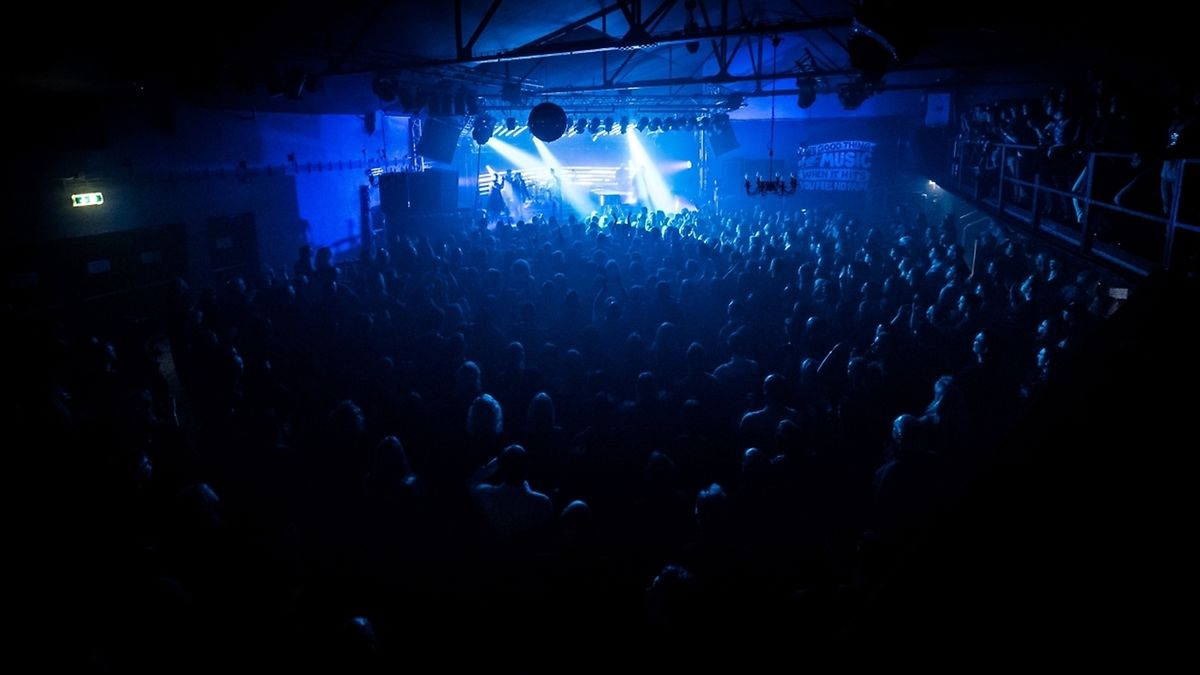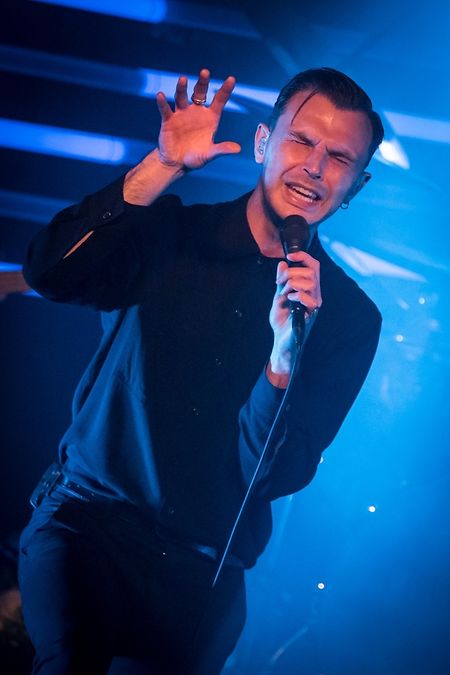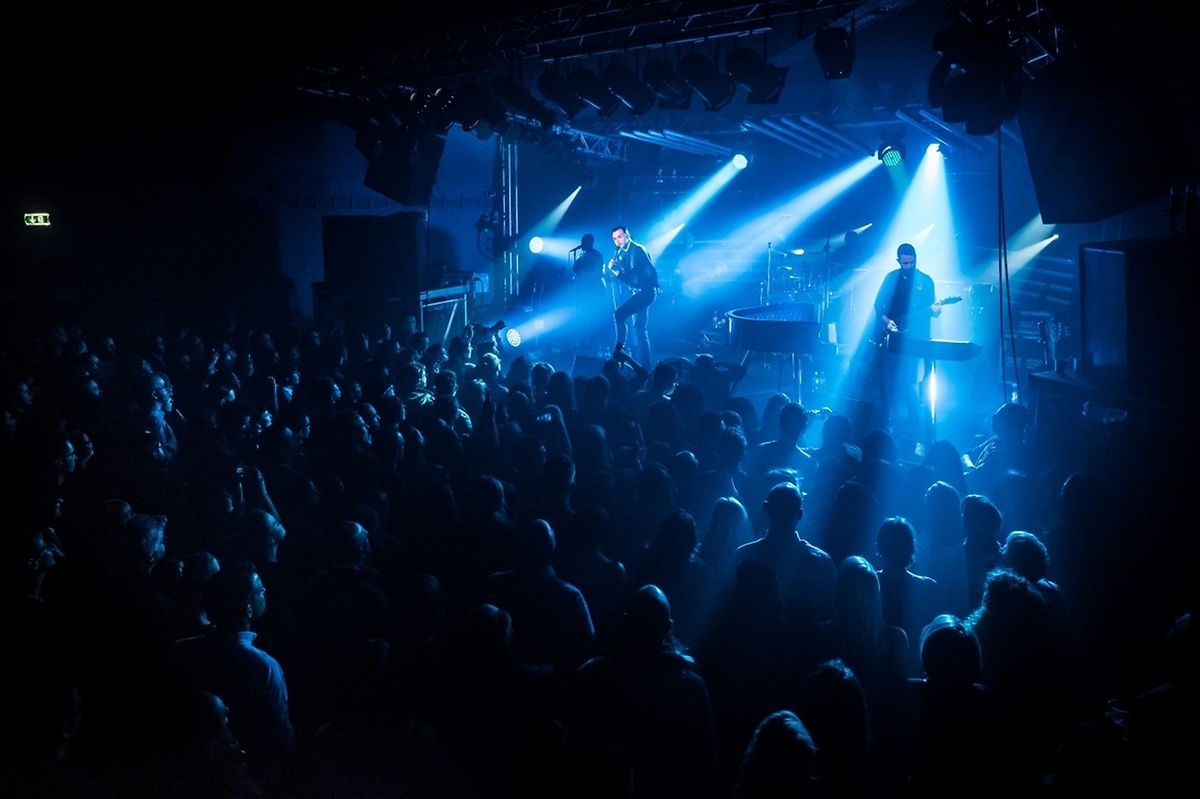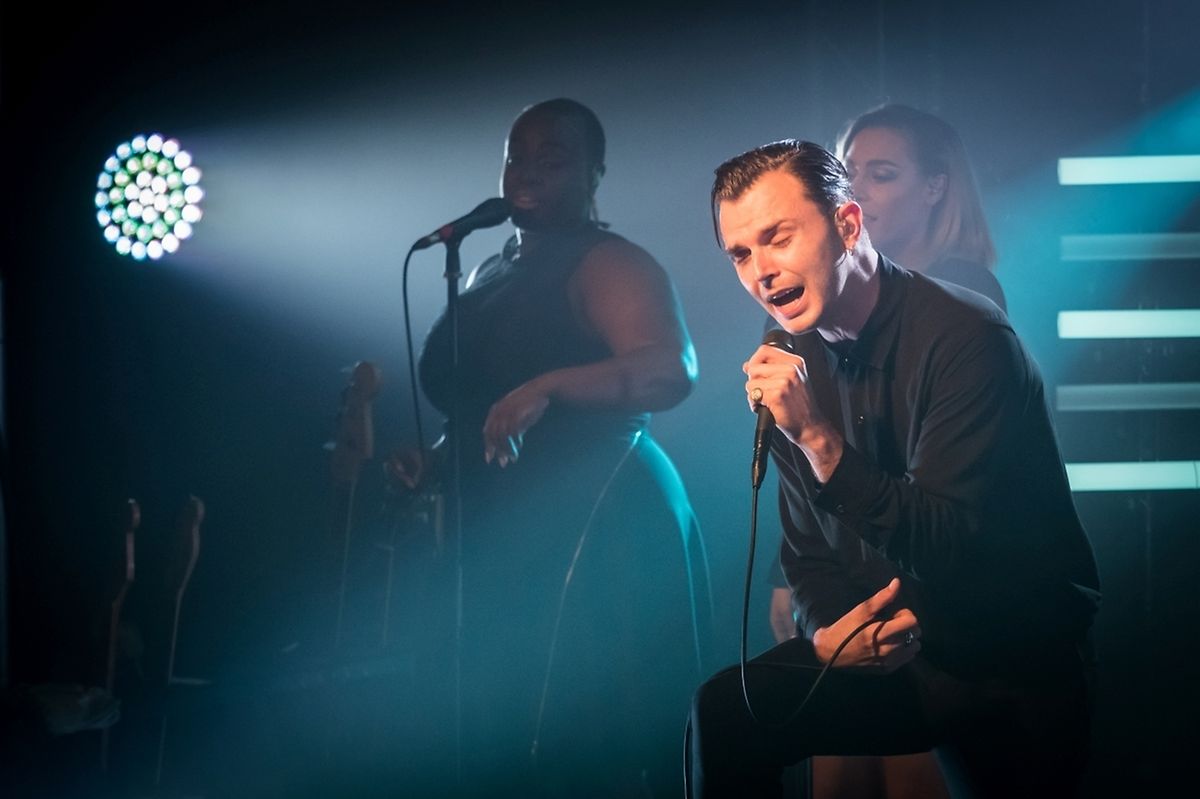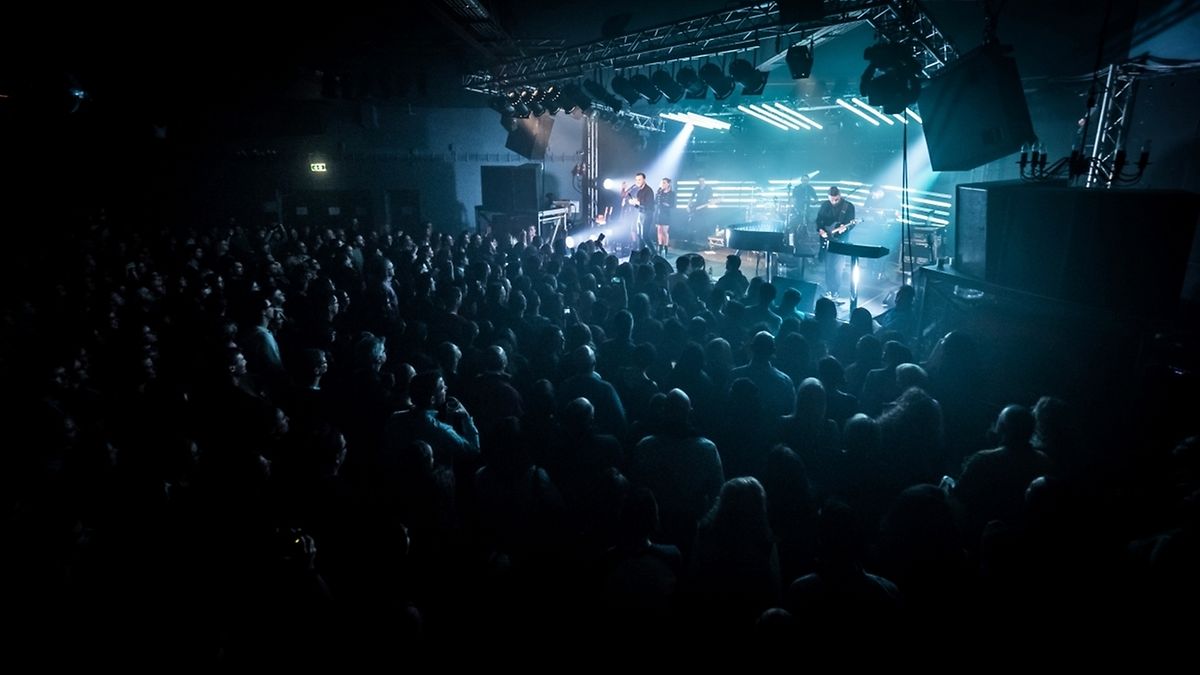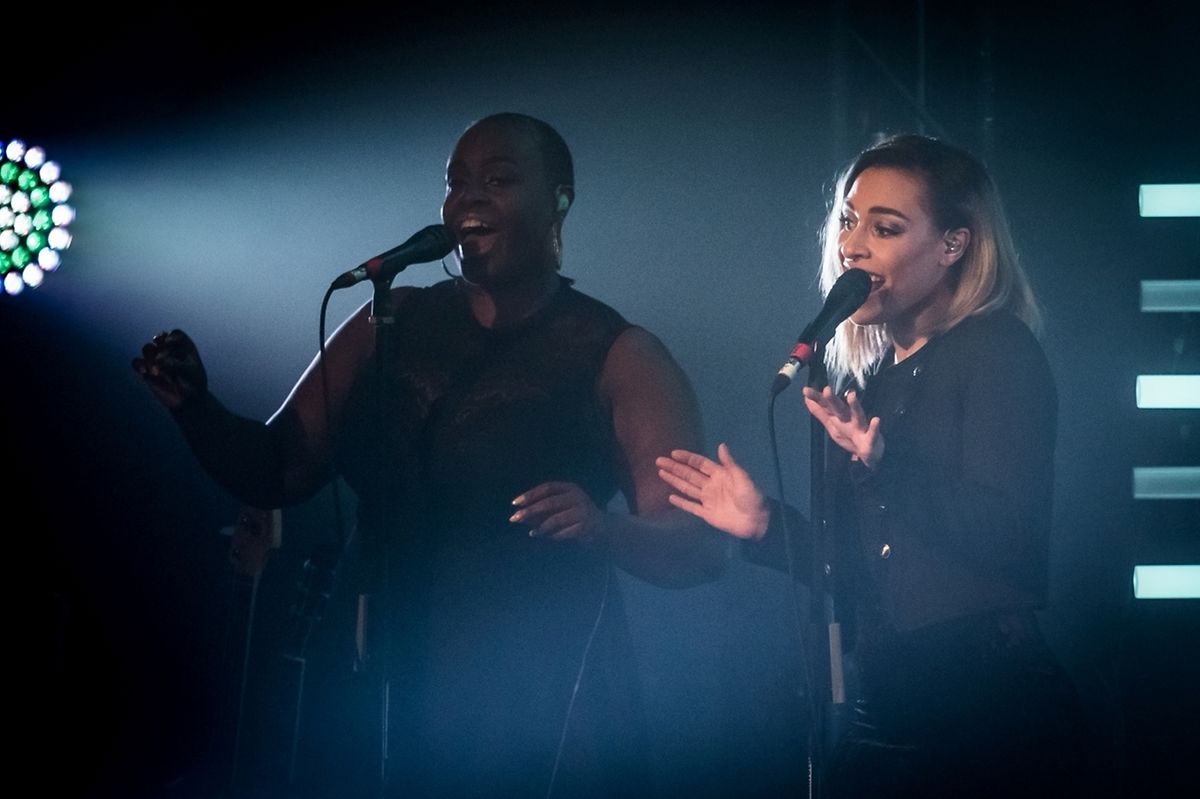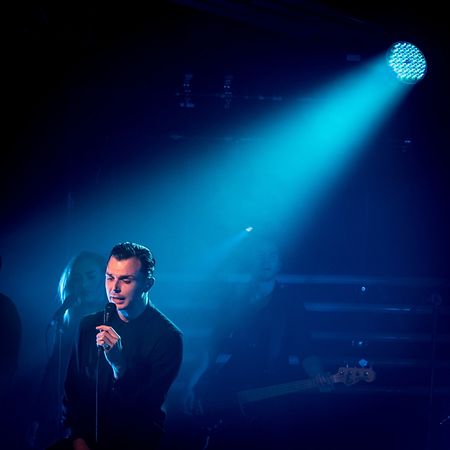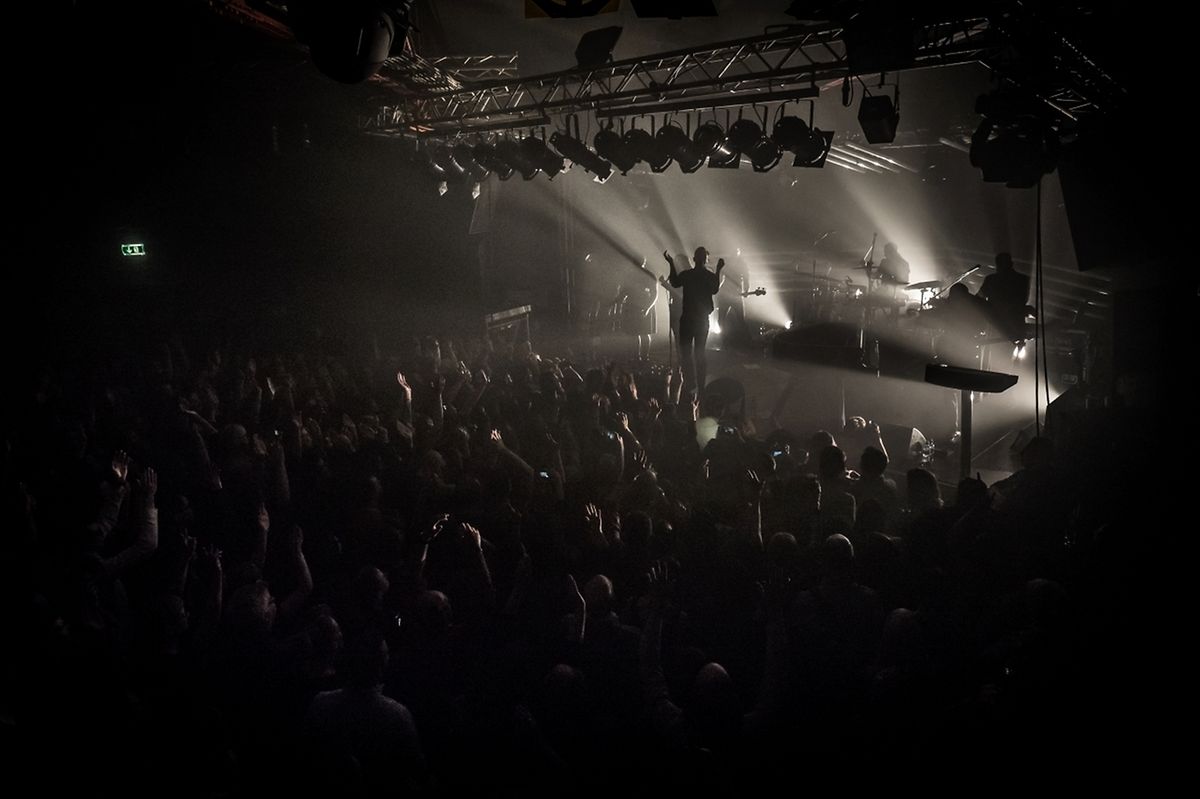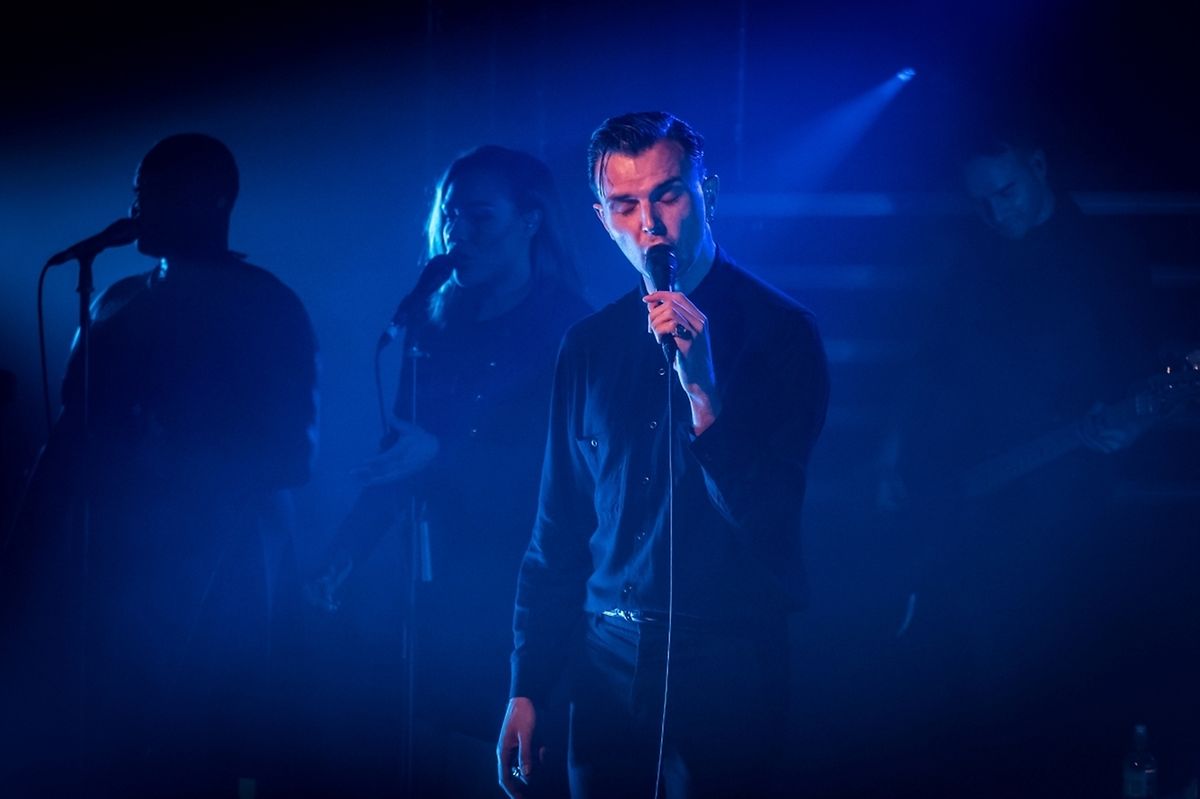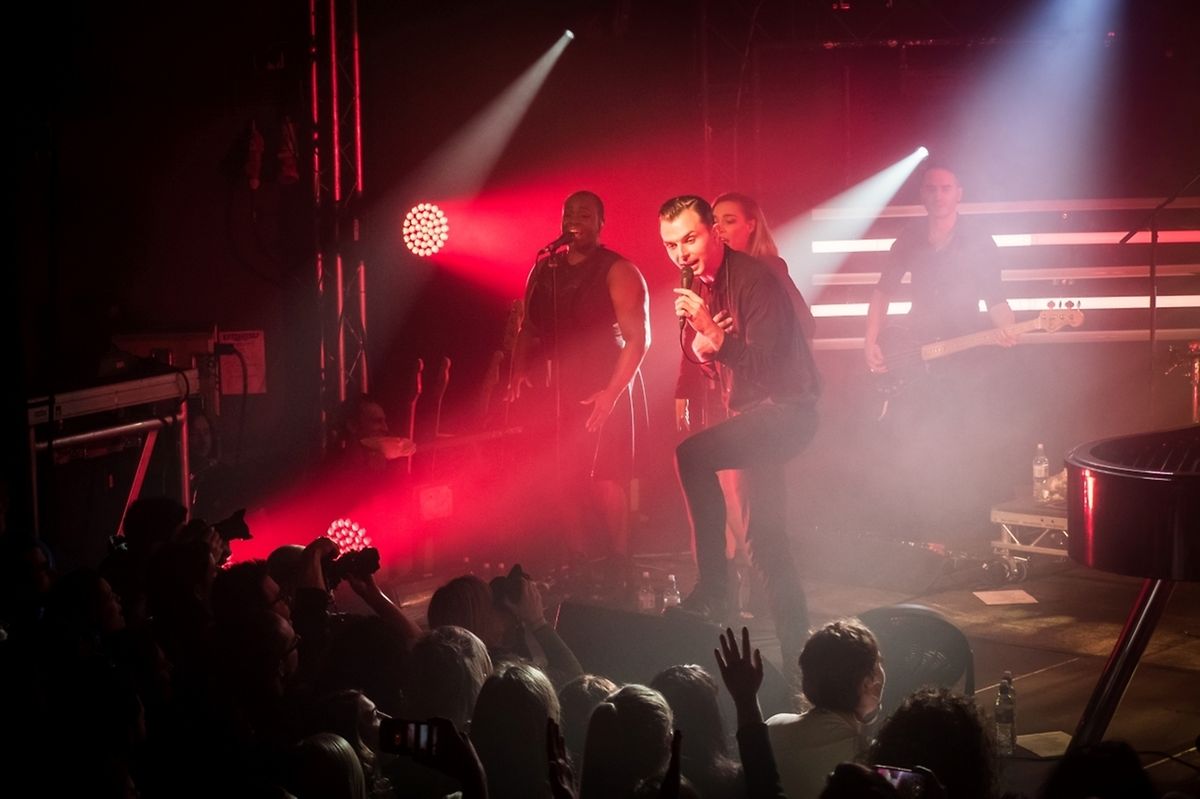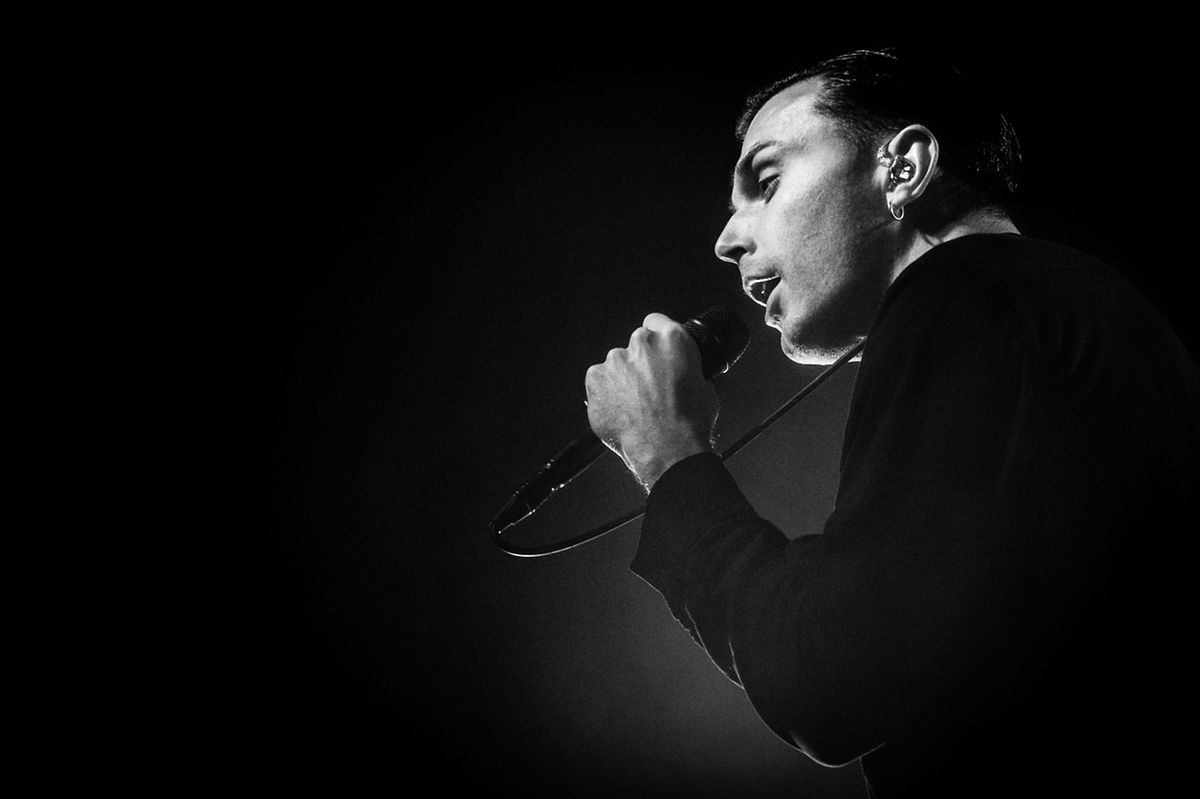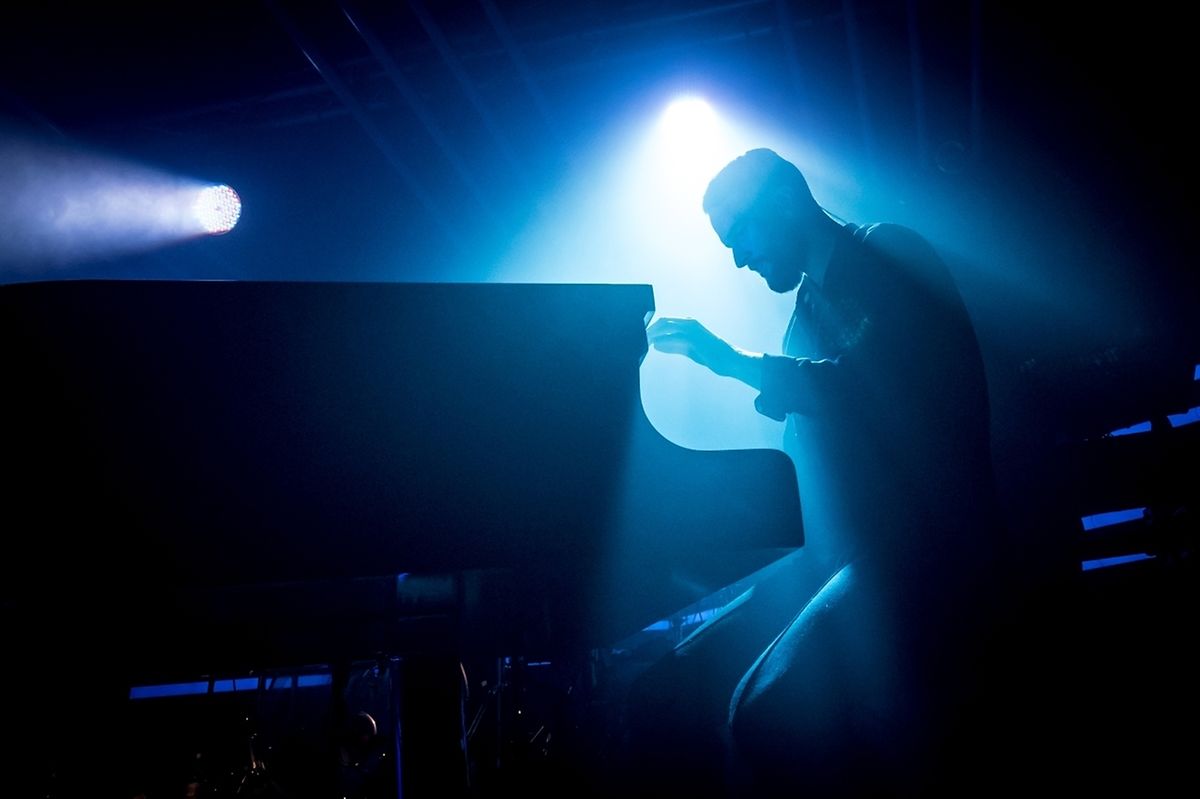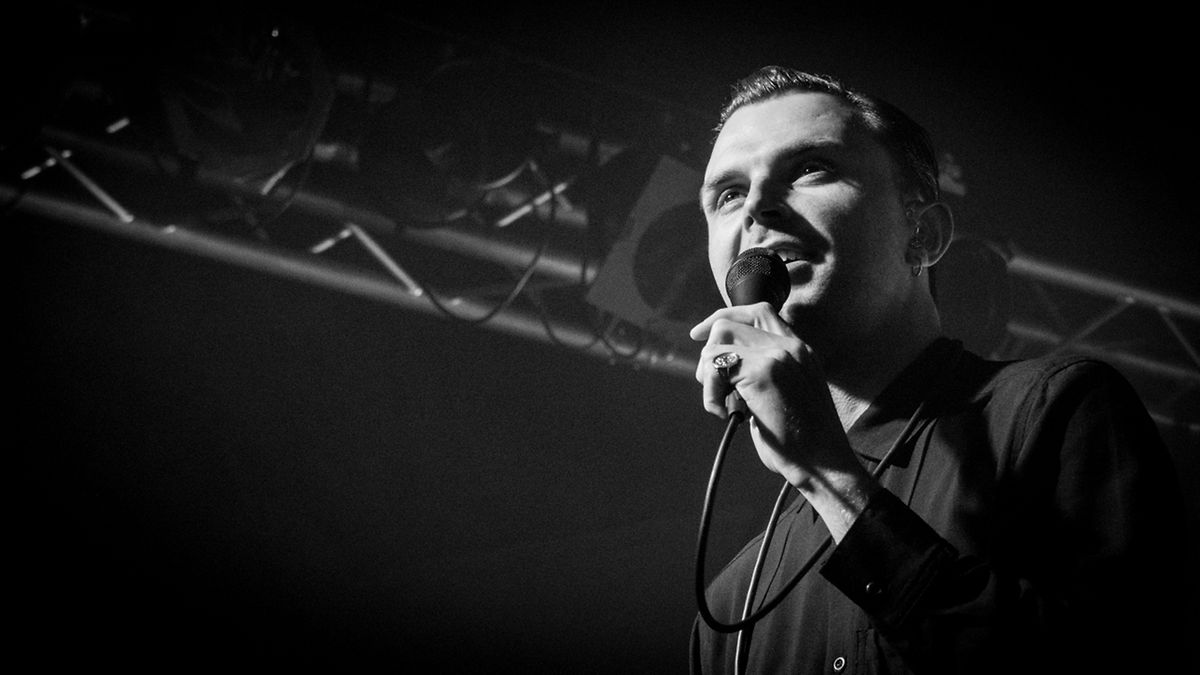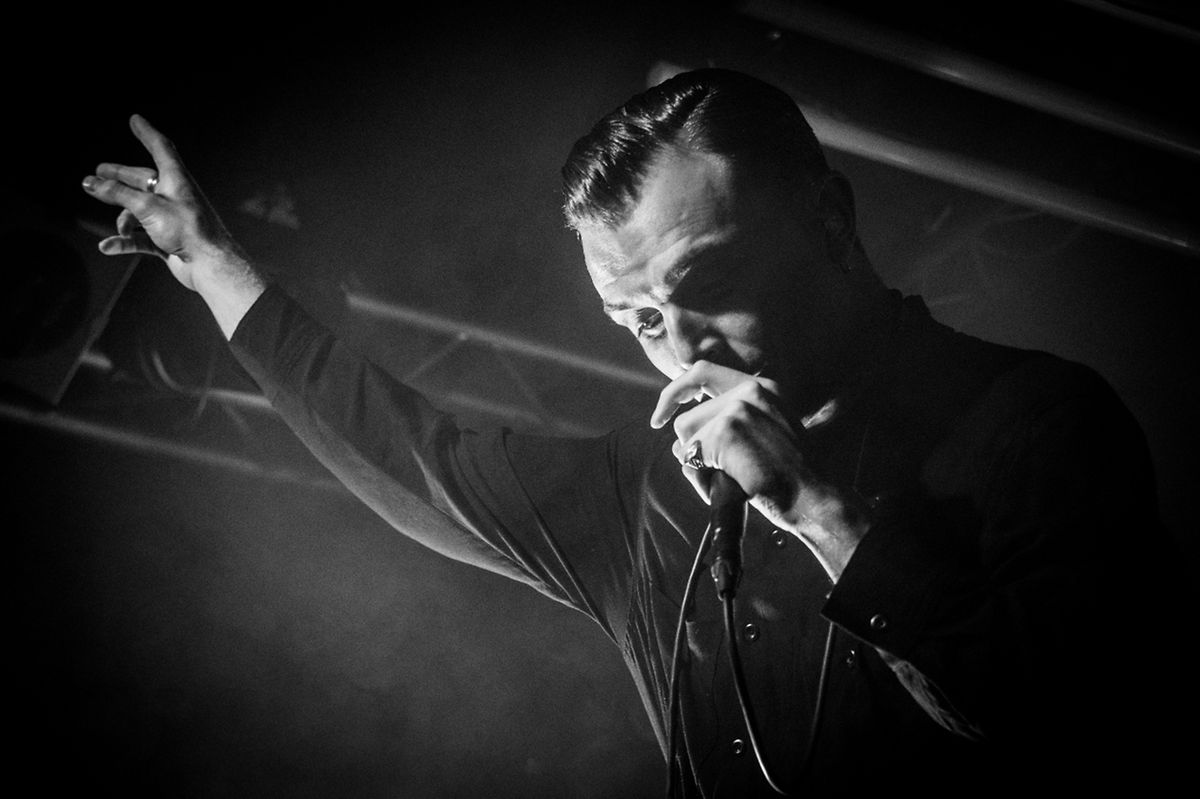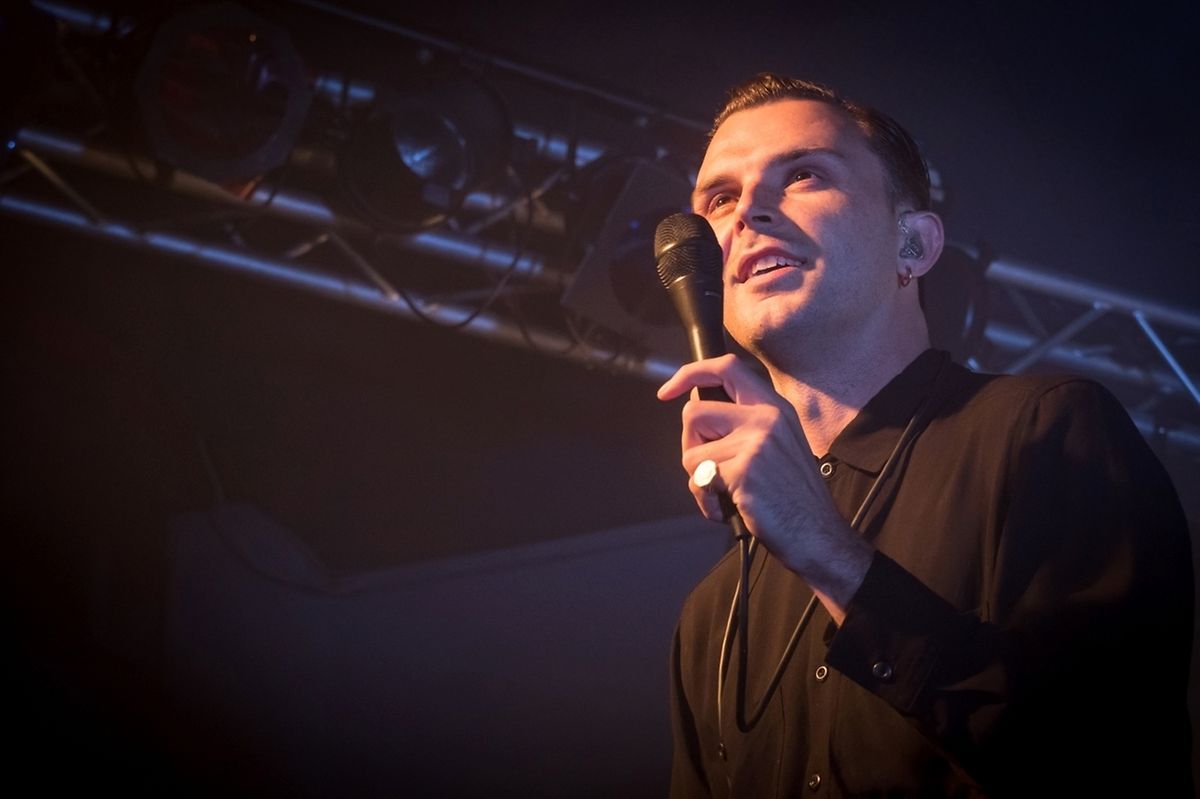 By Patrick Cameron
Monday night saw the return of Manchester's synth-pop favourites Hurts to den Atelier. Having burst onto the scene back in 2010 with their anthemic choruses and 80s throwback synths, Hurts quickly gathered quite a following, with the critics falling over themselves to get a piece of the band even before they had recorded their debut album.
Their nostalgia laden sound combined with a strong visual aesthetic proved a potent combination with their debut album selling in excess of 2 million copies. With the new album "Surrender" out at the end of last year, they're back with a more up-tempo sound as they continue to evolve.
As the crowd entered Atelier on Monday night they could barely see the stage, as a black mesh cloth was draped over the whole of the front with the word SURRENDER projected across it, obstructing a clear view of the setup behind. Then as the band took their positions and launched into "Some Kind of Heaven", with back lighting creating silhouettes, until they hit the chorus and the curtain fell. This of course received huge cheers from the audiance as the band came into view. A nice use of theatrics to get the crowd engaged early on.
Every aspect of their aesthetic was well thought out from the slicked back hair and sharp black clothes (think of Spandau Ballet and your almost there) to the effective strip lighting which was a throwback to 80s Top of the Pops sets. And with "Why" they wouldn't have been out of place on TOTPs back in its heyday. A delightful pop track with soaring vocals and synths, which is the sign of the new lighter upbeat direction the band has taken.
The big drum beat and epic chorus of "Somebody To Die For" lead in nicely to the dark brooding intro of "Weight of the World" before erupting in a celebration of bright electro groove. Then from nowhere frontman Theo Hutchcraft appeared with some roses, swirling them around reminiscent of Manchester's best known vegetarian frontman before throwing them out to the adoring fans.
It says something for the band that they can shift gears so effortlessly from the darker brooding sound of their first album to the unabashed disco funk of "Lights" off the new album. With lyrics such as "I just want to see you dancing" Hutchcraft had a beaming smile across his face as the Atelier crowd duly obliged, dancing away having well and truly warmed up from the cold night air by that point.
It was full on from then on with yet more clinically executed synth-pop with "Better Than Love" & "Wonderful Life" which had the crowd singing and dancing along before ending on their classic new wave gem "Stay".
The band have managed to create such a strong audio and visual aesthetic that they seem to bring a sense of longing and nostalgia for a sound and time you may never have felt you had too much of an attachment for.
The critics might not have been too favourable to them since their debut but if they continue to put on shows like last night, word of mouth will do a better job than any critic could do.
Take a read of Patrick Cameron's other reviews in his very own dossier: Patrick's concert news & reviews
Do not miss the news - get the wort.lu newsletter in English delivered to your inbox six days a week