Israel army presses Gaza ground assault
Israel army presses Gaza ground assault
Israeli troops backed by tanks and warplanes pushed deeper into Gaza on Friday in an operation to halt rocket fire and destroy tunnels that Hamas said is doomed to fail.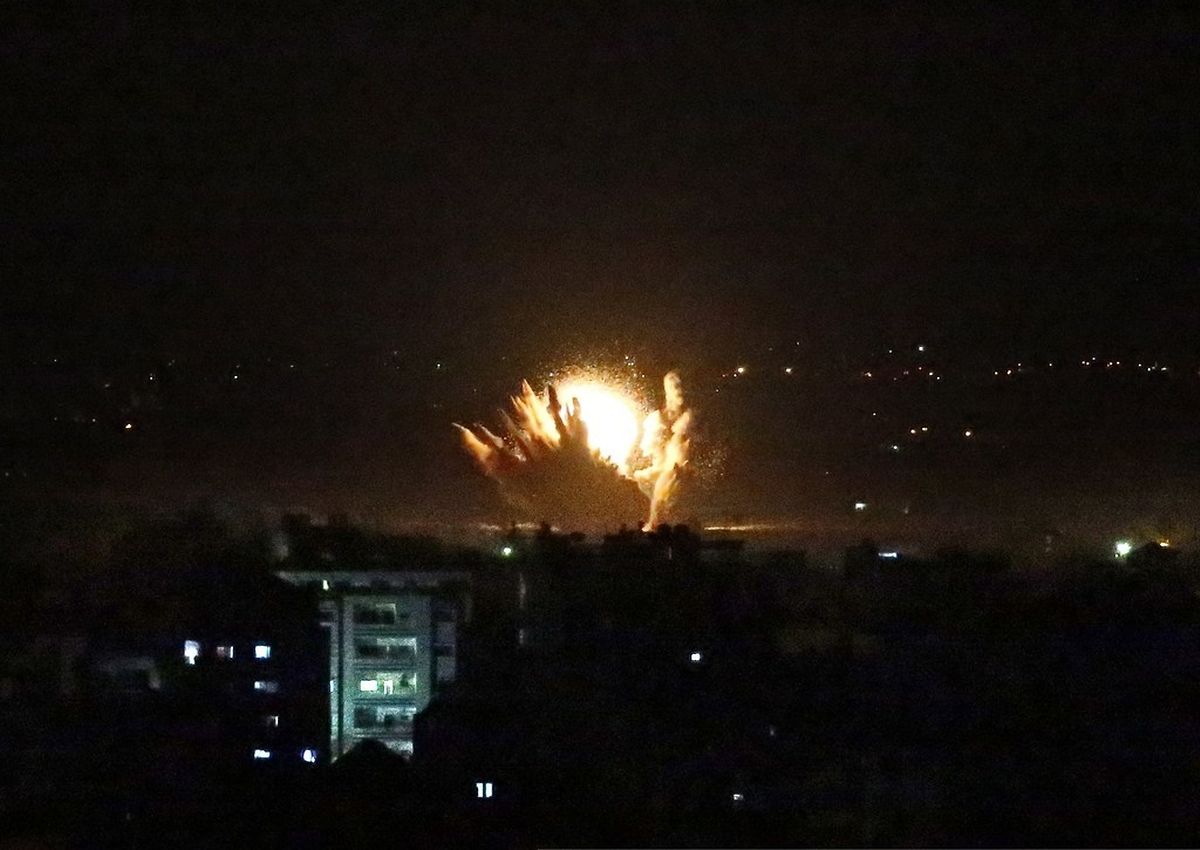 A picture taken on July 17, 2014 shows an explosion following an Israeli strike in Gaza City. Israel launched a ground operation in Gaza late Thursday on the 10th day of an offensive to stamp out rocket attacks from the Palestinian enclave, the army said. At least 240 Palestinians have been killed in Israeli air strikes since July 8, many of them children, medics in Gaza said, with a NGO based in the coastal enclave saying 80 percent of the deaths are civilians. AFP PHOTO / THOMAS COEX
(AFP) Israeli troops backed by tanks and warplanes pushed deeper into Gaza on Friday in an operation to halt rocket fire and destroy tunnels that Hamas said is doomed to fail.
The death toll among Palestinians soared to 260 as the large-scale Israeli offensive entered its 11th day, with the army bombarding Gaza by air and sea as well as from tanks massed along the border.
Israel reported its first combat death since its troops went in, while a five-month-old baby was among the 19 Palestinians reported killed on Friday.
The Jewish state said it was pressing ahead with the operation to destroy a network of tunnels that riddle the Gaza strip, used for assembling rockets and staging cross border attacks.
Before the ground offensive was launched, the army said it had foiled a subterranean raid by Gaza militants into southern Israel.
Thirteen militants emerged from a tunnel under the Gaza border, and were headed towards Sufa kibbutz, a small community just over a kilometre away, when they were spotted, it said. Warplanes killed at least one of the attackers, and rest ran back to the tunnel.
As the incursion began late Thursday, rockets lit up the sky, and the force of the shelling shook violently a seafront hotel in Gaza City housing scores of journalists.
The assault followed a brief humanitarian truce and urgent diplomatic appeals that Israel redouble its efforts to avoid harm to civilians.
US Secretary of State John Kerry urged Israel to limit collateral damage in Gaza and be "precise" in its ground assault on the enclave.
Kerry emphasised in a telephone call to Israeli Prime Minister Netanyahu "the need to avoid further escalation and to restore the 2012 ceasefire as soon as possible," said the State Department.
Offensive 'bound to fail'
Hamas, the Islamist movement that controls Gaza, said the ground operation was destined to fail.
"What the occupier Israel failed to achieve through its air and sea raids, it will not be able to achieve with a ground offensive. It is bound to fail," Hamas chief Khaled Meshaal said from his exile in Doha.
A Hamas spokesman in Gaza earlier said "Israel will pay a high price" for launching the ground operation and that his Islamist movement "is ready for the confrontation".
Palestinian president Mahmud Abbas said Israel must stop its ground operation, warning it would lead to "more bloodshed" and complicate efforts to end the conflict in the enclave.
Israel approved the call-up of another 18,000 reservists, taking the total number approved to 65,000 for an operation aimed at protecting Israeli lives and striking "a significant blow to Hamas's terror infrastructure," the army said.
Shortly beforehand, the military began an intensive bombardment of Gaza by air and sea as well as by tanks massed along the border.
Israel launched Operation Protective Edge on July 8 to stamp out rocket fire from Gaza, pounding the coastal enclave from both the air and the sea.
Egypt lashed out at Hamas on Thursday, saying it could have saved dozens of lives had it accepted an truce brokered by Cairo but also condemned the "Israeli escalation".
"Had Hamas accepted the Egyptian proposal, it could have saved the lives of at least 40 Palestinians," said Foreign Minister Sameh Shoukri.
An initial ceasefire proposal which was to begin on Tuesday was accepted by Israel but ignored by Hamas, which continued to fire rockets over the border.
Netanyahu and his defence minister, Moshe Yaalon, instructed the army "to commence ground action to strike at the terrorist tunnels from the Gaza Strip into Israeli territory," the premier's office said.
Army spokesman Major Arye Shalicar told AFP Israel's goal was "to strike Hamas infrastructure and operatives" in Gaza, including tunnels.
Residents urged to flee
Experts have said a ground operation is the only way of reaching targets unattainable from the air, such as the underground network.
Almoz urged Gaza residents to flee areas where the army was operating, warning the ground campaign would "be extended as much as necessary."
Following appeals by Washington and the United Nations, the military pledged to invest "unprecedented efforts" to limit harm to civilians.
"I regret that despite my repeated urgings, and those of many regional and world leaders together, an already dangerous conflict has now escalated even further," UN chief Ban Ki-moon said, urging Israel to "do far more" to spare Palestinian non-combatants.
On the ground, Palestinian witnesses reported gun battles breaking out east of the southern city of Khan Yunis, with military sources confirming it was one of the areas in which the troops were operating.
A military spokeswoman told AFP ground and air forces had attacked at least 36 targets in Gaza since the incursion was launched.
Following the start of the ground operation, 25 rockets fired by Gaza militants hit Israel without causing any casualties, with another 20 intercepted, the army said Friday.
Military figures also show that 1,155 rockets fired from Gaza have hit Israel from July 8 to Friday, and another 312 shot down by the Iron Dome air defence system.