Italy clears Knox of murder that gripped the world
Italy clears Knox of murder that gripped the world
Italy's top court has thrown out Amanda Knox's conviction for the 2007 murder of British student Meredith Kercher, bringing a sensational end to an eight-year legal drama that has gripped a global audience.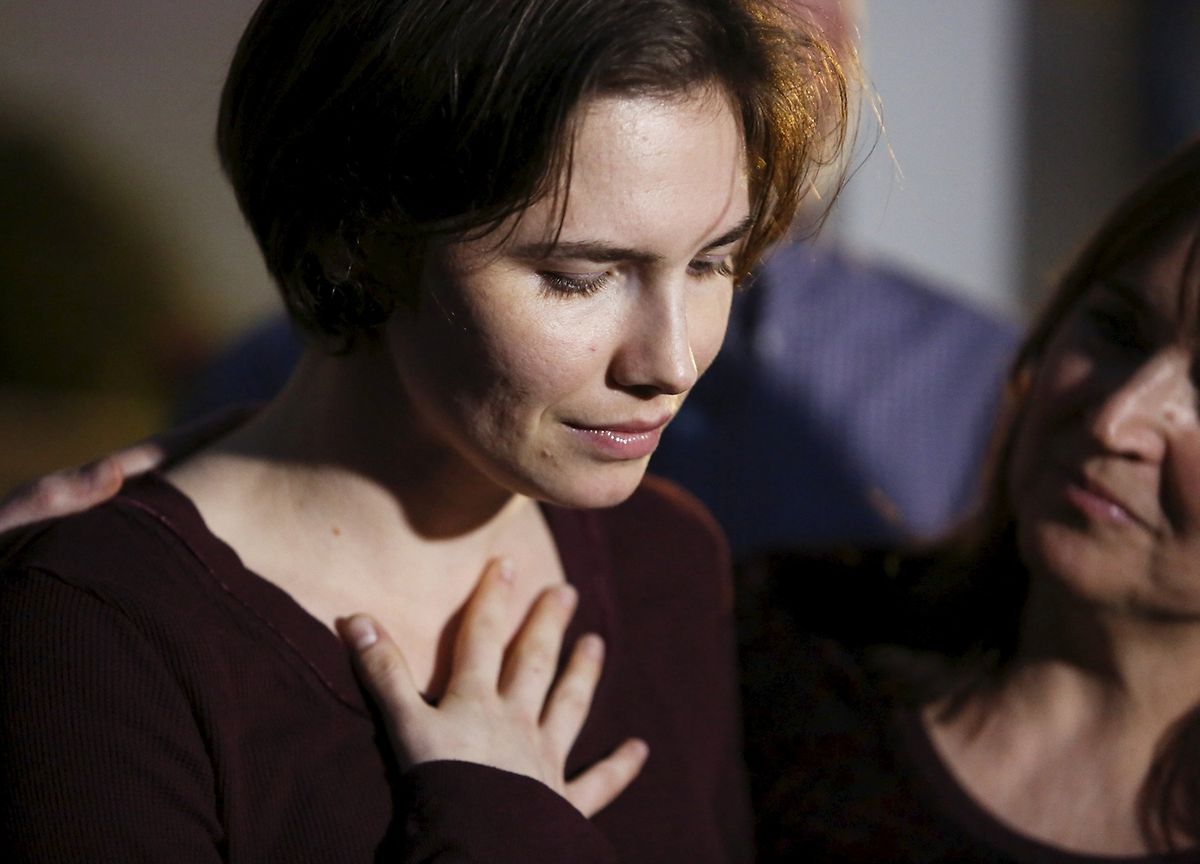 (AFP) Italy's top court has thrown out Amanda Knox's conviction for the 2007 murder of British student Meredith Kercher, bringing a sensational end to an eight-year legal drama that has gripped a global audience.
Judges at the Court of Cassation on Friday also quashed all charges against Knox's Italian ex-boyfriend Raffaele Sollecito after ten hours of deliberations in Rome.
Knox said she was "tremendously relieved and grateful" for the court's decision.
"Meredith was my friend, she deserved so much in this life. I'm the lucky one," a tearful Knox told reporters in Seattle.
The 27-year-old, who served four years in prison before being freed on appeal in 2011, said: "The knowledge of my innocence has given me strength in the darkest times of this ordeal."
Kercher's mother, however, said she was "surprised and very shocked" at the ruling.
Arline Kercher called the decision "odd" given the pair had been convicted twice following the British student's killing in 2007.
Sollecito, 31, learned of the verdict at his home in Puglia in southern Italy, where he had driven after attending the final hearing in the high court review on Friday morning.
"Finally I can resume my life," he said. "I still can't quite believe it. Finally I will no longer have to spend all my time with legal papers. I can return to normal."
The shock verdict was greeted with chaotic, jubilant scenes in the great hall of the Roman courthouse.
Chairs went flying as Sollecito's lawyer Giulia Bongiorno reacted to the shock verdict by shouting "yes, yes, yes" and leaping up into the arms of a colleague. "Raffaele has been a rock. This verdict has proved him completely right," she said.
One of Knox's lawyers, Luciano Girgha, admitted he had been surprised by the verdict, but said it had restored the battered credibility of Italy's judicial system.
"It was a brave decision, it has renewed my faith in the system," Girgha said. "It went beyond my wildest expectations, I'm super happy for Amanda. She has finally got her life back. She always insisted she was innocent."
A second acquittal
Kercher, 21, died after being stabbed 47 times and having her throat slashed.
Her half-naked body was found in a pool of blood in a back room of the house she shared with Knox.
Ivory Coast-born drifter Rudy Guede was jailed for the murder in 2008 but, in a judgement that was to have serious implications for Knox and Sollecito, the judge in his trial ruled that he could not have acted alone.
Prosecutors maintained to the end that Knox and Sollecito fatally slashed Kercher while Guede held her down.
Knox and Sollecito were first convicted in 2009, then acquitted in 2011, when they believed they had been freed to resume their normal lives.
But that decision was found to be flawed by the Court of Cassation in 2013, leading to a retrial in Florence which reinstated the initial convictions last year and increased Knox's sentence to 28 years and six months.
Lawyers for both defendants said they would be seeking compensation for the time spent in prison - two years on remand before their initial conviction and two more before they were freed on appeal.
Had the convictions been upheld, Knox would have almost certainly faced extradition, which she had vowed to resist.
She said last year: "I would have to be dragged back kicking and screaming into a prison I didn't deserve to be in."
A friend of the Knox family, who had spoken on the phone to them at their Seattle home since the verdict, told BBC radio that "everybody is very happy to see this finished, so they can get on with their lives."
An innocent abroad
Since her release, Knox had completed the language studies that took her to Perugia in the first place, found work as a journalist and reportedly become engaged. But her lawyers admitted she had been extremely worried that Friday's verdict could go against her.
She is unlikely ever to be able to live a completely normal life, such was the fascination with a case that had an irresistible combination of a youthful, photogenic cast, a particularly brutal crime and an endless supply of headline-friendly detail.
Such details ranged from DNA traces found on the victim's bra strap to the vibrator that Knox kept in a see-through toilet bag.
Knox's supporters always insisted she was simply an innocent abroad who fell victim to a flawed judicial system.
Illustrating what the defence says was systemic police bungling in the case, Bongiorno said in court Friday that 35 people had tramped in and out of the crime scene, making critical DNA evidence unreliable and eliminating any proof either of them were in the bedroom when Meredith died.
"The prosecution say Sollecito's DNA was on the bra strap but there was none on the floor. Did he manage to touch the bra without touching the floor?
"Not a single trace of Amanda Knox was found in the room. The only creature that does not leave DNA traces is a dragonfly."