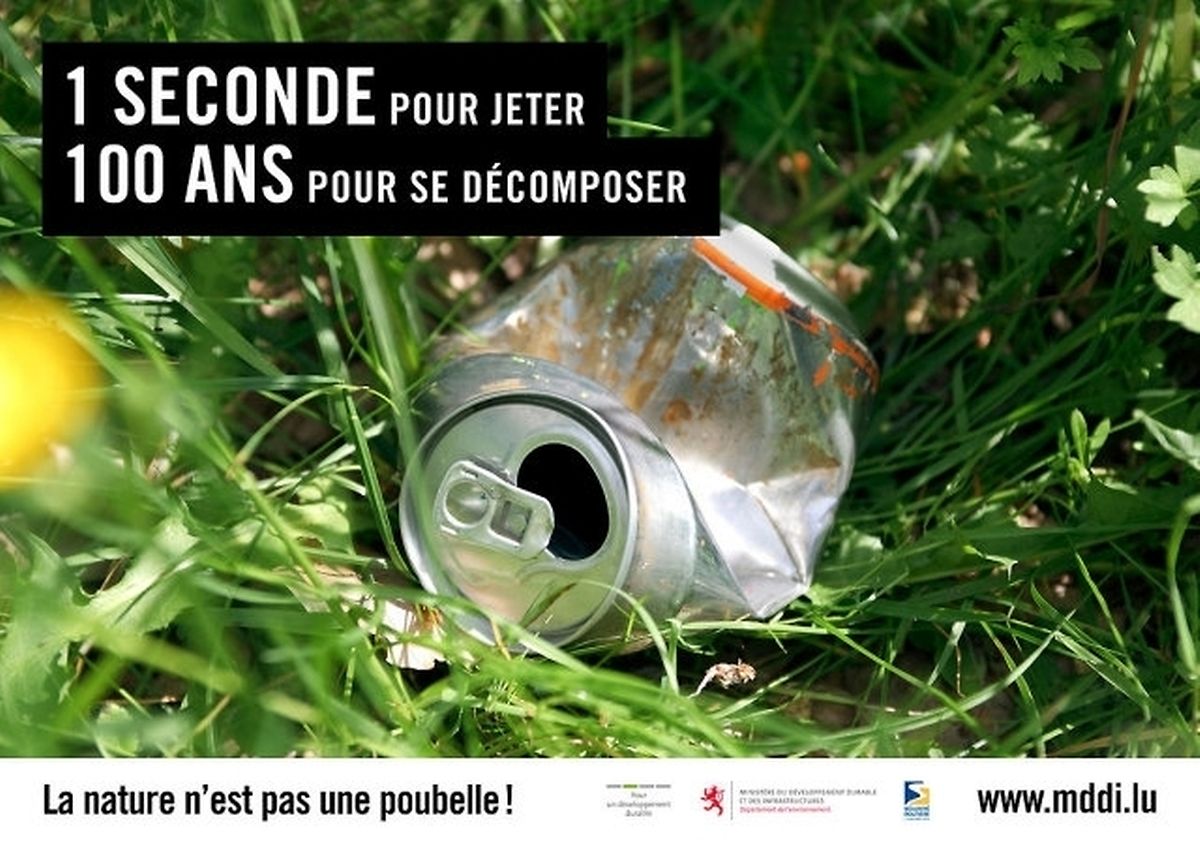 (ADW) A new campaign entitled "Keen Dreck op d'Strooss" (no litter on the streets) is the environment ministry's attempt to attack the increasing litter problem the country faces.
Cigarette butts, empty bottles and of so-called "convenience food" packaging are the culprits for most of the littering problem. A pollution issue that is not only a risk to wildlife and unsightly, but also a financial challenge for communes. One million euros is the figure quoted for clean-up operations with most litter being found along the side of motorways as many people throw rubbish from their car while travelling.
Lack of rubbish bins and carelessness
A blame for the problem seems to stem from the lack of rubbish bins in some areas or the control and emptying of them. A questionable blame however as alarmingly 50% of all littering offences in the country can be found 5 metres from a bin, and 10% a metre distance.
Therefore the problem of rubbish disposal facilities do not appear to be the only problem. Thoughtlessness, laziness and even habit by many, unfortunately seem to play a big part in polluting the environment.
Raising awareness through promotion
With a promotion and awareness campaign, the government hopes that roadsides strewn with rubbish or overflowing rubbish bins will become a thing of the past or at least a reduction to the problem will occur. A pilot project launched by "Summer In The City" for example, now only gives out (with a deposit) reusable cups when buying drinks at all its events, seen as a good start to tackling the problem. But it also needs people's attitudes to change in order to think about the consequences of littering and respect the environment.
Prevention as a means to success
The environment ministry wants to focus more on prevention in order to tackle the nasty litter problem. Using posters on streets, in buses and by public buildings they hope to raise awareness through their campaign. There is also a competition that runs as part of the campaign helping to convey the importance of environmental conservation.
However at no point in the campaign is the subject of fining addressed. Luxembourg has often been criticised for its lax fining rates where littering is concerned, far less strict than many other European countries.
The campaign "Keen Dreck op d´Strooss" 'is run in collaboration with the Sécurité routière, the ACL and SNCT.