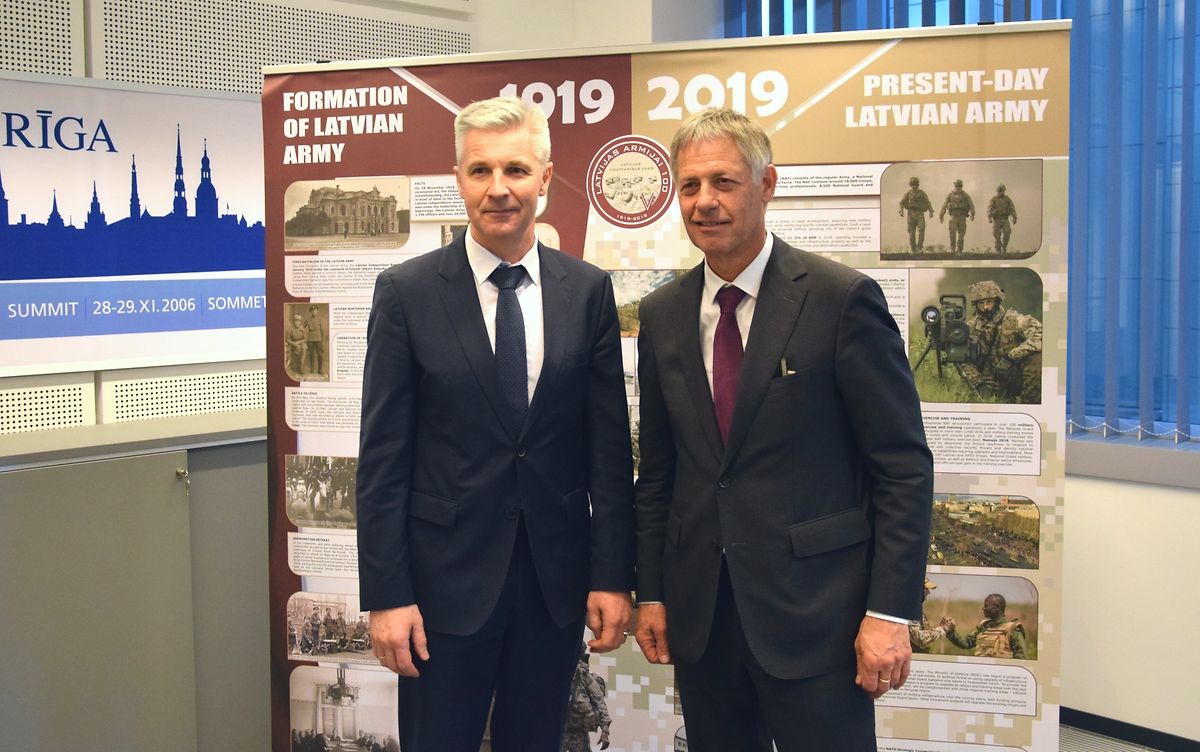 Latvian defence minister Artis Pabriks (l.) and Luxembourg's minister delegate for defence, Henri Kox Photo: Ministry of Defence of the Republic of Latvia
The Luxembourg government will spend €1.2 million to help Latvia clean up polluted military sites in a drive to boost green defence spending.
The agreement between both countries was signed on the sidelines of the NATO defence ministers meeting in Brussels, a statement published on Thursday said. Key items on the Brussels meeting are missions in Iraq, Afghanistan, the state of play in Ukraine and NATO-EU relations.
Luxembourg has set up a spending plan to boost its defence commitments. The country currently only allocates around 0.6% of its GDP on defence, the smallest rate by any NATO member and far off the 2% mark that allies have committed to reaching.
As part of that effort Luxembourg will support Latvia in the environmental remediation of soil on military sites in the country to remove pollution and contaminants. The Grand Duchy has pledged a sum of €1.2 million between 2020 and 2023.
Luxembourg in 2017 co-funded the construction of military barracks used by NATO troops in Latvia. It is also planning a complete refurbishment of the premises of NATO's support and procurement agency, which is based in Capellen and manages the organisation's logistics operations.

The decision to appoint a defence minister from within the ranks of the Green party – which is historically pacifist – had raised some eyebrows in 2018. The office was previously held by a member of the Social Democrats. But the party said at the time that it wanted to use the opportunity to add an environmental dimension to defence spending.
The ministry is currently conducting an analysis to measure the army's carbon footprint, a spokeswoman said. The army's civilian vehicles will be progressively replaced with hybrid or electric cars, she said. In addition, renovation works of the military barracks in Diekirch and a shooting range will follow new environmental standards to reduce pollution.

The defence cooperation isn't the first green deal Luxembourg has struck with a Baltic country. In 2017 and 2018 it imported green energy worth €16.5 million to meet its renewables targets.

---
Get the Luxembourg Times delivered to your inbox twice a day. Sign up for your free newsletters here.