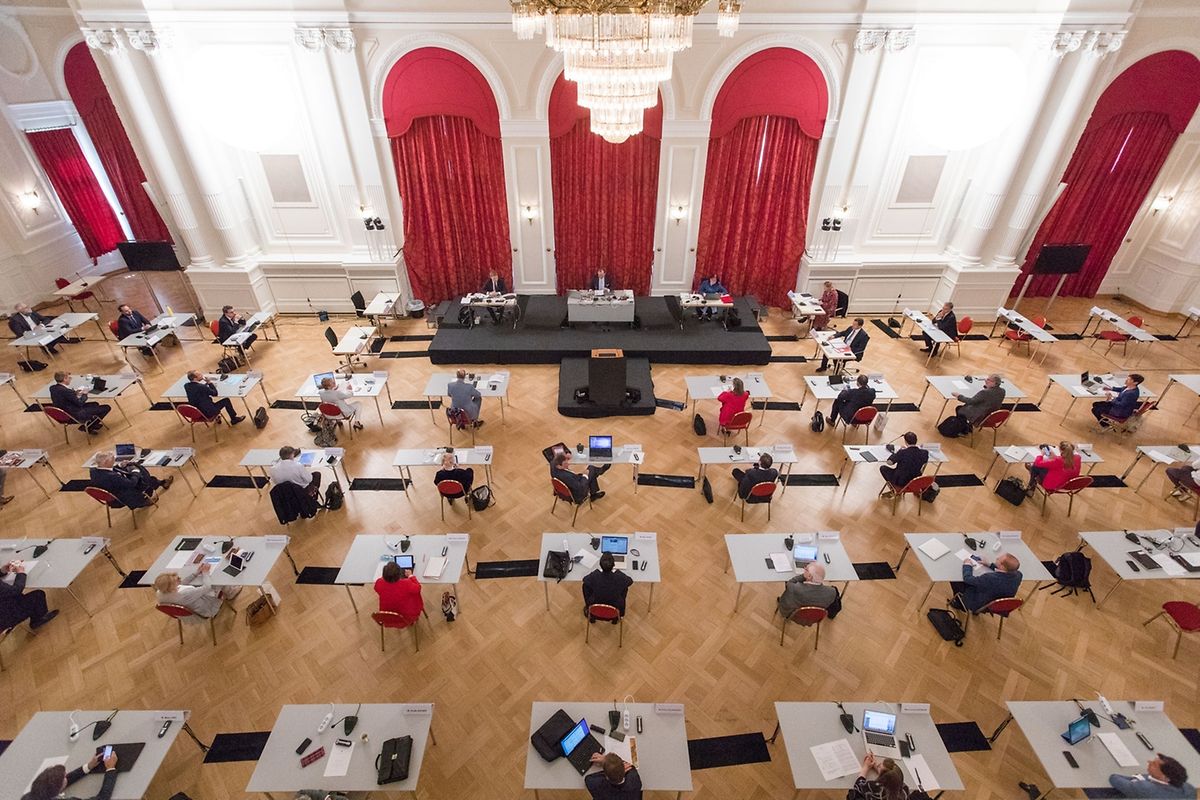 Luxembourg's parliament in Cercle Cité, where it is currently gathering because of the Covid-19 pandemic Photo: Lex Kleren
Luxembourg's parliament voted to extend Covid-19 restrictions until 14 March as the country aims to keep case numbers low due to virus mutations spreading while the vaccination campaign is picking up pace.
Lawmakers on Friday debated and voted on a extension of the Covid-19 measures currently in place, such as the closure of restaurants and bars, obligatory mask-wearing in shops, and quarantine measures.
The measures were passed with 31 in favour, with all three government parties supporting the measures. The other 29 lawmakers voted against the law.
The country's Covid-19 taskforce, in its weekly report on Friday, warned that the country is facing difficulties due to more transmissible variants of the virus spreading, and that planned stricter measures, such as consistent mask-wearing in schools, should be implemented.
However, the taskforce told RTL there was no need to return to the full lockdown imposed in March last year.
Luxembourg reported another 220 positive cases out of more than 10,000 tests on Friday, and another three deaths, taking the overall death toll up to 622.
There are a few small changes to the existing rules. Athletes must present a negative test result - taken within the preceding 72 hours - before being allowed to participate in a sports competition, and there will a new legal framework for personal data retention with regards to Covid-19 testing and vaccinations.
Advisory bodies to parliament have raised concerns about some of the legal provisions, saying that data is kept for too long and not under the right conditions, or that it could fall into the wrong hands.
The country's de facto upper chamber, the State Council, has also rebuked Education Minister Claude Meisch for seeking powers over childcare structures that should remain with the legislative body.
Whilst schools are switching back to education in person, the state's health department decreed that schools in Schifflange, in the south of the country, will stay in remote teaching mode until 24 February due to infection clusters.
Other schools are set to reopen from Monday, however, and more rapid tests for teachers and pupils will be made available, Meisch announced.
An expert earlier this week warned that the "virus is outpacing us" due to a slow vaccination rate. However, there are signs that the vaccination campaigns in Luxembourg and elsewhere in Europe are picking up pace as more vaccine doses arrive.
As of Friday, Luxembourg has administered 28,399 vaccine doses in total. 7,080 people have received the two doses needed to be fully vaccinated.
Next week, the country is starting its second vaccination campaign, targeting people above the age of 75 and those classed as vulnerable, with more vaccination centres set to open across the country during the week.
---
The Luxembourg Times has a brand-new LinkedIn page, follow us here! Get the Luxembourg Times delivered to your inbox twice a day. Sign up for your free newsletters here.