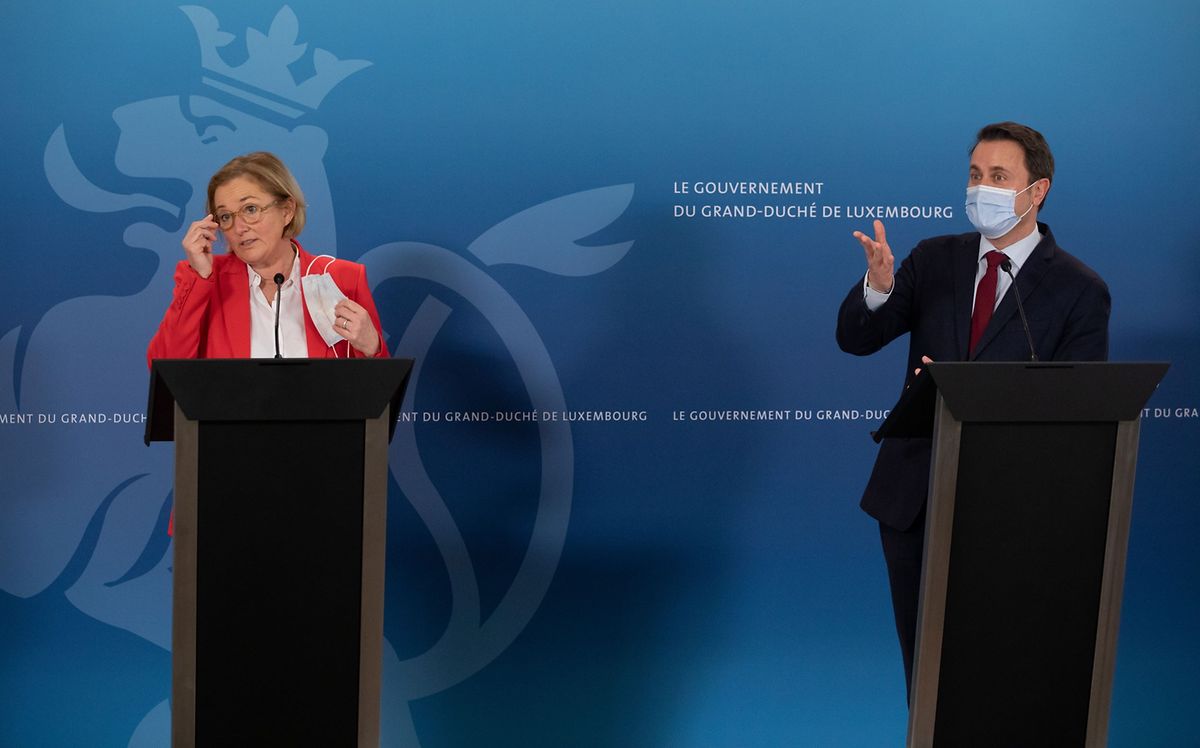 Health Minister Paulette Lenert and Prime Minister Xavier Bettel announced the extension of the lockdown measures at a press conference on Friday Photo: Chris Karaba/Luxemburger Wort
Luxembourg will extend its coronavirus lockdown measures until March 14, the government said on Friday, as new infections are continuing to rise even though hospital admissions are going down.
The current measures had been due to end on February 21 but will stay in place for a further three weeks, Prime Minister Xavier Bettel and Health Minister Paulette Lenert said at a press conference.
The extension means that bars and restaurants will remain closed, with a curfew remaining in place from 2300 hrs to 0600 the next morning, in spite of protests against the measures by hundreds of workers from the hospitality industry on Thursday.
The decision came amidst signs of both progress and setbacks in the fight against the virus, Bettel said, with the number of admissions to hospitals decreasing, but new infections on the rise. The fear of new more contagious mutations also played a role, he said.
"If we have a new variant, the spread of the virus is faster so we came to the conclusion that we must keep a preventive approach," said Bettel.
Luxembourg's National Health Laboratory (Laboratoire National de Santé) said on Friday that it had now discovered 18 variants of the coronavirus in the country.

Luxembourg has come in for criticism for a slow start to its vaccination programme, lagging behind other EU countries. Less than 10% of the population is to have received a vaccination by the end of March.
The country aims to vaccinate 3,500 people every week, Lenert said, adding that people over 75 years of age and those in vulnerable categories would be next to receive the shot from 22 February - provided that the government will receive the doses on time.
Business support
The government also announced a number of further business support measures. Companies forced to close as a result of the restrictions or which have losses of 75% or more will have their costs covered, said Bettel.
The hospitality sector welcomed the measures, although the Horesca trade organisation expressed regret that the aid would not be applied retroactively, saying it would continue to campaign for an extension of support until the end of the year.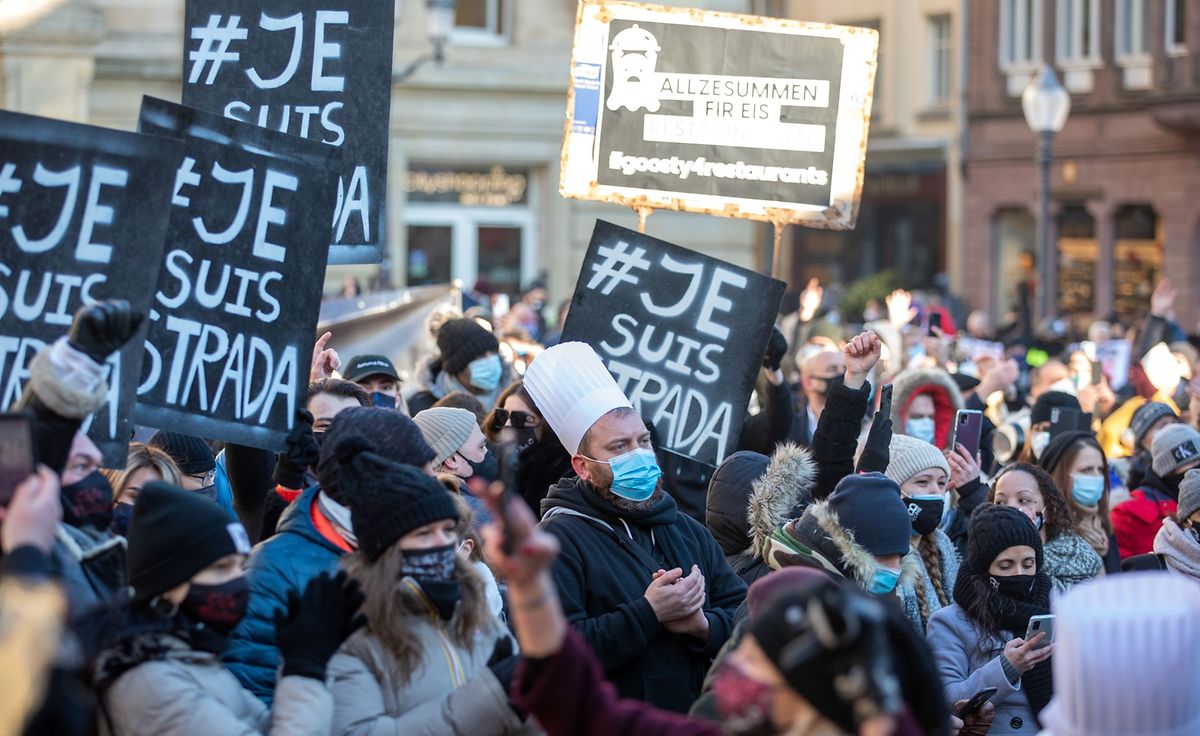 Protesters had taken to the streets close to Luxembourg's parliament on Thursday calling for assistance for the hospitality sector Photo: Chris Karaba/Luxemburger Wort
Lex Delles, the Minister for Small and Medium-Sized Enterprises, will hold a press conference on Monday to outline more details on the aid planned for companies, Bettel added.
The latest figures on Friday showed that there were 147 new infections in Luxembourg, and two further deaths from Covid-19, bringing the total to 606 since the outbreak of the pandemic. There are now 68 patients in hospital, of whom 14 are in intensive care.
Earlier in the day, Education Minister Claude Meisch announced that schools in Luxembourg are set to re-open as planned on February 22, with a new requirement that all students wear masks.
Stricter precautions were needed to resume in-person instruction after the current week of remote learning and holidays next week, Meisch said, justifying his decision last week to close primary schools. Secondary schools had longer holidays, so they did not need to be closed.
In schools without space for sufficient physical distancing, classes may be split, with one group physically present and the other learning remotely, he said. Groups also could have face-to-face teaching in the morning and remote learning in the afternoon, Meisch said.
Students in the first and final years of secondary school will keep coming to schools rather than working remotely, Meisch said. Year-end examinations will be slimmed down somewhat to account for the difficulties they encounter this school year, the minister said.
The government is also working to deploy rapid virus tests to schools that could be conducted under the supervision of teaching staff, Meisch said.
(Additional reporting by Julie Edde)
---
The Luxembourg Times has a brand-new LinkedIn page, follow us here! Get the Luxembourg Times delivered to your inbox twice a day. Sign up for your free newsletters here.