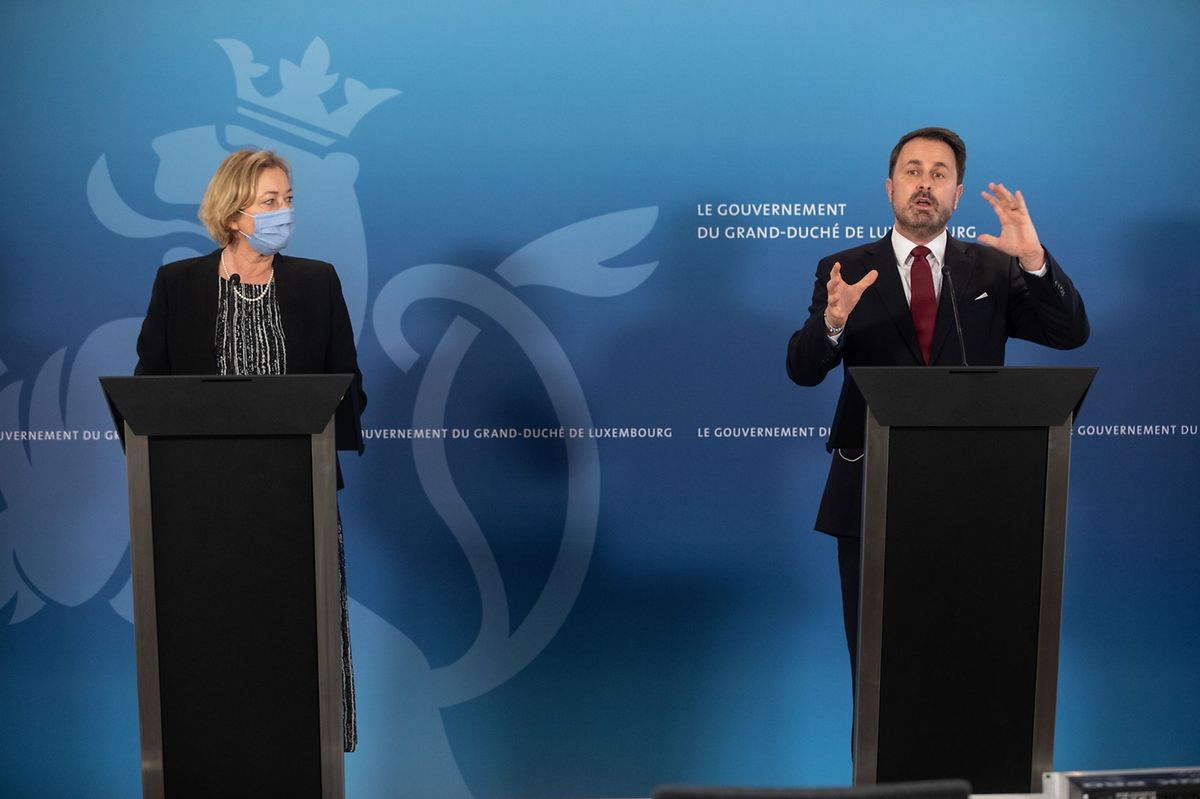 Health Minister Paulette Lenert (left) and Prime Minister Xavier Bettel giving a coronavirus update on Friday Photo: Gerry Huberty
Bars and restaurants in Luxembourg will remain closed for at least another month as the government rushes to speed up its vaccination programme - one of the slowest in Europe.
While infection numbers in the country have gradually been coming down, uncertainty around new coronavirus variants, particularly the highly infectious UK variant, means it is too early to start relaxing restrictions, Prime Minister Xavier Bettel said on Friday.
"The [Covid] variants are changing how much we know about the situation," said Bettel at a press conference he held together with Health Minister Paulette Lenert.
"This is not the moment to lift the lockdown," which will now be extended until at least 21 February. When asked, Lenert refused to rule out that the lockdown measures could stay in place until the summer.
Luxembourg reported no new deaths from Covid-19 on Friday and 119 new cases, below the level of 150 academics had previously said was the upper limit above which lockdown measures should stay in place.
Vaccination woes
In another bid to keep coronavirus at bay, authorities are rushing to speed up Luxembourg's vaccination programme.
The country has a vaccination rate that is lower than many other European countries at just 0.99 per 100 residents. The European Union average stands at 1.65, according to the Our World in Data website.
But there are few signs plans to immunise the population are getting back on track, with progress hampered by few people coming to receive an injection, and delivery delays from providers.
So far 5,655 people have had their first injection and 1,242 have had two, Lenert said. Just 41% of people invited by letter to be vaccinated during the first phase of the campaign have so far turned up to receive the jab.
A second phase of the vaccination campaign will begin next week. Luxembourg currently has 19,500 doses of the Pfizer/BioNtech vaccine and 1,200 doses of the one from Moderna one.
This means 10,500 people can get vaccinated. But the government is relying on more deliveries from the vaccine producers, to meet its aim of vaccinating 43,500 people by the end of March.
"We are at the mercy of the producers," said Bettel.
There have been delays in the delivery of the Moderna vaccine, whose next shipment will arrive five days later than first expected on 30 January, Lenert said.
Travel restrictions?
People travelling into Luxembourg could also be forced to present a negative Covid test to be allowed to enter the country, Lenert said. She would present more details on the plan next week.
The EU failed to make much progress on joint measures to cope with the relentless onslaught of the virus at a meeting of political leaders this week. The discussion about what is required to travel between countries and how to deal with vaccination passports is set to continue.
Luxembourg faced criticism earlier this month after it first eased measures at the beginning of the year, opening fitness centres and shops while other countries found the pandemic had not yet peaked.
Prime Minister Tobias Hans of the German federal state of Saarland described the relaxation of the measures as "irresponsible".
And German Chancellor Angela Merkel this week - without naming Luxembourg - would not rule out border controls with neighbouring countries unless measures were equally strict as in Germany.
A total of 250,000 cross-border workers travel into Luxembourg each day and the country's health care sector would collapse without them, making it a crucial for the country the borders stay open.
Foreign Minister Jean Asselborn was talking with Saarland at the moment to discuss the issue, Bettel said during the press conference.
---
The Luxembourg Times has a new LinkedIn page, follow us here! Get the Luxembourg Times delivered to your inbox twice a day. Sign up for your free newsletters here.