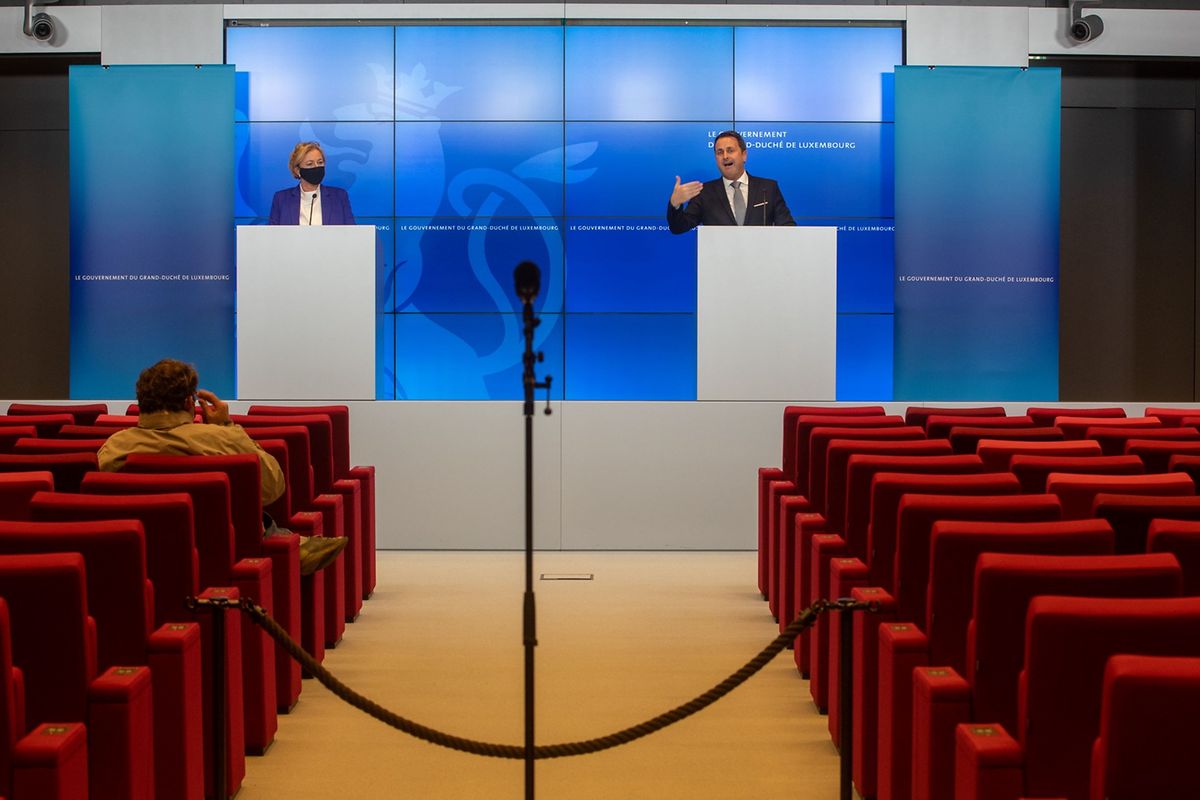 Health Minister Paulette Lenert (left) with Prime Minister Xavier Bettel on Friday Photo: Gerry Huberty
Luxembourg is readying for a vaccine roll-out early next year as five vaccination centres are in the process of being set up across the country to first inoculate health care sector workers and vulnerable people on a voluntary basis.
"There will be a priority vaccine centre in the city at Limpertsberg, which could in theory be opened in December, although we will probably not have the vaccine by then", Prime Minister Xavier Bettel said at a press conference on Friday.
Luxembourg might approve vaccines in the first two weeks of January, although "this is not set in stone", Bettel said, as the European Medicines Agency is currently scrutinising the vaccines from five possible suppliers which Luxembourg has ordered via the European Union.
To date, more than 300 people have died in Luxembourg as a result of Covid-19, with a second lockdown implemented last month.
Luxembourg recorded another six deaths on Friday and 588 new infections, a number that has stubbornly stayed above the 500 threshold that led the government to re-impose harsher restrictions last month.
Currently, 193 Covid-19 patients are hospitalised, 41 of which are in intensive care units - numbers that are broadly in line with previous days, in a sign that the virus is still wreaking havoc in the country.
Five locations
Three other sites where Luxembourg would vaccinate people against the coronavirus were at the Findel airport in the centre, Belval in the south, and Ettelbruck in the north. A spot in the east was yet to be identified.
All these sites needed to be able to deal with challenges such as how long and at what temperature the vaccine can be stored at.
Nurses and doctors would help with the effort for a nation-wide vaccination programme, said Health Minister Paulette Lenert, who was also at the press conference, though she did not give any numbers. The government had also launched a call for others to help.
The government will send invitations for vaccinations to people through the post, as was the case earlier in the year for the large-scale testing campaign. People can then arrange a time slot online.
Luxembourg will vaccinate people working in the health sector first, including cross-border workers, and then the most vulnerable people, such as people in nursing homes or those with health conditions, before proceeding to a large-scale vaccination programme free of charge.
Everyone who wants to be vaccinated, Bettel said, "must book their appointment spot when they can and not wait", as invitations will be valid for 15 days only.
Through the European Commission, Luxembourg has ordered enough vaccines from five producers to vaccinate 880,000 people, a figure well above the country's population of 626,000, but probably just about enough to administer to eligible cross-border workers too.
'Critical' few months
Lenert also urged the population not to let their guard down despite the vaccine breakthrough, saying "the next months will be critical."
Luxembourg has the highest infection rate in Europe compared to the size of its population, data from the European Centre for Disease Control (ECDC) show, and deaths also steadily climbing.
In the first ten months of the year, mortality in Luxembourg increased by close to 3% year-on-year, the country's statistics bureau said in a monthly update published on Friday.
Between January and October, 3,601 people died in the country, 103 more than in the same period of 2019. The number of deceased this year has been directly linked to the Covid-19 pandemic, Statec said.
However, when adjusted to the population growth, the ratio has remained stable. The mortality rate for the first ten months of 2020 stood at 5.7%, compared with 5.9% in 2018 and 5.6% in 2019, for the same period.
(Additional reporting by Kate Oglesby, John Monaghan and Zuzanna Reda-Jakima)
---
The Luxembourg Times has a brand-new LinkedIn page, follow us here! Get the Luxembourg Times delivered to your inbox twice a day. Sign up for your free newsletters here.