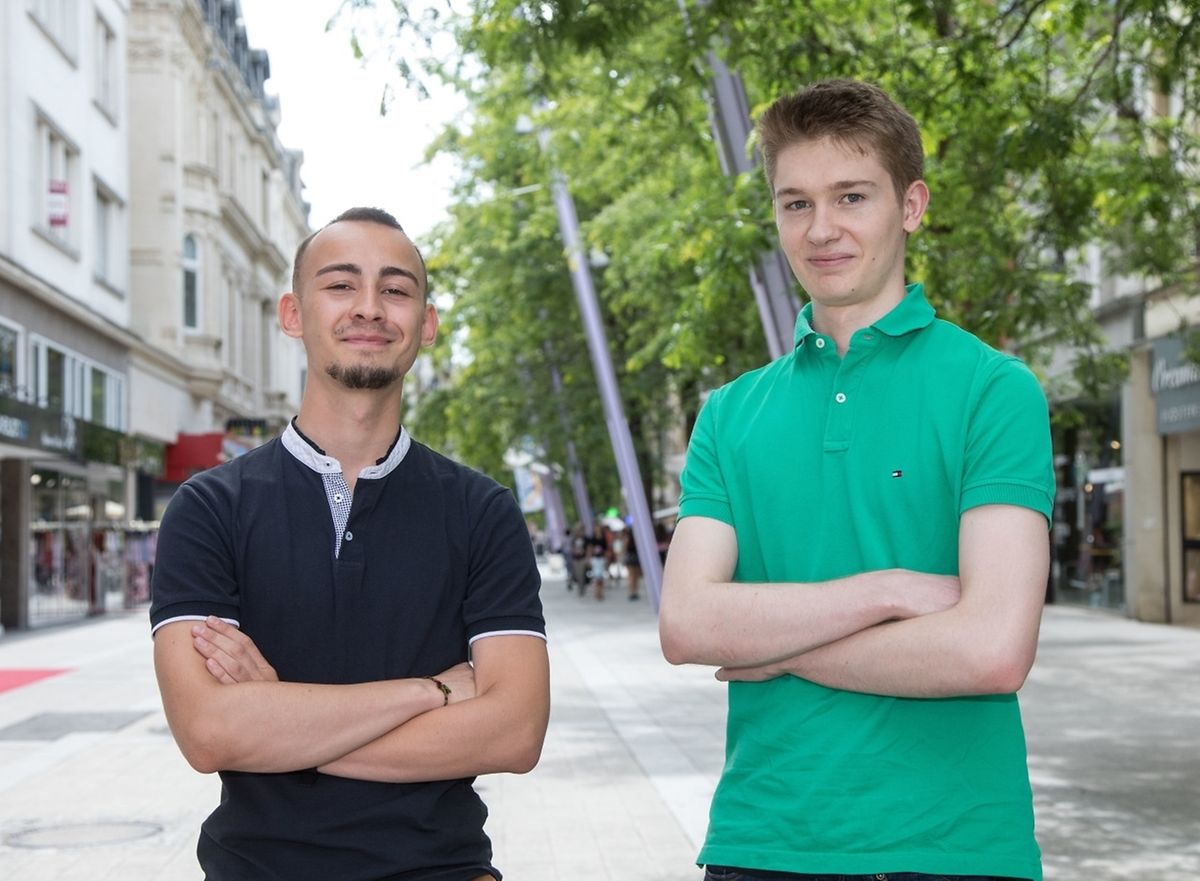 In every course, in every examination, in every subject, whether it's maths or Latin, whether it's oral or written, 19-year-old Jean-Marc Heinricy from the "Athénée de Luxembourg" and Tim Seuré, 20, from the "Lycée Technique d'Esch- Sur-Alzette "(LTE) had the best marks in the 2017 final exams.
They completed their exams with an average score of 59 points out of 60.
The two high school graduates - Jean-Marc the best "1ère" (classical studies) student and Tim the best "13e" (technical studies) - had expected a good result from the start, but the two ambitious students exceeded their own expectations.
"In philosophy and French I got 56, which was my worst exam ", said Jean-Marc, who attended the "Section B" (maths section).
For Tim, a student of a "Technique générale", it was a 53 in English. For the rest, the two students-to-be have achieved top marks between 57 and 60.
Throughout the year they were diligent and always well prepared. "I had planned to study regularly," Jean-Marc said. "Starting from the Easter holidays, I worked intensively with the exam material and worked on one subject after another. This was the best approach for me."
Tim prepared in a similar way. "I learned intensively for each test all year round," Tim added. "After the last test - that was nine days before the start of the exams - I then really got started with the learning material."
Their favourite subject was physics, and for Jean-Marc it was also maths. While Tim did not like chemistry at all Jean-Marc's pet peeve was philosophy.
Their readiness to learn and their diligence was not only shown on the day the results were published.
Tim already went into the exams with an annual score of 59 and was able to maintain them. Jean-Marc went in with 58 and managed to up his overall score by one point.
"I was not afraid of the exam," he said. "The worst was always waiting for the exam paper. As soon as I had that in my hand and could take a look at the questions, all the excitement vanished and I just started writing."
Tim also knew to avoid panicking before the exam. "During my preparations I looked at all previous exam questions published since 2005 and I studied them intensively, so I knew what to expect," he said.
Crémant and table football
All in all, nothing stood in the way of a brilliant performance for the two pupils. On the day before the results were published, Tim took a few crémant bottles to celebrate with his friends. Jean-Marc's celebration was a bit quieter, after the results were announced he played a round of table football with his friends.
Friends and family were proud of the performance of the two boys.
"Since my father taught in the Athénée, he already knew before me," Jean-Marc said. "My friends said to me all year round, 'you have got what it takes, you'll get a good grade'."
After the hardships of the past weeks and months, both pupils then took the time to catch up on everything they had neglected and turned to their hobbies again.
Jean-Marc met with friends, played tennis and piano again and Tim played his favourite video game "Minecraft". The 20-year-old also likes to run and swim in his free time.
Start of study in autumn
"I'm glad to be on holiday," Tim said. "Together with my girlfriend, I am travelling to the Belgian coast and then travelling to Corsica at the end of August."
Jean-Marc has also planned a holiday with his family. "I am currently completing a six-week internship to prepare for my studies in autumn," the 19-year-old explained.
The best "1ère" pupil in the country is starting his engineering studies in Aachen in October. Tim was accepted at the University of Heidelberg and will study maths.
But one thing is still important to them and both agree: "Without the good preparation and support of our teachers, we would not have achieved this result."
(Wort staff)