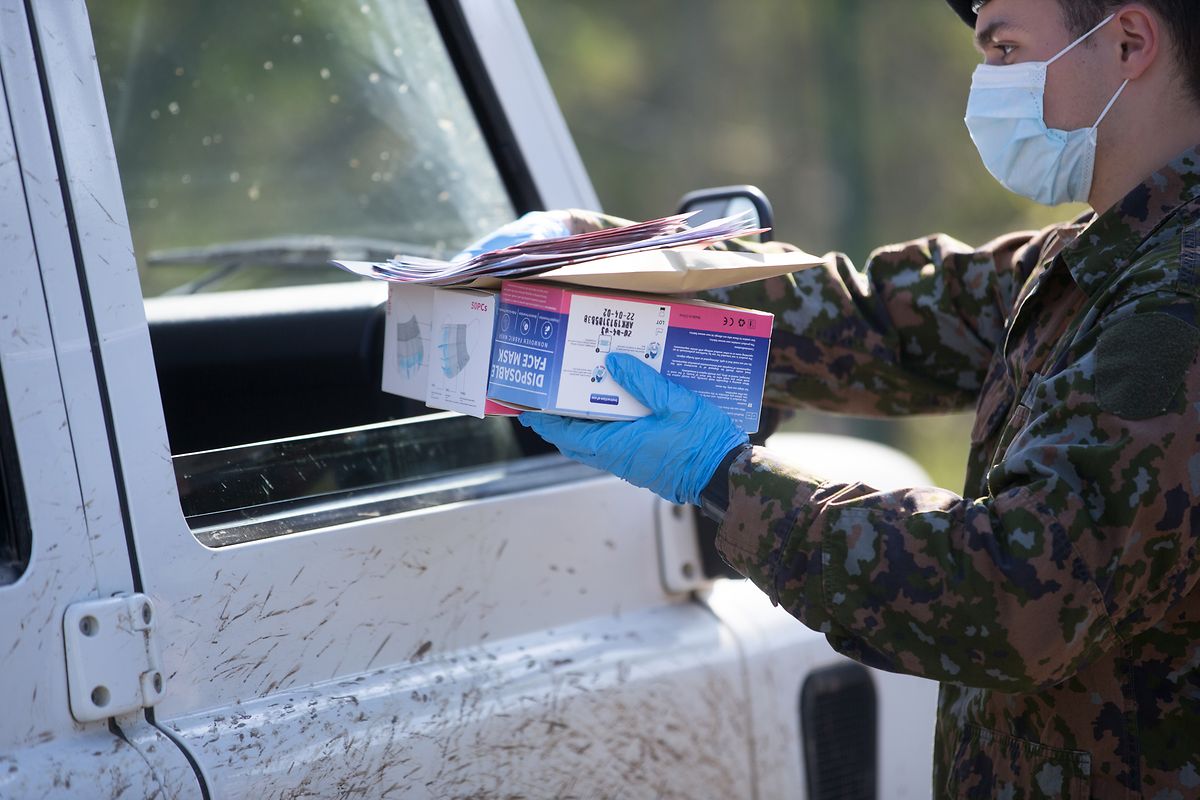 The army distributing masks to workers at Findel Airport Photo: Guy Wolff
Luxembourg took small steps for life to return to normal as the threat of the coronavirus persisted, saying it would take advantage of deserted streets to finish road and tram works that have been delayed during the country's five-week lockdown.
Parliament on Friday took a critical view of how Prime Minister Xavier Bettel's government had handled the coronacrisis, though the harshest criticism was directed at Labour Minister Dan Kersch, who has come under fire over a dig at self-employed entrepreneurs.
Bettel pledged that he would consider consider more aid for self-employed workers, who have largely been left out of a €9 billion aid package he has put in place to cushion the shock of the pandemic.
He also said the government is looking at giving more financial aid to small companies for a total of €80 million, with a second round of direct aid of €5,000 for businesses of fewer than nine employees, and a new €12,500 grant for companies of fewer than 20 employees.
Government ministers also said they would take advantage of the quiet roads to complete building work that is lagging behind, including road repairs on motorways, and finishing the extension of the the tram line to Luxembourg's central station, set to be finished in the autumn.
"We will profit with the time we have," Transport Minister François Bausch said at a press conference on Friday. "With things that are running behind and [and places] where there is less traffic."
Friday's numbers confirmed the spread of the coronavirus is slowing. There were four new deaths, bringing the total to 72, but the number of new infection rose by only 36 to 3,480. That means the five-day daily average growth is now 1.2%. A week ago, it still stood at 2.8%. On Saturday 3,537 people tested positive for the virus, and fatalities remained at 72.
Confinement and other measures to tackle the virus are equally yielding some positive results across Europe. Austria is showing little evidence that four days of easing public restrictions has caused an increase in infections. New positive tests this week showed less than 1% growth, while overall hospitalisations and use of intensive-care units are declining, according to the Federal Ministry of the Interior.
Germany said a key measure of the disease's progress is improving, as the virus's reproduction factor continues to drop daily. Germany has come through the "first wave" in good shape, thanks to citizens adhering to strict curbs on public life, Health Minister Jens Spahn said.
The UK cautioned restrictions must continue to avoid a second peak, though it is also seeing early signs of the lockdown working, as it reported 847 deaths, down from 861 a day earlier. Portugal finally reported the smallest daily increase in new cases since March 19.
The Luxembourg government in a session on Friday passed a number of regulations to allow for life to continue under the state of emergency. Construction, renovation and maintenance of buildings can resume starting Monday, while gardeners and landscapers can get back to business and DIY and plant shops can reopen.
The country took measures for the workers to stay safe, including limiting the number of workers when the risk of infection is high, adapting workplace rules after a risk assessment is done of the workplace and giving training on hygiene measures. The army also started distributing face masks for people returning to work next week.
The changes also allow civil marriages and funerals that can be attended by up to 20 people, the government said. Another change allows that for the duration of the ongoing contagion crisis, the National Control and Assessment Commission can continue functioning with at least seven members. That nine-member committee oversees Luxembourg's voluntary euthanasia and assisted suicide law.
Meanwhile, two border crossings with Germany and Luxembourg were reopened, the Moselle bridge that connects Remich with the neighbouring town of Nennig in Germany, and a border crossing in the German border town of Bollendorf, near Beaufort in Luxembourg.
And in a sign of the pent-up demand the lockdown has caused, the opening of four MacDonald's drive-thru's caused a stir, with police having to intervene to regulate the overwhelming influx of customers.
(Additional reporting by Cordula Schnuer and Emery Dalesio)
---
Get the Luxembourg Times delivered to your inbox twice a day. Sign up for your free newsletters here.