Luxembourg real estate sector sets new records
Luxembourg real estate sector sets new records
Figures from last year made Luxembourg real estate sector seem little bothered by the ongoing financial crisis, according to a Tuesday statement by market leader Jones Lang LaSalle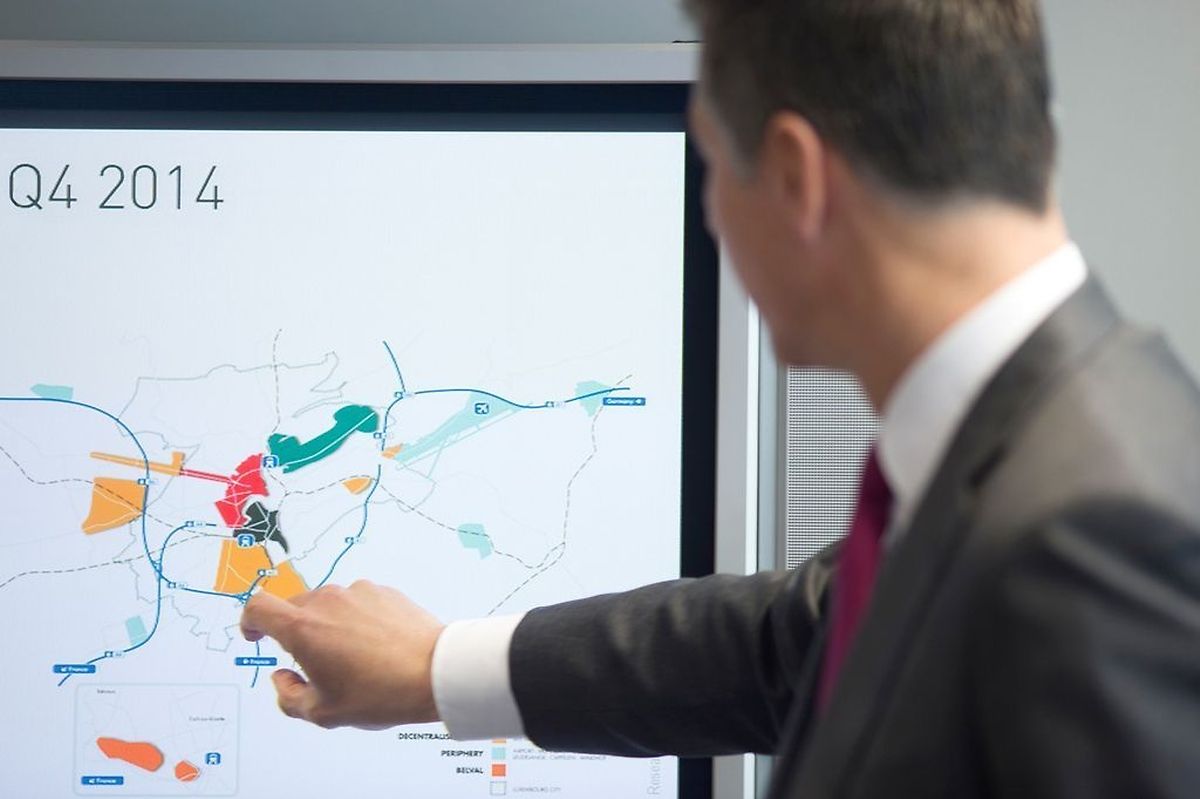 Figures from last year showed that Luxembourg real estate sector seemed unbothered by the ongoing financial crisis. Average apartment rental prices rose 7.6 percent from 2013's levels, with the equivalent for houses being 2.9 percent, according to a Tuesday statement by market leader Jones Lang LaSalle (JLL).
The company's Luxembourg director, Romain Muller, indicated this trend is not likely to change as, for example apartment demand for 2015 is estimated at 15,000-18,000 while supply is only expected to be 5,000-7,000. To stem the soaring prices, Muller called for the government to double the construction programmes for at least three years by relaxing building rules.
Last year was also one of large transactions related to office properties. PwC's Crystal Park, KPMG's new offices in Kirchberg and Banque et Caisse d'Epargne de l'Etat's purchase of the ArcelorMittal building in Luxembourg City centre, were all outstanding examples of this. Counted in square metres, office space sold and bought rose 38 percent, or by 201,000 m² according to JLL.
2015 will also be a record year for the European institutions. The Commission will finalise 40,000 m² deals while waiting for the new Jean Monnet building to be completed by 2019. Already most present in the Cloche d'Or building in Gasperich, there is a chance that the entire Luxembourg department will move there in the in the near future. On top of that, the European Investment Bank is looking for a 30.000 m² expansion as part of the new Juncker plan.
In commercial real estate, most high street brands continue set record scores, increasing by 24 percent to 11,898 m². This, despite many recent retail failures is due to already adequate supply to meet demand. Conversely, storage continues to lose ground regarding the premises for logistics as neighbouring Germany, France, and Belgium offer more attractive prices per square metre.
By the numbers
♦ Rents "offices" (square meter per month)
42 euros for Downtown
32 euros for the Gare centrale area of Luxembourg CIty
32 euros for Kirchberg
28 euros for "decentralized" (close to motorway)
24 euros for "periphery"
20 euros for Esch and others
♦ Rents "shops and trade" (square meter per month)
120 euros for the "high streets" of the center
100 euros for decentralized shopping centers
65 euros for "high streets" decentralized
40 euros for shopping centers devices
20 euros for decentralized storage
10 euros for the device storage
♦ The price of apartments by area (in euros per square meter)
5447 for the Central Region
4178 for the Western region
4010 for the Eastern Region
3909 for the Southern Region
♦ The price of houses by area (in euros per square meter)
4679 for the Central Region
3770 for the Western region
3651 for the Eastern Region
3393 for the Southern Region
♦ The eight biggest retail arrivals (surface)
900 m² Guess at 54 Grand-Rue
410 m² Dior at 15, rue Philippe II
280 m² American Vintage 67 Grand-Rue
210 m² Sandro 4-6 rue Porte-Neuve
150 m² Eric Bompard 15 rue Philippe II
150 m² Sergent Major 14 rue de l'Alzette
140 m² Paule Ka 87 Grand-Rue
♦ The largest residential projects
Mamer: "Auf Bierg" -
The gardens of Luxembourg - Résidence Aqua Viva and Trilogy - 115 appartements, Ban de Gasperich - 1000 apartments
Project at Belval Square Mile and North Belval
Kiem district in Kirchberg - 6 buildings (12,615 m²) and 5 buildings (12,976 m²)
Mixed Island Gateway to Europe in Kirchberg (32,000 m² of which 20,000 m² residential)
Neudorf Breweries (2014-2015) - 87 apartments
Royal Hamilius (2015) - 36,000 m² including 7,000 residential apartments 70
Soho in the Gare (2015-2016) - 4 residence (150 apartments)
♦ The largest transactions in 2014 offices (surface)
1. PWC - the Cloche d'Or (rental) 30,000 m²
2. KPMG - at 39 bd Kennedy in Kirchberg (acquisition) 17,000
3. EIB - President B in Kirchberg (rental) 10851
4. ENOVOS - Schlassgaard Esch (acquisition) 7900
5. Atoz - City Gate at the airport (presale) 5500
6. China Merchants Bank - Royal20 (presale) 4936
7. ADEM - Bitburg / 21st Century in Hamm (location) 4000
8. Amazon - IEK EOLIS Kirchberg (location) 3387
9. Deloitte - Daidalos airport (location) 2967
10. Cargolux - Daidalos at the airport (sublet) 2944
♦ The six biggest upcoming projects in 2015
- White Pearl (formerly Luxlait) of Sogimme - 8.450 m² in the center (rue Marcel Cahen)
- One on One of Ikogest - 2.935 m² Esch Road in the center
- Royal20 of Leaseinvest for China Merchants Bank - 5.300 m² at 20 Boulevard Royal in the center
- Bitbourg 20 Greenfich Capital - 5.000 m² Street Bitbourg Hamm
- Wallis Pylos - 4.081 m² rue du Fort Wallis in Luxembourg Station
- IAK the Compensation Fund - 24.000 m² rue Alcide De Gasperi in Kirchberg
♦ The European Union, a key player
2009-2013: two deals per year on average - 7.000 m²
2014: two deals of the EIB - 10,851 m²
2015: 30,000 m² to 40,000 m² the EIB and the European Commission
Research by Thierry Labro