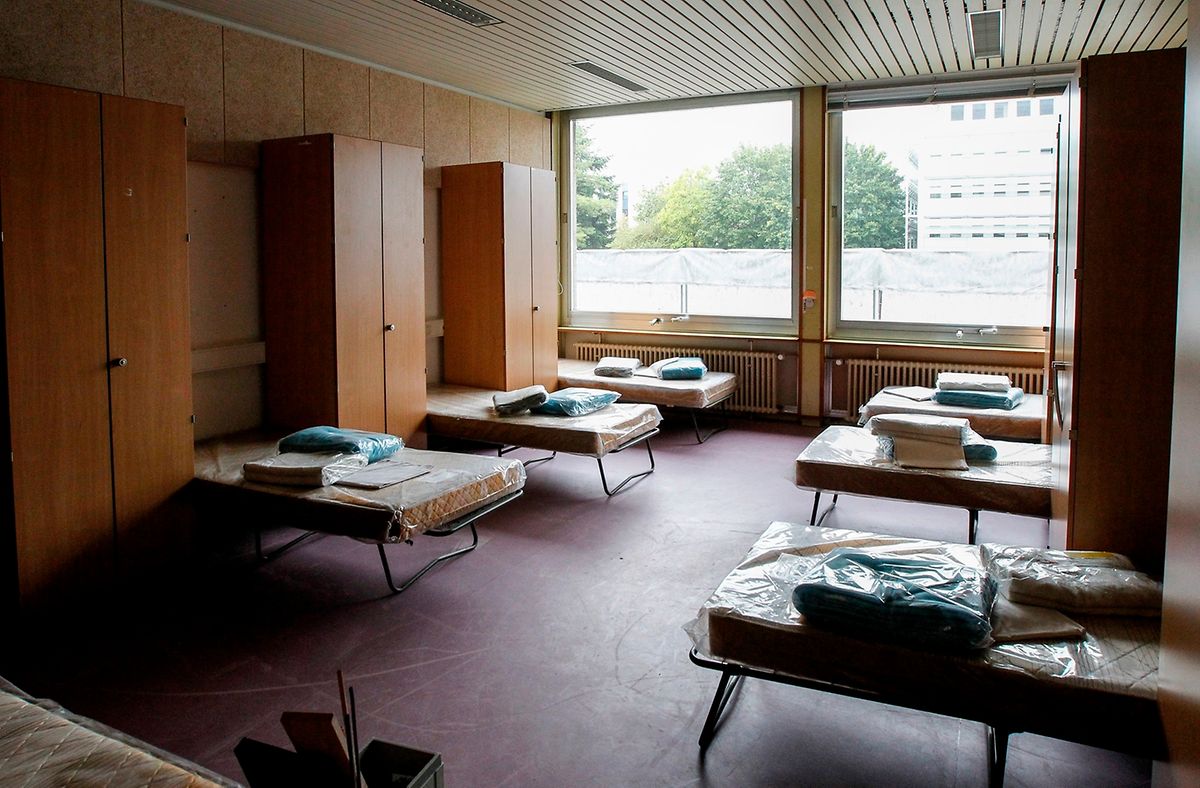 Beds in an asylum seeker shelter in Strassen Photo: Guy Jallay
Luxembourg rejected accusations by a pressure group it has been violating the rights of asylum seekers during the pandemic, intimidating them, ignoring their applications, and failing to protect vulnerable groups among them, such as minors and women.
Luxembourg has been following all regular procedures and national and international law, Foreign Affairs Minister Jean Asselborn said in a press release, in response to the accusations from the the Luxembourg Refugees Council (LFR), which campaigns for the rights of refugees.
However, the veteran social-democrat politician conceded that registrations of applications were not possible between 29 June and 9 July because of technical problems with the EU's fingerprint database for identifying asylum seekers, called Eurodac.
Applications for international protection plummeted in the first five months of the year, with April and May only counting 10 and 15 applications each, compared to 170 and 140 in the previous year, Luxembourg government statistics show.
And whilst the number of claimants exceeded 100 in each of the first three months of the year, that is still significantly lower than in previous years.
The LFR said it "is concerned about testimonies from many claimants who find themselves discouraged, or even intimidated, from applying for international protection," the group said in a press release.
Immigration officers are regularly confronted with disrespectful or threatening clients, the minister said, and the help of security officers is sometimes required. "The alleged testimonies collected by the members of the LFR should therefore be put into perspective," Asselborn said.
Asselborn also denied a claim from LFR that people had failed to obtain a certificate of filing for international protection, saying the reception of the immigration service had been open throught the pandemic.
In addition, the government has extended certificates due to expire for during the state of emergency, Asselborn said.

Vulnerable people, such as people who are seriously ill, elderly, minors and victims of violence had sometimes immediately been put back on the street, LFR said, and there had been cases of body searches that were inappropriate for an asylum application.
LFR had earlier questioned the ministry about some of these allegations in January 2020, but no action was then taken, it said.
In 2019, 2,047 people applied for international protection in Luxembourg, compared with 2,206 in 2018, and 2,318 in 2017. In 2020, given the statistics so far, this number is likely to be lower.
Eritrea was the leading country in 2019 with 510 applicants (24.9%), followed by Syria with 287 applicants (14%), followed by Afghanistan with 162 applicants (7.9%), Iraq with 110 applicants (5.4%) and Algeria with 79 applicants (3.9%). It was the first time that Venezuela was among the main countries of origin, with 64 claimants (3.1%).

---
Get the Luxembourg Times delivered to your inbox twice a day. Sign up for your free newsletters here.