Luxembourg rejects foreigner voting rights
Luxembourg rejects foreigner voting rights
In a surprising majority, well over 70 percent of the Luxembourg voters on Sunday voted against granting foreigners the right to vote.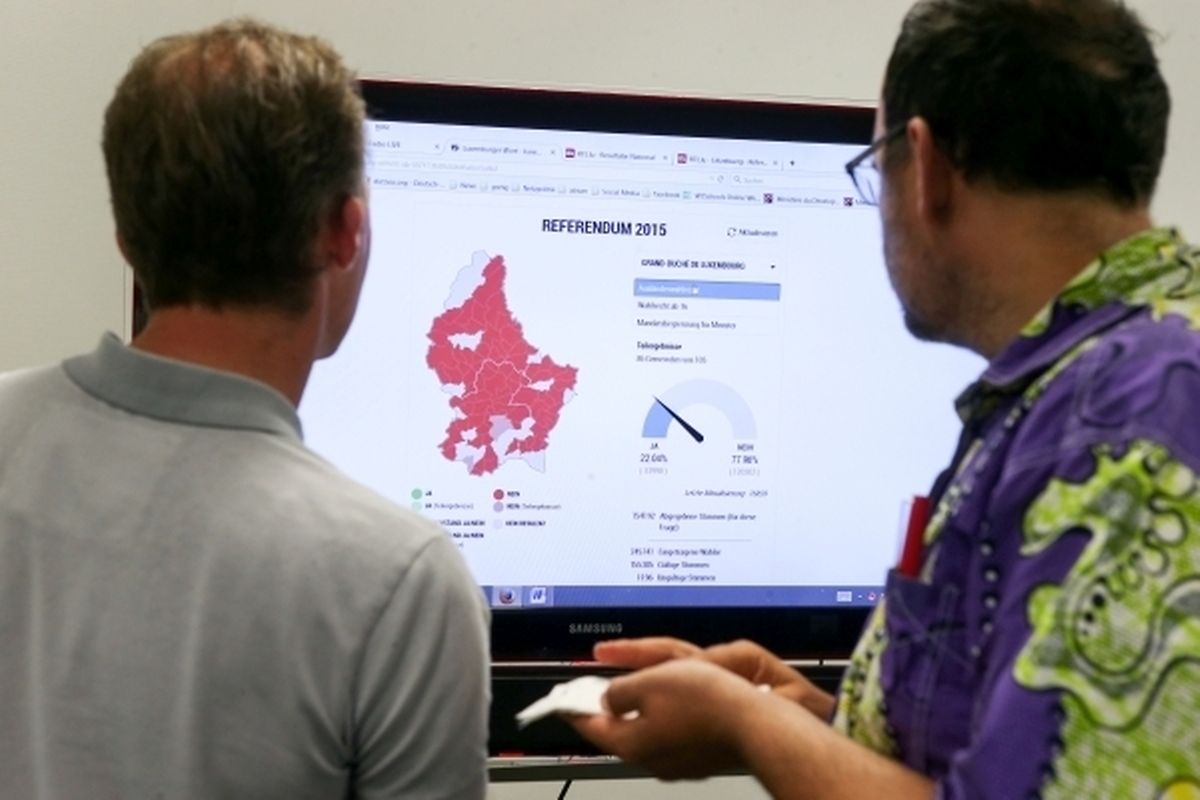 (CS) In a surprising majority, well over 70 percent of the Luxembourg voters on Sunday voted against granting foreigners the right to vote.
At shortly before 6pm, 99 communes out of 105 had posted their full results, with Luxembourg City and Esch/Alzette having posted partial results. The result was an overwhelming 'no' on all three questions.
Only around 22 percent of voters supported foreigner voting rights, while just 19 percent voted in favour of lowering the voting age to 16. The question to limit ministerial mandates to 10 years received the most support (30 percent).
This result was largely confirmed when the final commune declared its result around 6.35pm.
On foreigner voting rights the final outcome was 21.98 percent 'yes'. On lowering voting age 19.13 percent voted 'yes', while limiting ministerial mandates received the largest 'yes' share with 30.07 percent.
The clear negative on the foreigner voting rights question in particular was met with surprise, after final opinion polls carried out earlier this year had seen 42 percent in favour versus 48 percent against, leading many to predict a narrow outcome on the question.
Politicians on Twitter swiftly reacted to the emerging result. Sam Tanson of déi Gréng said that she hopes that foreigners will continue to feel welcome in Luxembourg.
Michel Wolter of the CSV meanwhile called for the resignation of Prime Minister Xavier Bettel.
The government under Bettel had campaigned for a triple 'yes' vote, but the Premier had also previously ruled out personal consequences, saying the referendum was not a popularity contest.
The ADR via its official Twitter account thanked people for voting 'no'.
The Nee2015 initiative in a press statement welcomed the result, adding that the vote had shown policies needed to be made in dialogue with the people. "Luxembourgers did not let themselves be intimidated by the massive and coordinated 'yes'-campaign and the government," they said.
Many non-nationals and Luxembourgers on social media expressed their disappointment with the outcome of the referendum. "The tax we pay is more than welcome...but we cannot contribute with our votes. It is very disappointing," said one commentator on Facebook. Others said they were "shocked" by the large margin with which the 'no' campaign succeeded.
Other voices added that the vote was not directed against foreigners but against the government, which has increasingly fallen out of favour with voters since coming to power in October 2013, especially through a raft of savings measures and controversial reform of family benefits.