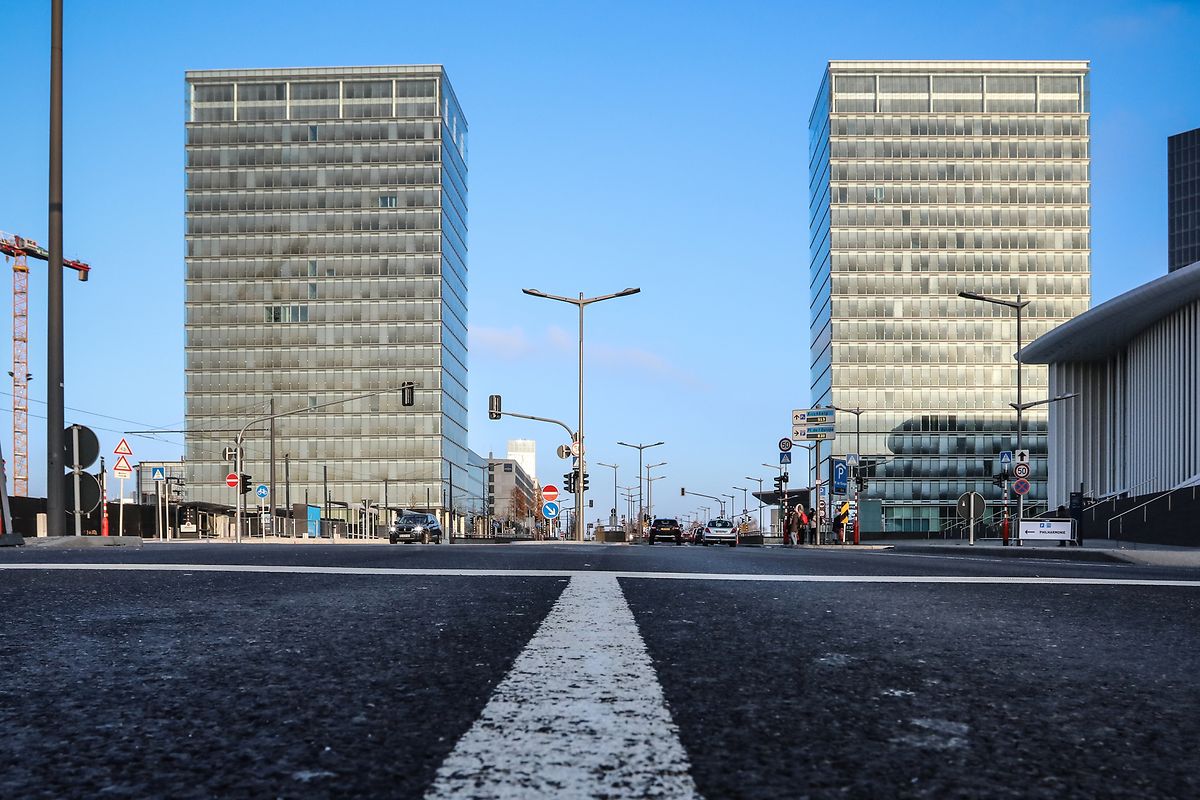 The Kirchberg area of Luxembourg City (Guy Wolff)
Luxembourg's gross domestic product (GDP) grew by 1.7% in the third quarter of 2017 compared with Q2, according to the latest figures from Statec.
Compared with the same quarter in 2016, GDP grew by 3.2%.
The upward trend is due to improvements in business services and trade over the summer months of 2017.
The ICT sector continued to grow apace, while the financial sector lagged behind, Statec said.
Year to date, Luxembourg's financial sector has performed better in terms of employment (+3.0% compared to the previous year) than added value (-2.0%).
"This contrast, which led to a sharp drop in apparent labour productivity, must be taken with a grain of salt given the high volatility in added value in this area – and of the level of revision to historical data observed," it adds.
"The fact remains, however, that employment in financial activities started to flag in 2017 – it rose 3.5% in 2016 – particularly in the third quarter, when a number of banks implemented redundancy plans."
GDP growth stood at 2.7% in 2017, and, according to the Statec's monthly publication on the state of Luxembourg's economy, "the current climate gives cause for optimism".
It cites several favourable economic surveys for Luxembourg in recent months and indicators showing a strengthening of eurozone economic momentum – particularly considering positively revised eurozone outlooks by the World Bank and the International Monetary Fund.
Eurozone growth is now expected to reach 2.2% in 2018 and 2.0% in 2019.
Other indicators include:
New mortgages granted in Luxembourg rose by 10.4% over one year, with fixed-rate mortgage demand increasing by 22% and variable-rate mortgages falling by 4%
Unemployment affected 5.9% of the working population in 2017, and although it rose slightly in December compared with November, unemployment should continue to fall in 2018, Statec says
Inflation in Luxembourg rose to 1.7% in 2017 compared with 0.3% in 2016.
Rising oil prices mainly contributed to rising inflation, from -0.5 percentage points in 2016 to +0.4 percentage points in 2017
Underlying inflation – which excludes oil prices – remained at 1.5% in 2017, well below its historical average of 2%, and was sustained by food inflation, wage indexation and exceptional increases such as prices for holidays and financial services
The growth pace of collected taxes increased in 2017 (+5.6%) compared with the three previous years despite the loss of €300 million in e-commerce VAT and tax reforms. In total, the government collected €15 billion in tax receipts last year
Household consumption also continued to grow in the Grand Duchy in the third quarter, although it slowed compared with the second quarter
In its report, Statec also puts into perspective the record number of cars registered in the Grand Duchy in 2017.
Last year, 52,776 cars were registered compared with the 2008 record of 52,359.
Statec points out that, considering the 20% population increase registed since 2008, the record number is perhaps not surprising.