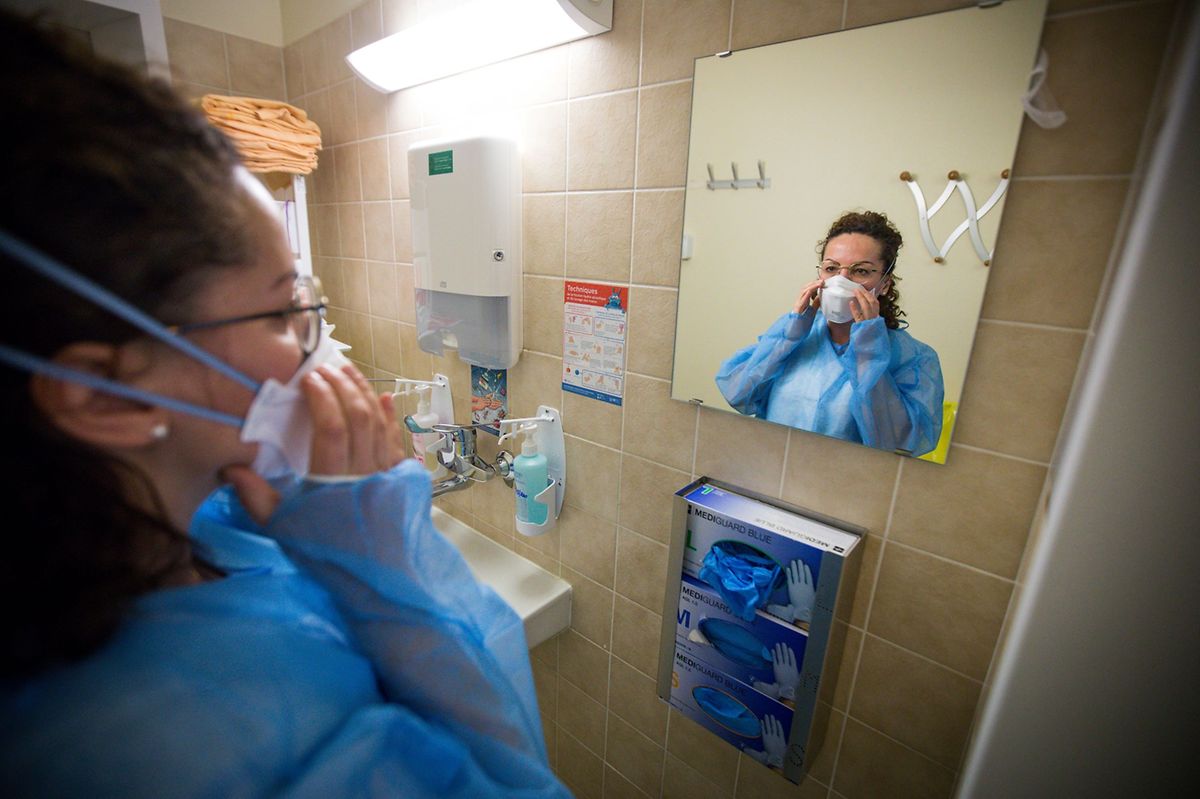 Infectious diseases unit at Luxembourg hospital, CHL Photo: Pierre Matge
Luxembourg will declare a state of emergency, Prime Minister Xavier Bettel said on Tuesday, as the country reported a sharp jump in infections with the potentially deadly coronavirus.
The number of Covid-19 infections jumped to a total of 140, up from 81 just a day earlier. There were now seven people in hospital, one of those in intensive care, Health Minister Paulette Lenert told parliament. On Monday, the government had said that 10 patients were in hospital, one on an artificial respirator. One 94-year old person has died.
"Stay home," said Bettel, who was addressing lawmakers together with Lenert. "Stay as much as possible at home and avoid contact with others. You should not meet outside. This is the wrong signal. I know with this weather you want to do other things. This is wrong," he said.
Luxembourg will announce a state of emergency, Bettel said, granting the government additional powers to quickly take decisions that would otherwise face significant delays in parliament. Such measures may violate existing law but need to be proportionate to the situation, according to Luxembourg's constitution.
Bettel had informed parliament of the decision ahead of Tuesday's session, and lawmakers widely expressed their support for the government. The state of emergency initially lasts for 10 days and can then be extended for a period of up to three months. It still needs to be approved by parliament, and by the state council.
Earlier in the day, two hospital doctors issued a blunt reminder to stick to a newly imposed lockdown as Luxembourg battles contain the epidemic.
This is an absolutely urgent appeal for all people to stay home. Otherwise the worst-case scenario takes place, and this means a lot of people being treated inadequately and dying

Emile Bock and Cyril Thix, emergency doctors
"This is an absolutely urgent appeal for all people to stay home. Otherwise the worst-case scenario takes place, and this means a lot of people being treated inadequately and dying," the two doctors at the Robert Schuman hospital - Emile Bock and Cyril Thix - said in a facebook post.
Prime minister Xavier Bettel and Health Minister Paulette Lenert will address parliament at 2 pm, and lawmakers will then debate the situation. They have been told they will not be able to sit in their usual seats, as they will need to keep greater distance between each other.
There is no shortage of medical supplies in Luxembourg, Lenert said in an answer to a parliamentary question on Tuesday. Under EU law, manufacturers have to inform EU countries in advance if they have a shortage of stock. The European Medicines Agency (EMA) has put in place a group to evaluate the impact the virus has on medical supplies.
Across Luxembourg's four hospitals – two of which are in the capital – there are 24 beds with ventilators, and the number could go up to 50 if need be, Françoise Berthet, deputy head of Luxembourg's health directorate, told journalists at a press conference on Monday.
The G7 leaders of the world's most powerful economies pledged to jointly fight the financial shock from the pandemic, vowing to use "all policy tools, to achieve strong growth". In Europe, leaders are looking to use the untapped resources of the euro area's bailout fund, the ESM.
The continent is also frantically trying to contain the coronavirus, which has killed 6,400 people around the world since it was first spotted in the Chinese city of Wuhan last year, proposing a plan to shut its outside borders for all but essential travel.
Germany started checking people at its border with Luxembourg this week, while the Grand Duchy itself went into lockdown, closing shops, and urging people not to leave home unless on urgent business.
The country is awaiting two Cargolux flights full of medical material, including 30 more ventilators, masks and protective clothing for healthcare staff, the government has said. There are 169 beds in intensive and middle-care units across the country.
Moreover, three maisons médicales – generalist clinics normally only open out of hours – will be converted into centres for corona patients to help keep suspected cases away from regular health care facilities.
The government could not say how many people have been tested for the virus, but of those who have been tested, around 10% have come back positive, Berthet said. Those who only have a light form of the virus are not in hospital, but are being monitored by a doctor over the phone.
Checking the borders
Luxembourg's capital was eerily calm this week, with traffic comparable to that of a quiet summer holiday. Many companies - including this newspaper - have told staff to work from home, while all schools and crèches had to close, forcing many parents to stay home as well.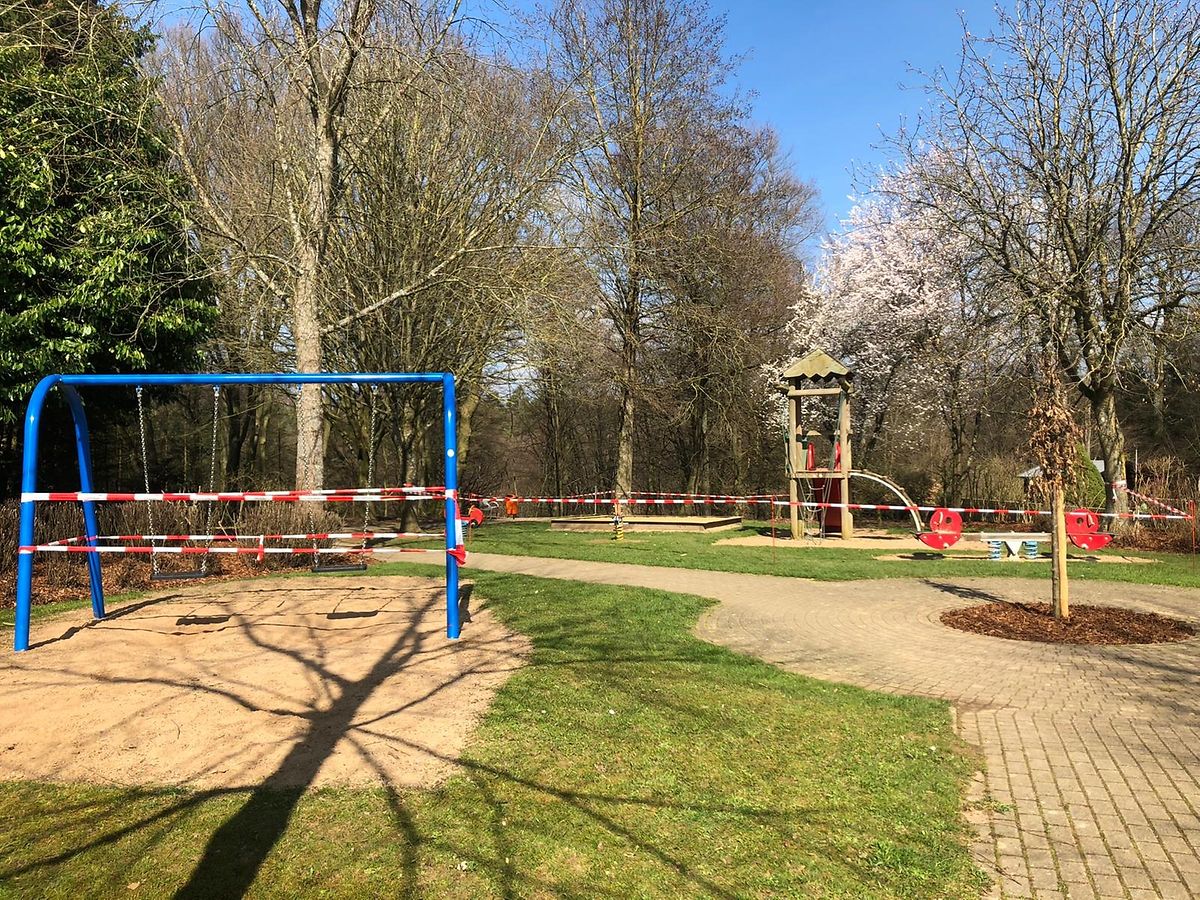 Cordoned-off playground in Hesperange, near the capital Photo: LT staff
As of today, cross-border workers coming from Germany must present a pass proving they are on their daily commute. If they cannot show the pass, Germany will send them back, the government said.
Some two-thirds of healthcare workers travel to work from Germany, France and Belgium every day, so shutting the border is not an option for Luxembourg. The country is now considering putting doctors and nurses in empty hotel rooms with their families, and may also keep nine creches open near hospitals, for the children of hospital staff.
Luxembourg drastically accelerated its measures to isolate the virus on Sunday evening, telling people they should only leave their homes to buy food or go to work. People may still go for a walk or a run outdoors, but should keep a distance of two metres between each other.
Police will be checking if people are sticking to the rules, and anyone who does not respect the rules could face a fine or even a prison sentence.
Job losses loom?
Luxembourg's OGBL labour union called for talks with major employers and government representatives to increase the focus on avoiding large-scale job losses. Keeping Luxembourg's economy operating would require special childcare centres for the children of workers in public services, groceries, pharmacies and deliveries, the union said.
The OGBL also urged the government to ease the rule for sick leaves. There also should be a ban on companies firing workers for the duration of the crisis if these businesses benefit from special government measures aimed at helping them outlast the epidemic, the union said.
National airline Luxair on Monday suspended flights to Italy, Spain and a long list of other European destinations into April and even May.
A spokesman did not respond to messages from Luxembourg Times asking what proportion of the company's flights the halted service represented. Meanwhile the company's Luxair Tours operation said it was arranging special flights to bring back all package tour customers from Tunisia, Morocco, Portugal, Egypt and elsewhere by this weekend.
Luxembourg residents who travelling abroad should urgently consider how they will get back, as a growing number of countries are restricting traffic, the ministry of foreign affairs said in a statement.
"In such circumstances, returning or being repatriated would not be possible in the short term," the ministry said.
Car inspections over the next two weeks are possibly only if the current certificate expires within that period. Cars with certificates expiring at a later date will be refused entry until 31 March.
With 2.25 cases per 10,000 inhabitants, Luxembourg has a higher rate of known infections than its immediate neighbours. In Germany, the ratio stands at 0.8 per 10,000, in Belgium at 0.9 and in France it is 1.
Italy - a hotbed for the disease in Europe - has 4.6 known patients per 10,000 inhabitants, according to a Luxembourg Times calculation.
The COVID-19 virus is a type of coronavirus. Other known strands include SARS (Severe Acute Respiratory Syndrome) and MERS (Middle East Respiratory Syndrome), both of which are more lethal.
All national measures, information on health and safety precautions and what to do if you show symptoms are available on the government's COVID-19 website.
(Additional reporting by Emery Dalesio and Cordula Schnuer, writing by Douwe Miedema)
---
Get the Luxembourg Times delivered to your inbox twice a day. Sign up for your free newsletters here.