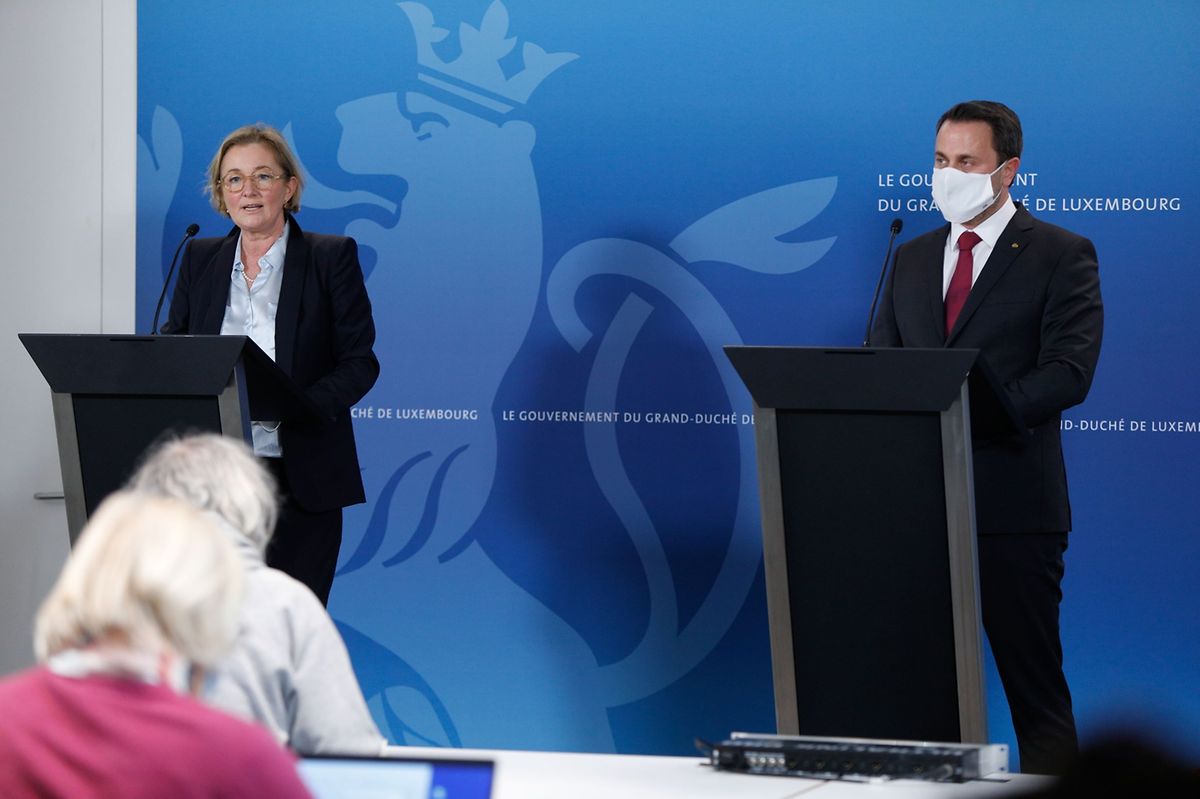 Health Minister Paulette Lenert (L) and Prime Minister Xavier Bettel on Tuesday Photo: Anouk Antony
Luxembourg will reopen classrooms and shops next week even as Germany and several other European countries impose tougher lockdowns to limit the dangerously spreading coronavirus, top Luxembourg officials said on Tuesday.
The eased limits on movement and meetings are expected to take effect after current rules expire on Sunday.
The government decided to lighten the pressure on families who may be unable combine work with having their children at home now that infections have diminished and there are fewer people in hospital with Covid-19, Prime Minister Xavier Bettel said.
Speaking at a press conference with Health Minister Paulette Lenert, he emphasised that government ministers, who met earlier in the day, were balancing the health risks from the virus against the mental and emotional harm of too-strict isolation.
"We know that these restrictions are too much for people", Bettel said. "The number of Covid hospitalizations is falling, but the number of people who need treatment for mental health problems is increasing".
The government's decision to pursue a series of new but relaxed restrictions came despite advice contained in an analysis by Lenert's own ministry dated just one day earlier.
"Consequently, even if there are modest signs of improvement in Luxembourg, the general and international context certainly does not allow to foresee any reduction in measures," the analysis said. "On the contrary, it is necessary to strengthen measures in order to avoid a new wave of infections" in the coming weeks, the note said.
The analysis, which was first reported by broadcaster RTL, said the rate of new infections had improved sharply since the second peak of the pandemic in October and November. But "the incidence of infection remains at a high level, and it is essential that the decline in new infections be sustained for a few weeks", the report said.
The government confirmed the authenticity of the report.
The government should aim to cut the rates of new infections as quickly as possible to an average of 150 cases or less per day, a level that allows the situation to be controlled through contact tracing of potentially infected people, the report said. Average daily infections had dropped to 167 on Sunday, from 193 at week earlier, the report said.
There were 163 new positive Covid-19 cases and six deaths on Monday, the Health Ministry reported on Tuesday.
Luxembourg's choice to pull back on regulations means that shops ranging from hairdressers to shoe retailers will be allowed to reopen again on Monday, but with limits on how many people can be within their enclosed spaces, officials said. Schools, which are conducting online education this week after a two-week holiday break, can conduct face-to-face classes again next week. Crèches will also reopen next week.
An overnight curfew which since 26 December has started at 21.00 will revert to its previous starting time of 23.00, endint at 06.00.
But restaurants, bars and hotels which have been closed for more than a month will remain closed until the end of January because people eating and mixing together indoors is too great a risk, Lenert said.
Private gatherings in homes will continue to be limited to two people from outside the host household, she said. Masks must continue to be worn at gatherings of more than four people, she said.
The eased restrictions could be toughened again if conditions require, Lenert said. Health officials will pay particular attention to any accelerated disease spread from people who gathered in groups during the end-of-year celebrations or during travels abroad.
As of Tuesday, 514 people had died in Luxembourg and the country last weekend reported its first cases of the new, more-contagious mutation of the virus initially found in the UK. Health officials are also monitoring the new strain for its impact on Luxembourg, Lenert said.
Contrary to Luxembourg, other European countries have moved in recent days to tighten restrictions in the face of a surge in coronavirus cases.
UK Prime Minister Boris Johnson announced a full lockdown that took effect on Tuesday. German Chancellor Angela Merkel held discussions with the country's 16 state premiers amid general agreement that the closing of non-essential stores, restaurants and leisure facilities last month needs to be extended beyond 10 January.
Only 6% of the country's population is currently due to receive a dose of a vaccine against Covid-19 by the end of March, the Luxembourg Times reported last week. Lenert said she expected more doses to arrive as the EU lined up more supplies with various manufacturers.
The EU's drug regulator deferred until Wednesday a decision on whether to approve a second vaccine. Approval of the Moderna treatment would follow the first, from Germany's BioNTech and US-based Pfizer, which got the go-ahead from the European Medicines Agency in December.
---
The Luxembourg Times has a brand-new LinkedIn page, follow us here! Get the Luxembourg Times delivered to your inbox twice a day. Sign up for your free newsletters here.