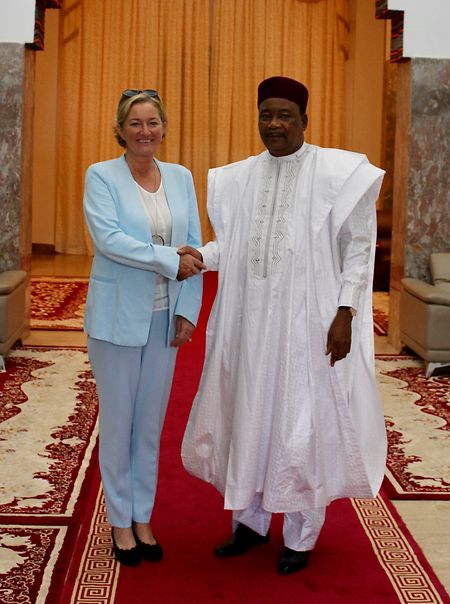 Humanitarian affairs minister Paulette Lenert (l.) meeting with Mahamadou Issoufou, president of Niger
Luxembourg will open an embassy in Niger and upgrade development aid to the country, which ranks among the poorest nations in the world and has seen an influx of refugees from neighbouring countries.
Niger is the single biggest recipient of Luxembourg development aid, and the budget for the country was raised by €11.5 million during a vist of humanitarian affairs minister Paulette Lenert this week.
It will now receive a total of €97 mililion for the period 2016-2020.
Niger has seen an influx of refugees from violent struggles in neighbouring Mali and Nigeria. A group of 131 refugees was evacuated from Libya back to Niger by the UN Refugee Agency in June amid unrest in Tripoli and attacks on refugee centres.
Little of the money from Luxembourg goes directly to Niger. Instead, it is spent on projects managed by the Luxembourg Development agency, the Red Cross, Caritas and other non-governmental organisations.
The majority of the funds is spent on health, education and rural development addressing issues such as gender equality, climate change and governance.
On the African continent, Luxembourg has embassies in Ethiopia and Senegal, which is also accredited for Burkina Faso and Mali. The embassy in Portugal is accredited for Cape Verde.
Its diplomatic represenation in Niger will now be upgraded to a fully-fledged embassy, marking 30 years since the two countries first established bilateral relations.
A chargé d'affaires will be nominated to the embassy in the capital city of Niamey. There will be no resident ambassador, a spokeswoman for the ministry confirmed, but the ambassador to Senegal will fulfil this role.

"The work at the embassy in Niamey will be complementary to the one in Dakar, from where the regional coordination of Luxembourg's presence in the Sahel region will be monitored," she said.

The Luxembourg government also recently announced the opening of its first trade and investment office in Africa, in Casablanca, Morocco, to better access emerging markets on the continent.

Niger has a population of more than 20.6 million inhabitants and is nearly 490 times the size of Luxembourg. Less than a quarter of the population is literate, with the literacy rate for adult women particularly low, at just over 11%. It is one of the world's poorest nations, ranking second to last in the UN Human Development Index.
Besides Niger, Luxembourg has signed programmes with Burkina Faso, Cape Verde, Mali, Senegal as well as Laos and Nicaragua.
---
Get the Luxembourg Times delivered to your inbox twice a day. Sign up for your free newsletters here.