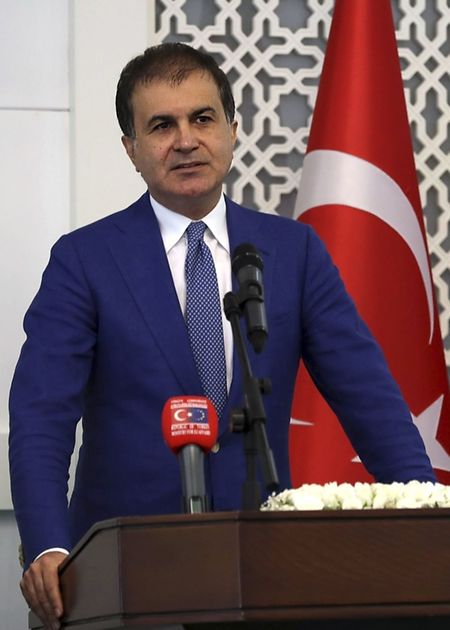 (AFP) Turkish EU Affairs Minister Omer Celik accused German Foreign Minister Sigmar Gabriel on Wednesday of copying the "far right and racists" in his statements on a festering diplomatic crisis with Turkey.
His broadside gave no chance for any let-up in the acrimony between Ankara and Berlin as both NATO allies exchange accusations and warnings.
"Gabriel is not making original statements. He speaks by 'copying' from the far right and racists," Celik wrote on Twitter in a stream of 29 tweets criticising Gabriel and his Austrian counterpart Sebastian Kurz.
"It can be seen that the German foreign minister has reached the same level as the refugee enemy and symbol of racist politics: the Austrian foreign minister," Celik said in another tweet.
Austria, like Germany, has also been locked in a spat with Turkey partly in response to combative criticism by Kurz, who has called for Turkey's EU accession talks to be suspended.
Celik said attacks by "racists, fascists and enemies of Islam" against Turkey or President Recep Tayyip Erdogan meant "nothing" to the Turkish authorities.
He accused Gabriel of trying to "sabotage" Turkey-EU relations and "giving racists a message of 'you're right'".
Germany responded to Celik's comments, with Michael Roth, state secretary at the foreign ministry, labelling them "hurtful and unacceptable".
"This cannot be repeated," he told the Die Welt newspaper, saying it was especially important now to "show mutual respect to each other".
Erdogan last week urged ethnic Turks in Germany to vote against German Chancellor Angela Merkel's conservatives and two other parties in September 24 elections, calling them "enemies of Turkey".
Gabriel said at the time that Erdogan wanted to incite people in Germany against each other in "an unprecedented act of interference in the sovereignty of our country".
Kurz condemned on Sunday "the constant interference by Erdogan in the internal affairs of other states," and suggested that Germany was not the only country where Turkey interfered.
Turkey claims that Germany, home to three million ethnic Turks, is sheltering Kurdish militants and suspected plotters of last year's failed coup.
Erdogan himself hit back at Gabriel personally at the weekend, telling him: "Know your limits."
Relations between the NATO allies deteriorated sharply after the coup attempt, which was followed by a widespread crackdown in Turkey on the public sector and journalists.
Berlin says there are 10 Germans, including dual nationals, in custody in Turkey including Turkish-German journalist Deniz Yucel, Istanbul correspondent for Die Welt.
German ambassador Martin Erdmann visited Yucel in prison on Tuesday as well as Berlin-based activist Peter Steudtner, who was arrested in a July raid, the German foreign ministry said in a statement.
"They are as well as can be expected under the given circumstances," the ministry said, adding that Erdmann met each of the men for over an hour, holding "intense" talks.