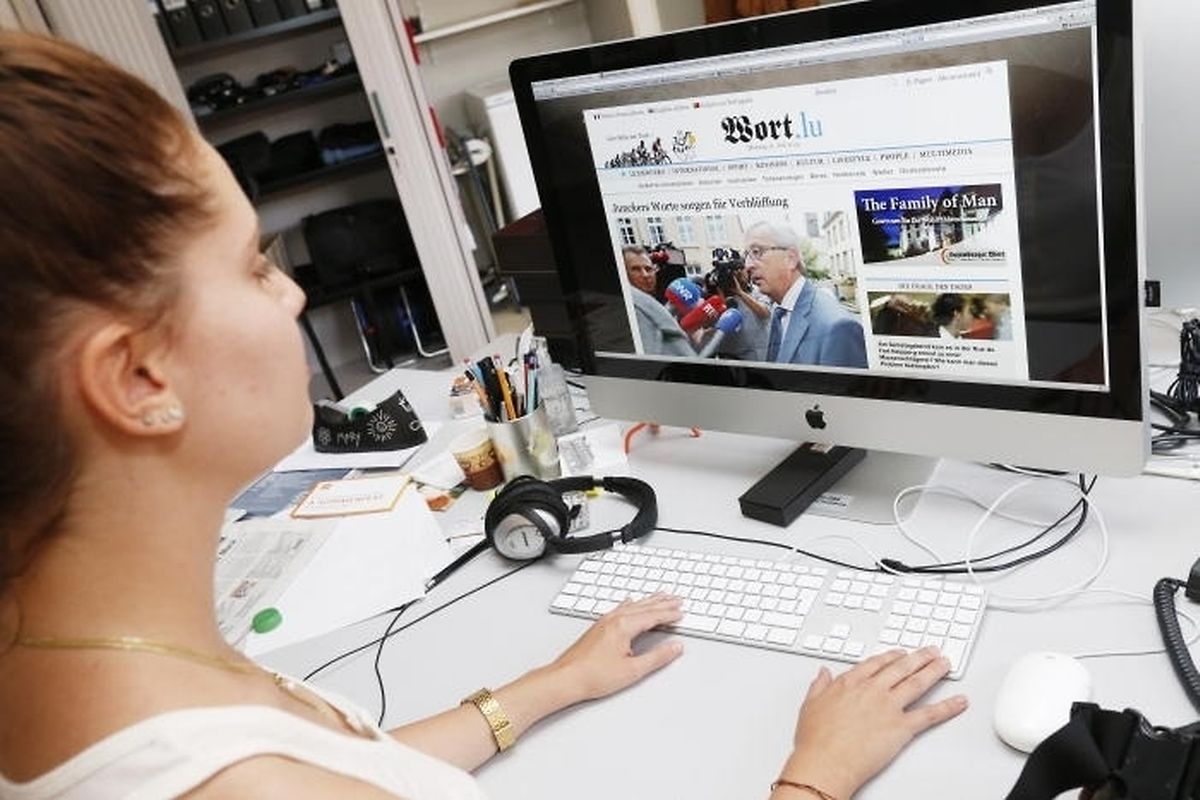 (CS) The "Luxemburger Wort" remained Luxembourg's biggest daily newspaper in the TNS Ilres Plurimedia 2012/13 study, with wort.lu showing a strong growth in visitor numbers.
Some 173,200 readers pick up a copy of the "Luxemburger Wort" on a daily basis, making it the most read newspaper in the country. With another 7,700 readers of the e-paper version this makes around 40 percent of the Grand Duchy's population readers of the "Luxemburger Wort".
The "Tageblatt" and "Le Quotidien" follow in second and third place, well behind the "Wort", reaching less than 10 percent of the population.
While rtl.lu keeps the top spot for online news with 103,200 daily visitors, wort.lu, with its offer of news in German, French, English and Portuguese, has seen a jump in reader numbers from 49,000 in last year's study to 61,300 daily visitors in the 2012/13 survey.
International television in German
The Télécran is the most read weekly magazine with 113,500 readers, followed Lux-Post, Revue and Contacto, which reaches over 57,000 readers every week.
The readership of free paper L'Essentiel remained largely stable in comparison to last year despite the closure of competitor Point24, pointing towards a saturation of the market.
In the field of broadcast media, RTL stands clearly at the top, reaching over 40 percent of the population with its Luxembourgish radio station and another 30,500 listeners of the German station, ranking third. In second place ranks Eldoradio, with DNR in fourth and Radio Latina in fifth position.
RTL's television station reached 127,500 viewers aged 12 or over on a daily basis, with the most popular international television stations named as TF1, Pro7, ARD, RTL (German), and ZDF, showing a preference for German-language programmes.
Gap between print and online closing
On the whole, the gap between print and online has closed. While last year some 73.6 percent of those polled said that they read a daily paper, in comparison to 63 percent online news readers, this year the number of daily paper readers overall decreased to 68.9 percent with readers of online news climbing to 67.1 percent.
For the study, a representative group of 3,044 Luxembourg residents was surveyed via telephone between September 2012 and May 2013. For print media, residents aged 15 or over were polled, while the broadcast and online media survey also included teenagers aged 12 or over.
With reporting by Pierre Leyers