Mnangagwa's task: Rebuild Zimbabwe economy from ground up
Mnangagwa's task: Rebuild Zimbabwe economy from ground up
When Emmerson Mnangagwa takes over from Robert Mugabe as Zimbabwe's president, he'll inherit an economic wasteland that will take years and a complete reversal of some of the government's signature policies to set right.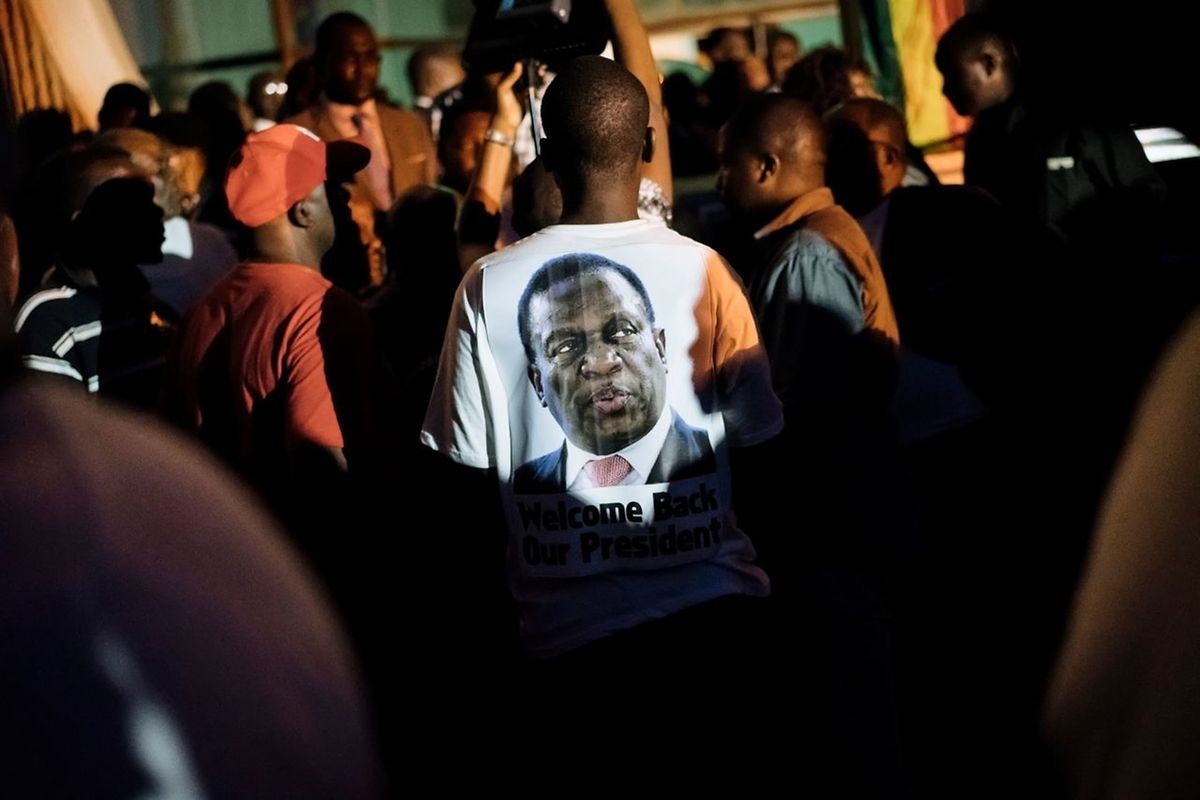 A supporter of Zimbabwe's incoming president Emmerson Mnangagwa wears a T-shirt with his portrait at Zimbabwe's ruling Zanu-PF party headquarters in Harare on November 22.
(Bloomberg) When Emmerson Mnangagwa takes over from Robert Mugabe as Zimbabwe's president on Friday, he'll inherit an economic wasteland that will take years and a complete reversal of some of the government's signature policies to set right.
Among Mnangagwa's key challenges will be to revive an agricultural industry that collapsed following the Mugabe-sanctioned seizure of mostly white-owned commercial farms starting in 2000, unlock investment in the mining industry by clarifying so-called indigenization laws that force companies to sell or transfer 51 percent stakes to black Zimbabweans and reestablish international credit lines.
"The quicker policy credibility is established, the more foreign capital starts flowing," said Hasnain Malik, head of equity research at Exotix Capital in Dubai. "Many of the ingredients of a great frontier market are in place in Zimbabwe. While there is much to be done on the government wage bill, recapitalization of the economy and the banking system, the starting point for investor expectations is very low."
Mnangagwa's ascension to the presidency follows the 93-year-old Mugabe's decision to quit Tuesday under threat of impeachment from his own party. While the former intelligence chief has been part of Mugabe's inner circle ever since he took power when white-minority rule ended in 1980, he and his faction within the ruling Zimbabwe African National Union-Patriotic Front have signaled that they plan to run the country's finances differently.
Change is desperately needed. The economy is half the size it was in 2000, and has slipped from being one of the 10 biggest in sub-Saharan Africa to number 20. Formal jobs outside the government are virtually non-existent, there are chronic cash shortages and roads and other public infrastructure have crumbled. Many of the best-educated Zimbabweans have moved to neighboring South Africa and the U.K., leaving the country with limited expertise to rebuild.
Cash shortage
With an economy that relies mainly on the dollar after it abandoned its own currency in 2009 due to hyperinflation, the cash scarcity is so severe that people sleep in the streets near banks to ensure they can make withdrawals, which are limited to as little as $20 a day. Foreign debt exceeds 70 percent of gross domestic product, according to government and central bank data.
The often-violent seizure of about 4,500 white-owned farms to redistribute to black subsistence farmers in a land-reform program that human-rights groups slammed led to a slump in the exports of tobacco, the nation's biggest foreign-currency earner at the time.
"We are now looking at a new Zanu-PF," Harare-based independent economist John Robertson said by phone. "Mnangagwa fully recognizes the need for land to be on the market place and the recognition of property rights. The problem is that his voice was being drowned out by Mugabe. When Mugabe made a policy decision or choice, he wouldn't allow anybody to challenge it and nobody had the courage to."
Empowerment laws
Mark Bohlund, Africa economist with Bloomberg Economics in London, isn't convinced the empowerment laws will be changed, even though the move would go a long way toward attracting investment.
"The new power-brokers may wish to retain majority control of companies," he said.
The greatest potential for Zimbabwe to attract foreign investment probably lies in its rich mineral endowment. It has the world's second-largest platinum reserves after South Africa, and also has chrome, coal, nickel and diamond deposits. Impala Platinum Holdings Ltd., Anglo American Platinum Ltd., Aquarius Platinum Ltd., and Sinosteel's Zimasco, Metallon Inc. and Caledonia Mining Corp. are among the mining companies with operations in the country.
Besides legal certainty, investors will also probably want to see the new administration make it easier to do business and clamp down on corruption, according to Charles Robertson, head of macro strategy at Renaissance Capital Ltd.
"A significant political change could make a big positive difference," he said in emailed comments.
Foreign loans
In addition to targeting foreign investment, a new administration may also look to reviving talks that former Finance Minister Patrick Chinamasa initiated with the African Export-Import Bank to secure $1.7 billion in loans. The money, which would be used to clear Zimbabwe's arrears with the International Monetary Fund and World Bank, would open up new avenues to obtain financing that could in turn help ease currency shortages and give foreign investors the option of repatriating their funds.
"Foreign equity investors will likely move back in as soon as they can get comfortable that there are sufficient dollars in the system to facilitate repatriation," Malik said.
Mnangagwa would go a long way toward restoring confidence among investors and lenders by including members of the opposition in his administration, according to Steven Gruzd, head of the South African Institute of International Affairs' governance program.
"We've seen this before -- when new leaders come in even if they are from the same party they do create their own policies and programs," Gruzd said. "I hope he would take the opportunity to be a reformer and bring some stability and prosperity to a country that suffered."