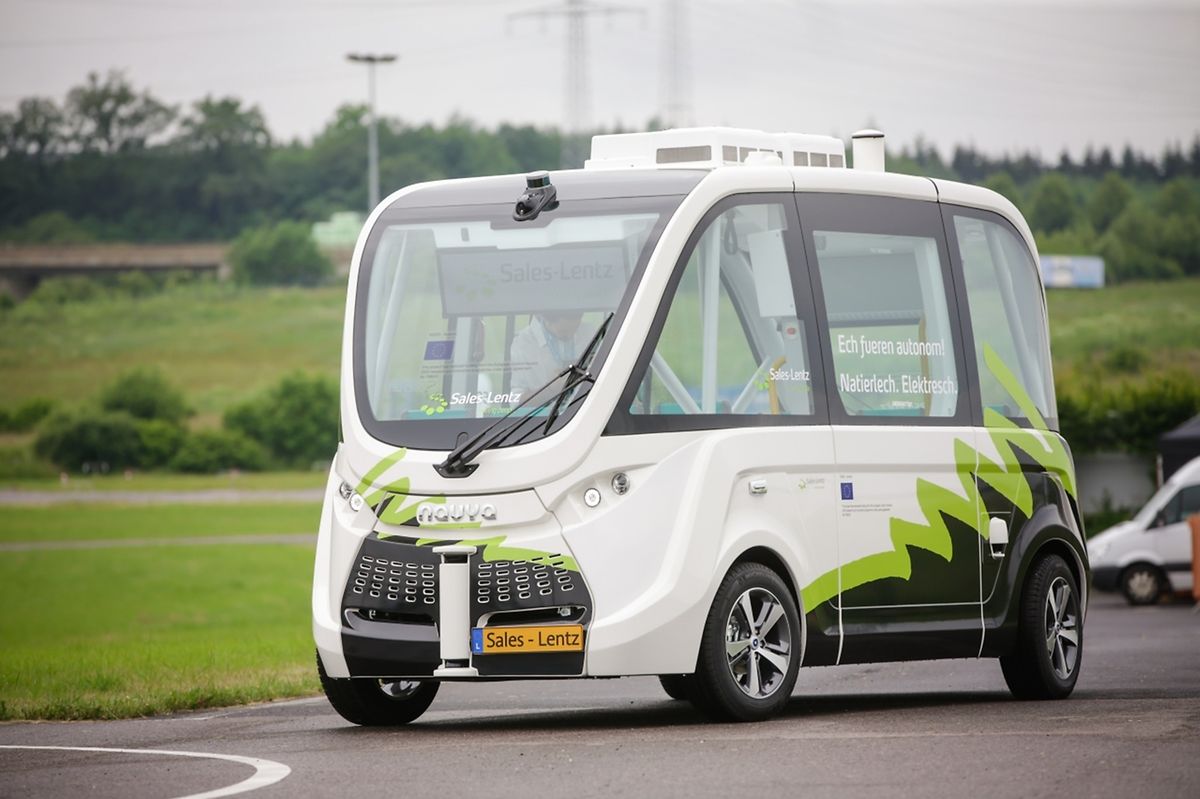 The minibus is due to hit the road in Contern in September Photo: Pierre Matgé
The idea self-driving buses will 'cost jobs' misrepresents the reality of automation, writes Bill Wirtz
The FNCTTFEL – the union for railway and other public transport service workers in Luxembourg – said in a public statement last week that it was worried about the introduction of driverless vehicles on the towns of Contern and Pfaffenthal. The union warned that hundreds, even thousands of jobs could be at stake, particularly if the programme were extended to all bus lines, and rejected automation in this sector.
There are, however, a few numbers the FNCTTFEL should consider. 'Will robots take my job?' is a frequently asked question today, so frequent, in fact, that there is even a website – willrobotstakemyjob.com – attempting to answer precisely that question with a statistically accurate calculation. It suggests that a credit analyst, for example, is running a 98% chance of being computerised, while the editor of this article stands only a 5.5% chance of being replaced by a robot. Some might say this suggest writers could be biased. We'll, let the readers decide.
There is little doubting automation is already having an effect in many countries, including Luxembourg. Particularly interesting numbers are coming out of the UK, which has been at the forefront of research in the area (in Europe, at least). In a 2015 report by Deloitte, researchers found that, while automation has resulted in the loss of 800,000 existing jobs, it has also created nearly 3.5 million new ones. Deloitte also estimated that the new jobs paid, on average, £10,000 (€11,250) more than those they replaced, resulting in a boost to the economy of £140 billion. Not all UK regions have benefited to the same extent: Northern Ireland's economy has benefited by less than £5 billion, Scotland's by £10 billion and London and the south-east's by £30 billion. Nevertheless, no region has reported a decline in economic performance.
These figures contradict the scaremongering media reports about automation such as "Robots to take two out of five jobs in some parts of UK, with the north likely to be worse off" or "Almost 30% of jobs in towns including Sunderland and Wakefield at risk by 2030 due to automation and globalisation". These stories focus one-sidedly on the negative effects of automation and ignore the immense economic benefits it brings.
Now, of course, automation does not affect different income classes in the same way. Jobs paying £30,000 or less have shown to be five times more likely to be replaced by automation than jobs paying £100,000 or more. Since 2001, there are about 200,000 fewer personal assistants, 83,000 fewer bank clerks and 72,000 fewer retail cashiers. These job areas are at an automation risk of 85%, 98% and 97%, respectively. However, over the same period, there are about 250,000 more care workers, 200,000 more teaching assistants and 100,000 more chefs, despite having automation risks of 50%, 56% and 57%, respectively. So, the effect of automation really does vary according to job type.
Overall, however, automation looks set to raise employment levels. Almost 75% of business owners in the UK have indicated they expect technology to have a significant or very significant effect on their businesses' performance, and that they will employ more people as a result. This is confirmed by the Office for National Statistics, which reports that employment numbers have been increasing virtually uninterrupted since 2011.
That, of course, will go way above the heads of the FNCTTFEL or any union in that regard. The bigger picture doesn't count if you have members who pay their annual membership cards. And no, there is no problem with lobbying on behalf of the people who voted to represent you as a union councillor. There is, however, a problem when the idea is spread that automation will decrease our standards of living or even cost jobs altogether because that is incorrect.
Let's hope legislators do not cave in to the fear-mongering of union representatives and continue to push forward in the move towards automation.
Bill Wirtz is a political commentator from Luxembourg, based in Brussels. He has published in Le Monde, Le Figaro, Die Welt and The Times of London