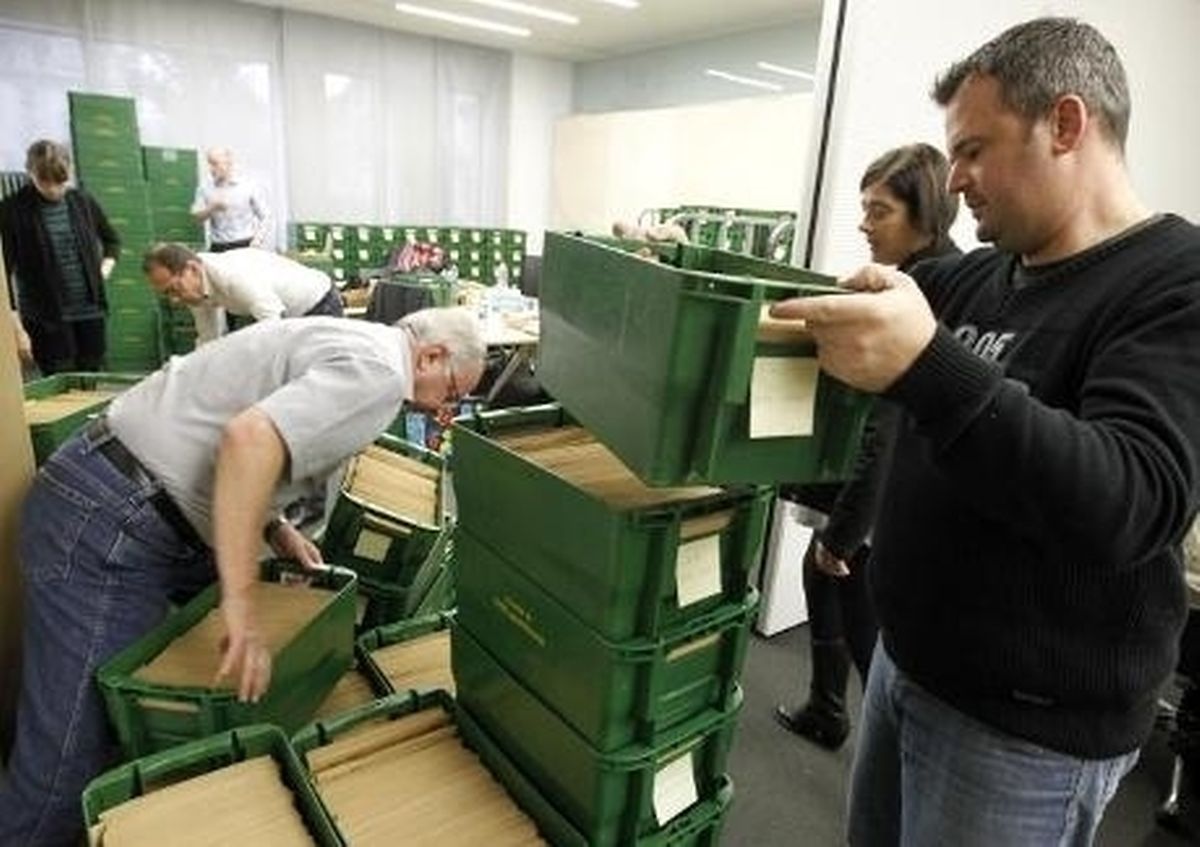 Luxembourg union the OGBL made further ground in Luxembourg in the last social elections when it won two more seats in the "Chambre des salariés" (CSL).
The OGBLwon a total 38 seats out of 60 in the CSL, a body which safeguards the interests of Luxembourg's 430,000 private sector workers or retired employees.
The LCGB and banking union ALEBA both lost one seat in the elections, which were held by ballot in mid-November.
FNCTFFEL and Syprolux remained unchanged, retaining two seats and one, respectively.
Luxembourg social election results in detail
Steel industry: elected members
ZANON Angelo, COUGOUILLE Michel, FERRRAI Samuel (OGBL)
CONTER Georges, FORNIERI Robert (LCGB)
Steel industry: reserve members
THILL Alain, DI DONATO Antonio, AGOSTINELLI Carlo (OGBL)
BEVILACQUA Donato, POOS Jean-Paul (LCGB)
Other industries: elected members
LEEMANN Laurence, HAAS Pierre, CHEVIGNE Daniel, COLLIN Vincent, FLICK Philippe (OGBL)
AREND Roland, DORMANS Ankie, BLUM Jean (LCGB)
Other industries: reserve members
REICHLING Nicolas, DELLEMERE Jean-Claude, SCHMITT Ralf, ALVES GOUVEIA Elisabete, TOSI Mireille (OGBL)
SCHEUREN Sylvia, KIEFFER Nicolas, MAJERUS Marco (LCGB)
Construction: elected members
COLLIN Jean-Luc, DA SILVA BENTO Manuel, NUNES PINTO José Nicolau, FERREIRA VENTURA Alfredo, MENDES DA COSTA Jorge Manuel (OGBL)
HOFFMANN Emile (LCGB)
Construction: reserve members
MULLER Wolfgang, SIMOES LOPES Paulo Jorge, WELLENS Albert, MANENTI Philippe, MESTRE Franck (OGBL)
HEINDRICHS Armin (LCGB)
Financial & intermediation services: elected members
STEINHÄUSER Denise, RACCOGLI Danielle, HOFFMANN Pascale (OGBL)
DI LETIZIA Gabriele (LCGB)
GLESENER Marc, BIRMANN MArtine, GRULMS Marie-Anne, BACK Alain (ALEBA)
Financial & intermediation services: reserve members
SCHIMOFF Serge, AZZOLIN Jean-Marie, HEIREND Claude (OGBL)
LUDES Claude (LCGB)
BEFFORT Gilbert, WELSCHBILLIG Fernand, TERZER Marc, WAGNER Donat (ALEBA)
Services: elected members
REDING Jean-Claude, HAENTGES Suzette, ALVES DA SILVA Maria Das Dores, LOMBARDI Sylvie, EMERINGER Robert, KRIER Joël, OURTH Patrick, MUCCIANTE Virginie, ROELTGEN André, WOLFF Jean-Claude (OGBL)
DURY Patrick, CONTER Céline, HELMINGER Liliane, LOMEL Francis (LCGB)
Services: reserve members
TRAUFLER Denise, SCHNEIDER Gérard, VANDEPUTTE Annette, OLIVEIRA FERREIRA Marina, DE OLIVEIRA BORGES Helder, HERNANDEZ Marie-Jeanne, GOSSELIN Jérôme, JACQUEMART Stéphane, BREUKSIN Marcel, DE JESUS GONCALVES José Luis (OGBL)
REUTER Paul, FERBER Anne, FOLSCHEID Corinne, GOEREND Marcel (LCGB)
Government and public companies: elected members
SCHOLZEN Guy, VITALI Sandy, WEYLAND Nico (OGBL)
HUTMACHER Charles (LCGB)
Government and public companies: reserve members
REUTER Georges, GILBERTZ André, PERSICO Alain (OGBL)
GRETHEN Gustave (LCGB)
Health & social services: elected members
BECKER Nathalie, FICKINGER Alain, HOFFMANN Léonie, BECKER Paul, JANSA Sylvie (OGBL)
FEIEREISEN Pierrot (LCGB)
Health & social services: reserve members
GOEHLHAUSEN Marco, THOME Chantal, KLEIN Thomas, DADARIO Steve, MONTE Fabia (OGBL)
WINTERSDORF Daniel (LCGB)
CFL- railway: elected members
BROCKER Camille (SYPROLUX)
GREIVELDING Guy, WENNMACHER Nico (FNCTTFEL)
CFL- railways: reserve members
HEINZ Fernand (SYPROLUX)
THISSEN Carlo, THÜMMEL Jean-Claude (FNCTTFEL)
Pensioners: elected members
PIZZAFERRI René, HUBSCH Fernand, KREMER Henri, ANEN Edmée (OGBL)
CONTER Norbert, HOFFMANN Nico (LCGB)
Pensioners: reserve members
GALES Fernand, REUTER Marie-Jeanne, PASQUALONI Fernand, FETTES Guy (OGBL)
FLENGHI René, THEISEN Jeanne