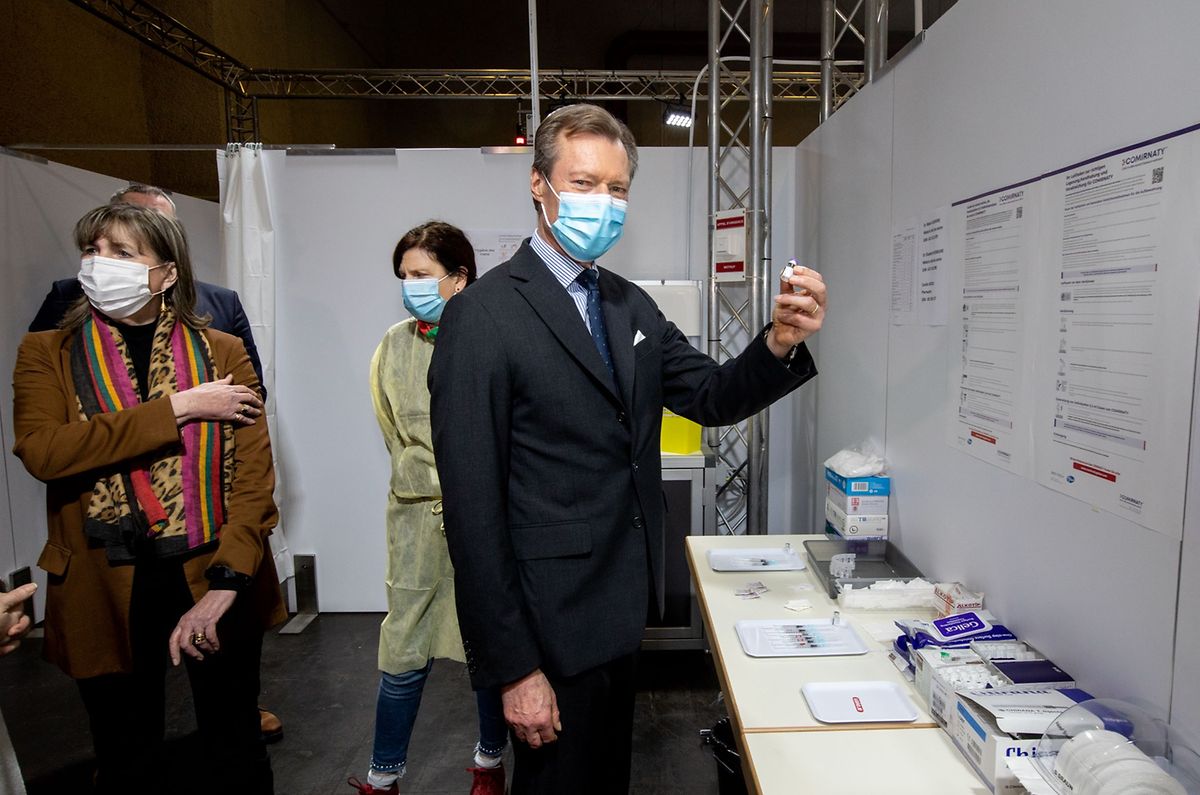 Grand Duke Henri at a visit of the Limpersberg vaccination centre on Monday Photo: Guy Jallay
Just one in three Luxembourg residents invited to receive a coronavirus shot has shown up for the vaccination so far, Health Minister Paulette Lenert said on Wednesday, a low turn-out that could delay the moment Covid-19 is under control if it persists.
The health ministry as of Wednesday had sent out 5,226 invitations for people to come to the vaccination centre in Limpertsberg, but only 1,637 - or 31.3% - had shown up, Lenert said in written reply to a parliamentary question from two opposition politicians.
The Victor Hugo hall in Limpertsberg is the only vaccination centre that is open in the country so far, although care workers are also administering the shots in care homes and hospitals. In total, Luxembourg has now given out the vaccine to 5,294 residents.
Lenert also said it was too early to give a definitive reading of the participation rate for the injections in Limpertsberg because the timeframe for some of the appointments had not yet lapsed.
"You must realise however, that the timeframe in which the appointments can take place runs until 21 January and 24 January respectively. To give you an exact participation rate, one should watch the developments in this time frame," Lenert said in the letter.
The people who had received an invitation so far were medical and healthcare workers, such as ambulance staff, doctors and those in other health professions, Lenert said.
A survey from Imperial College in London this week showed widespread reluctance to take the vaccination across the world. In France, only 29.8% of respondents in a survey said they would "definitely" take the shot if it became available this week. In the Netherlands, the share of people who answered that question affirmatively was just over half.
Luxembourg is set to receive enough doses from BioNTech/Pfizer and Moderna to inoculate 43,200 people by the end of March, assuming each patient needs two doses, according to government data.
---
The Luxembourg Times has a new LinkedIn page, follow us here! Get the Luxembourg Times delivered to your inbox twice a day. Sign up for your free newsletters here.