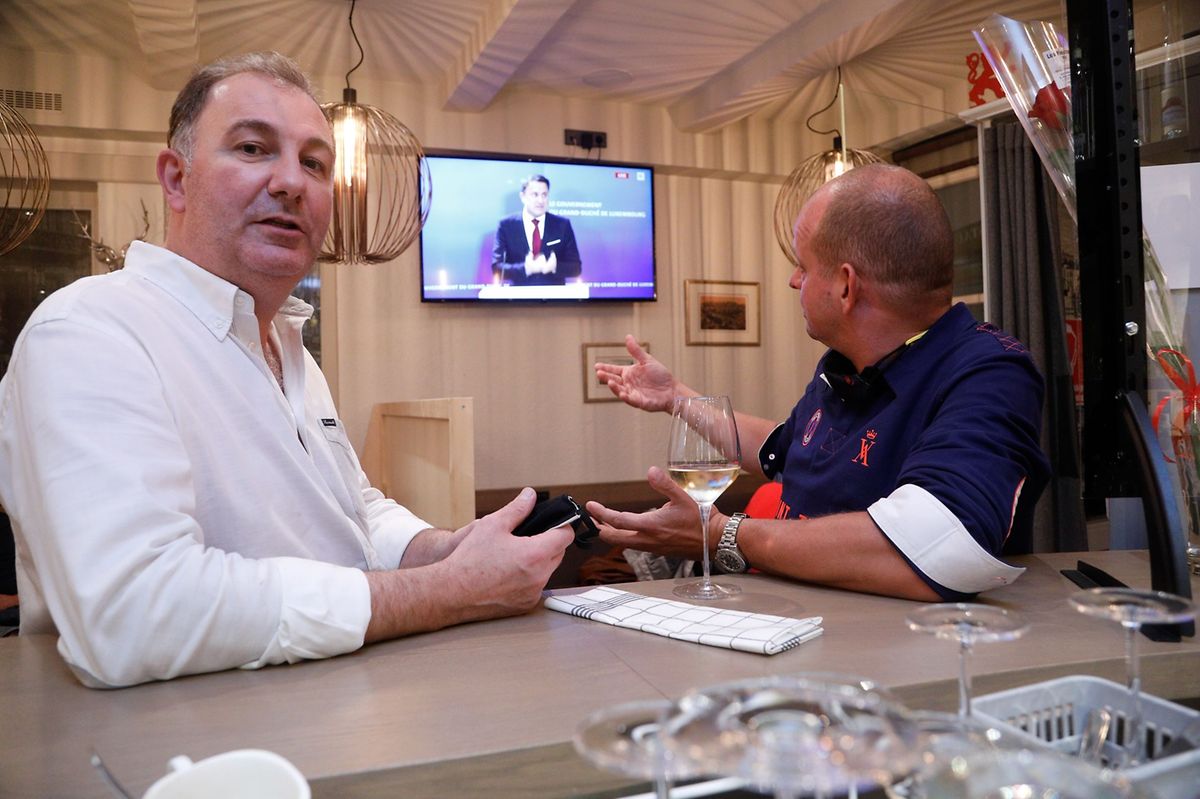 Patrons in a brasserie in Luxembourg on Saturday night watch Prime Minister Xavier Bettel addressing an increase in coronavirus infections. PHOTO: Anouk Antony
Luxembourg will encourage increased but voluntary social isolation rather than impose new restrictions on gatherings or movement, Prime Minister Xavier Bettel said on Saturday evening, a decision contrasting from other European countries.
While the number of people infected with the virus has increased, hospitals have not been swamped by a wave of sick patients and are well prepared to respond if conditions worsen, Bettel said after a special meeting of his government ministers.
Luxembourg hit a new record for identifying new cases of people with Covid-19 on Saturday. The country's health workers identified 242 more people who tested positive on Saturday, the health ministry said on Sunday.
The growing number of people infected with the virus is much less pronounced than in neighbouring countries, he said.
The virus's spread is primarily occurring within private households, Bettel said. While the government recommended that workers work remotely from home whenever possible, no restrictions on restaurants or other businesses were needed for now, he said.
"For now we do not propose any new legal restrictions, so no new measures for the hospitality sector or other sectors. We think that wouldn't be the right response to the situation such as it presents itself at the moment," the prime minister said.
And while infectious cases may increase in the coming days, that trend should decline in the days and weeks ahead if people follow rules to avoid contact with groups of people, wear masks and wash hands, Bettel said.
The key is how many people require hospital care for Covid-19, Bettel said, and new restrictions could become necessary if the situation deteriorates drastically, he said.
Bettel spoke as governments across Europe are tightening restrictions on gatherings and travel.
Belgium, which has the most cases per-capita in Europe except for the Czech Republic, ordered a nationwide midnight to 5 a.m. curfew and limits on alcohol sales and gatherings for four weeks starting on Monday. Bars in Brussels were already closed last week.
In London, people were banned from mixing with other households indoors, while people in Paris and eight other French cities are confined to home between 9 p.m. and 6 a.m. for four weeks. Italy was expected to announce new restrictions on Sunday.
But UK Prime Minister Boris Johnson and French President Emmanuel Macron vowed to do everything possible to keep their economies running. On Tuesday, Bettel ruled out imposing a second lockdown while recognising that could change if conditions worsened.
"You have to draw the conclusion that the numbers are rising much more rapidly in the neighbouring countries than in Luxembourg," Bettel said on Saturday. "So in fact, the situation in Luxembourg is more reassuring."
Luxembourg had the ability to choose differently because fewer older people are getting the disease than during the peak of the national lockdown this spring, Health Minister Paulette Lenert said. Younger people are more able to recover if they contract Covid-19.
"We don't have to reduce the other (non-Covid) activities in hospitals, and that is different from our neighbours," Lenert said.
The government would likely be forced to take further action if Luxembourg also had to postpone regular treatments, Lenert said.
Health ministry data showed that the number of people identified as carrying the virus that causes Covid-19 increased by almost 50% in the week which ended last Sunday. Since then, authorities have identified an average of 190 cases per day. There were 175 new cases reported on Saturday, the health ministry said.
Last week also resulted in 129 positive cases per 100,000 inhabitants – well above the 50 per 100,000 level beyond which some countries closed borders earlier this year.
There have been no additional deaths for a week after eight were reported in the first 10 days of October.
---
The Luxembourg Times has a brand-new LinkedIn page, follow us here! Get the Luxembourg Times delivered to your inbox twice a day. Sign up for your free newsletters here.