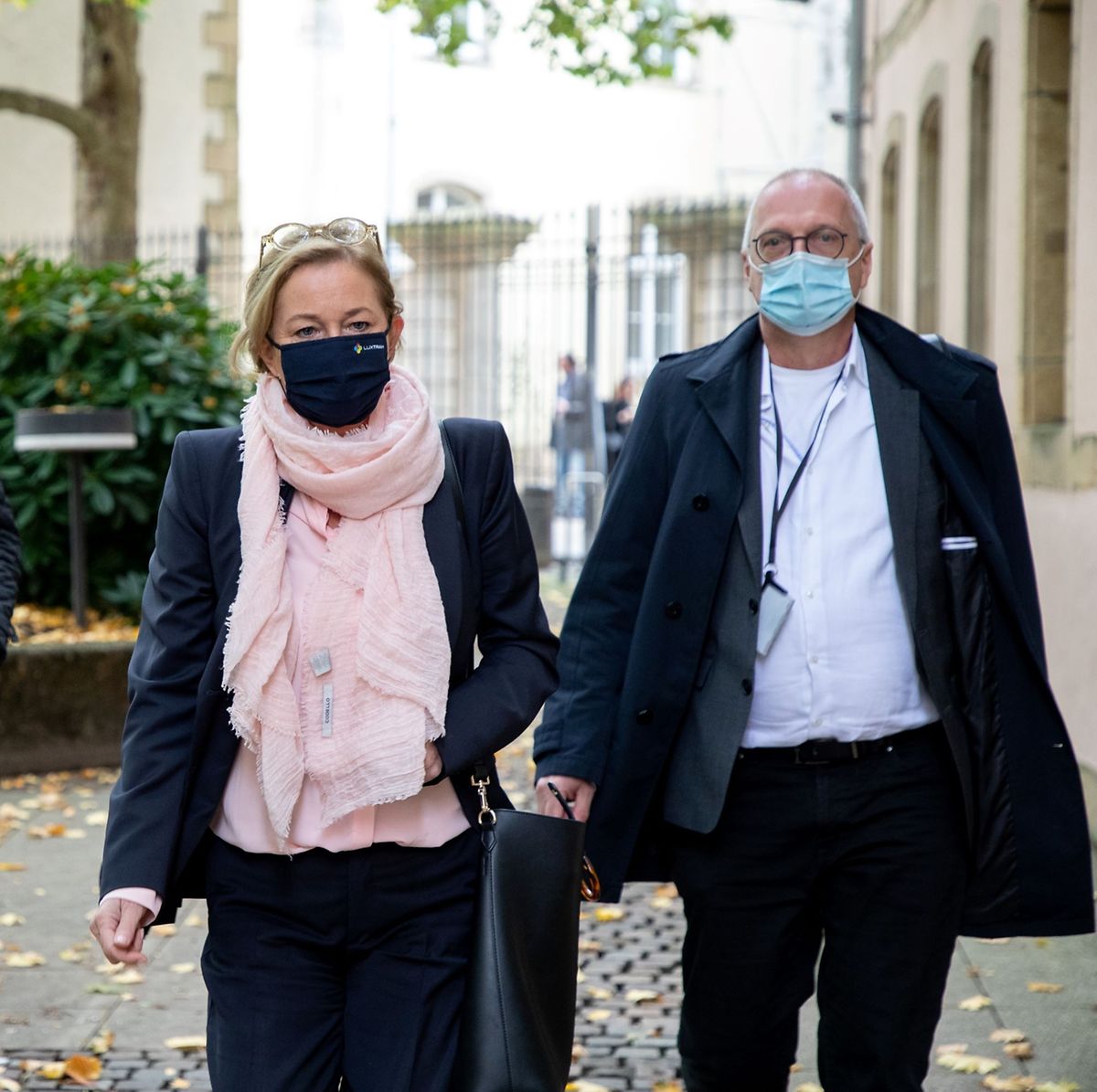 Luxembourg Health Minister Paulette Lenert and national Health Director Jean Claude Schmit arrive for a press briefing on Wednesday about the coronavirus pandemic PHOTO: Guy Jallay
Luxembourg's government on Wednesday expressed worry and alarm at the climbing rate of coronavirus infections, but planned no restrictions on gatherings or movement to supress the spike.
Just over 7,000 tests performed over 24 hours found 190 more people infected with the coronavirus, the health ministry said on Wednesday evening. The country has identified 10,000 people stricken with the disease since it reached Luxembourg in March, and 133 have died.
In the week which ended on Sunday, the number of people identified as carrying the virus that causes Covid-19 increased by almost 50% as the contagion picked up speed after a relatively mild period this summer, the health ministry reported. There were 129 positive cases per 100,000 inhabitants over the week and 217 cases per 100,000 over a 14-day period – well above the 50 per 100,000 level beyond which some countries closed borders earlier this year.
"The situation compared to last week is alarming," Health Minister Paulette Lenert said at a press conference.
While six people died in a week from Covid-19 and eight were lost so far this month, most were in their 80s and therefore more vulnerable to the disease, Lenert said.
Still, hospitals are operating normally in contrast to Netherlands and other countries where surgeries and other treatments are being curbed, Lenert said. About a fifth of those who tested positive in the daily tally were identified due to contact tracing, the ministry said on Wednesday.
"We are not in a situation like in spring where from one day to the next we had many people with acute symptoms who had to be treated rapidly," she said.
Luxembourg is preparing for the possibility that doses of a new vaccine could become available as early as December, Lenert said. If a safe and effective treatment reaches the market, it will be purchased in bulk with the European Union and the government will prepare a distribution strategy once it is clear when and how much will arrive, she said.
---

The Luxembourg Times has a brand-new LinkedIn page, follow us here!Get the Luxembourg Times delivered to your inbox twice a day. Sign up for your free newsletters here.