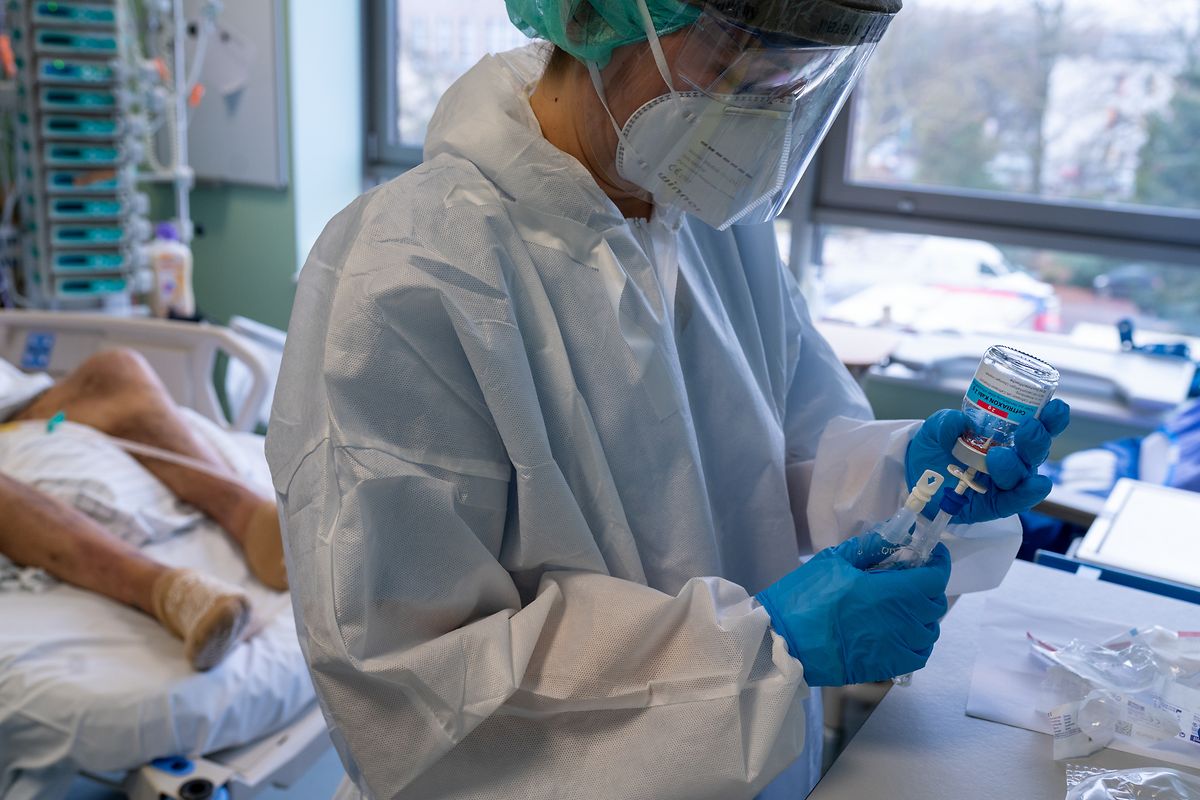 A nurse treating a patient at Luxembourg's CHL hospital Photo: Christophe Olinger
Luxembourg's parliament voted in favour of news measures that will see bars, restaurants and cinemas close in a bid to stem the spread of Covid-19, as more than 600 people tested positive for the deadly coronavirus.
The restrictions, set to come into force on Thursday, are due to last for three weeks after Luxembourg failed to register less than 500 new daily Covid-19 cases in the past week on six out of seven days – a target Prime Minister Xavier Bettel set to avoid going into a second lockdown.
Lawmakers debated the law late into Wednesday evening, with criticism from opposition parties such as the Christian-Democrat CSV, the Pirate Party and the right-wing ADR party that the government had shown a "lack of coherence", hesitating to tighten the rules even as most European countries adopted similar measures a month ago.
On Wednesday the number of positive tests at 616 again exceeded the threshold, while there were also five new deaths.
Under the new law people will only be allowed to have a maximum of two people visit their home at any one time, while most leisure facilities including gyms will close.
However, unlike Luxembourg's first lockdown in March, shops, art galleries and museums may remain open.
A curfew forbidding people to be out of their homes between 2300 hrs and 0600 hrs the next morning - which came into force earlier this month - will now be extended into December.
Luxembourg has the highest number of coronavirus cases in Europe at 1,186 per 100,000 people, followed by Austria at just under 1,100 and Slovenia at just under 1,000 according to the latest data from the European Centre for Disease Prevention and Control.
A vaccine could be the answer to stemming the flow of the coronavirus spread and helping the Grand Duchy get back to normal with several pharmaceutical companies now about to launch their version of it.
But it could be another six months before a nationwide vaccination campaign starts in Luxembourg, Health Director Jean-Claude Schmit said. It could take half a year to get sufficient amounts of the vaccine, organise distribution and decide in what order people will get the jab, Schmit told Radio 100,7 in an interview on Tuesday.
The country could set up three vaccinations, one in the centre, one in the north and a third one in the south, Schmit also said.
---
The Luxembourg Times has a brand-new LinkedIn page, follow us here! Get the Luxembourg Times delivered to your inbox twice a day. Sign up for your free newsletters here.