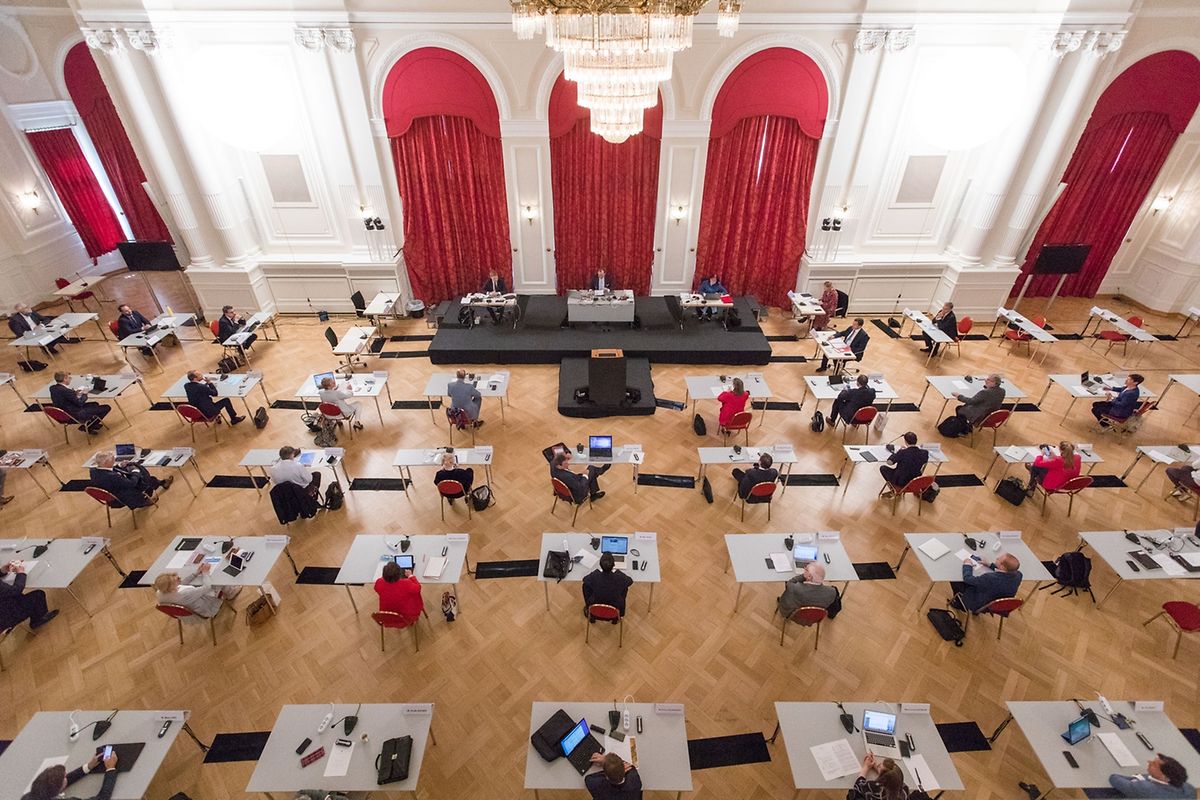 Luxembourg's parliament on Monday extended restrictions aimed at stopping the spread of the virus, including controversial rules on forced hospitalisation.
The bill passed by just 31 votes out of 60 ahead of the end of the country's state of emergency on Wednesday.
The state of emergency declared in mid-March allowed the government to bypass lengthy parliamentary procedures to adopt crisis measures. Its end meant all measures passed by the government expired unless they are signed into law.
The parliament last week debated and voted 18 laws and amendments to existing legislation, covering everything from rescue grants for businesses and a 2020 rent freeze to allowing weddings to take place outside of town halls during the pandemic.
The Covid-19 laws voted on Monday uphold existing restrictions on public gatherings and health and safety measures in restaurants and bars. They also make permanent that fines may be assessed against people violating health rules such as wearing masks and distancing in public places.
But they also include a heavily-debated provision allowing forced hospitalisation of people tested positive for coronavirus but who refuse to isolate. Under the new law, health authorities can demand a court order for infected individuals to be transferred to a hospital or other medical facility. The patient has 48 hours to appeal the decision.
A human rights committee that advises the government had called the measure "draconian" and said it infringed on the civil liberties of coronavirus patients. It said forced hospitalisation should only be used as a last-resort measure, and the committee instead called on the government to communicate clearly about the need to quarantine in case of a positive test.
Parliamentarian Mars Di Bartolomeo defended the measure, saying it was not a right to "walk around like a virus bomb," refuse help and endanger other people's lives. The Social Democrat officially presented the law to parliamentarians on Monday.
"Freedom means taking responsibility for others, especially the most vulnerable among us," Di Bartolomeo said.
Health authorities can also order people suspected of having contracted coronavirus from a person confirmed positive to quarantine for up to seven days and get tested. Anyone refusing to be tested can be forced to stay home another seven days.
In both cases, people ordered to stay home will receive a doctor's note for their employer.
Opposition leaders said the government had taken too long in presenting the drafts on 29 May, more than two months into the state of emergency, and leaving insufficient time to review them properly. The State Council – a body charged with analysing whether laws adhere to Luxembourg's constitution – had criticised the government's first text for being too vague and invading privacy rights.
Parliament removed restrictions on private gatherings, meaning it is now no longer forbidden to invite more than 20 people to one's home. It is still recommended not to do so.
Lawmakers also sharpened data protection rules in the laws compared to the initial version submitted by the government.
Data of people tested negative is deleted immediately. Personal details of people who tested positive can only be accessed by medical professionals and must be made anonymous three months after collection. Personal information must be anonymised before being sent to European or international authorities or used for research.
The laws are designed to expire after one month, at which point government and parliament can propose changes or simply re-adopt the same texts.
---
Get the Luxembourg Times delivered to your inbox twice a day. Sign up for your free newsletters here.