Lead character Pearl, played by actress Mia Goth
Much to the detriment of Luxembourgish audiences, Pearl has been screened in the Grand Duchy exactly once (at the Luxembourg City Film Fest earlier this year). And while its comeback to local screens should be hotly anticipated, Kinepolis are actively doing us a disfavour every day they don't show it.
Pearl is an independently-minded prequel to last year's X, also written and directed by Ti West. Set in the late 1970s, X follows an amateurish film crew looking to shoot an adult film in a barn on a farmstead in the rural US.
The owners, understandably, aren't thrilled when they discover their guests' true intentions, and the crew soon find themselves hunted by an elderly (and senile) Pearl who's lived on the farm for decades.
But you don't need to have seen X to enjoy Pearl, which follows the titular anti-heroine during her youth in 1918. Set at the tail end of the First World War, the US is in the grips of the Spanish Flu and Pearl and her family suffer from a perceived anti-German sentiment.
Pearl's father is infirm and wheelchair bound, unable to feed or wash himself. Pearl's mother, meanwhile, is overly strict and overbearing towards her daughter who dreams of becoming a chorus girl - a synchronised dancer as popularly seen in black-and-white films at the time.
This pandemic atmosphere, by the way, already makes X a stand-out. Just as with the actual Spanish Flu (which has been called the 'forgotten pandemic'), Covid seems to have had disproportionately little narrative effect on cinema despite its enduring effects.
But despite the cotton masks its characters wear, Pearl is very open-faced about its context and influences - and its nod-and-a-wink treatment of Covid doubly adds a layer of past-and-present crossover.
Rising tension
In this paranoid and isolated atmosphere, Pearl is quite clearly losing it. Chafing under her mother's tyranny, the tension steadily rises while Pearl is slowly revealed to be something of a psycho herself.
In between moments of troubled farmstead idyll, Pearl is caught torturing animals and indulging in intense sexual fantasies. And here the film's style is crucial: it very consciously channels the aura of Hollywood's Golden Age - think Orson Welles, Judy Garland and Alfred Hitchcock - while adding a sharper edge.
Pearl's pastiche translates into both form and style in quite a well-rounded way. A favourite pastime of Hollywood, imbuing a film or tv series with the spirit of an era often only starts and ends with the actual content.
Sure, Stranger Things is all about 80s shopping malls and arcade games and neon-lit roller rinks. But Pearl, from bucolic start to bloody end, is as much about its style as it is about countryside axe-murdering.
You can sense it in every detail, from the introductory sequence to the wardrobing to the cinematography. Pearl really lives and breathes Fifties' cinema - while simultaneously being an A24 horror movie from 2023.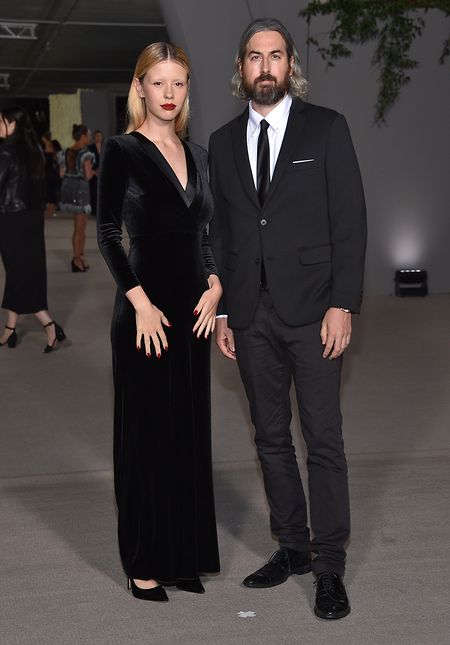 Actress Mia Goth and the film's director, Ti West, at the Academy Museum Gala in Los Angeles in October 2022
Shutterstock
It essentially does the same thing for Golden Age movies as neo-westerns did to the western film genre. Gone are the days of the noble nameless cowboy, unequivocally the good guy, and now neo-westerns like Gran Torino or Django Unchained or No Country For Old Men are bloodier, morally greyer and eschew all romance towards the genre.
Just so for Pearl. It feels both dated and new, with the farmstead's house looming over the scene like the Bates Motel in Psycho while Pearl steadily comes unhinged.
Stellar performance
And while it wouldn't do the film any favours to get bogged down in genre labels, it could well be classified as a kind of neo-Hitchcock - mostly because it sounds better than a neo-Golden-Age-of-Hollywood-film. Like the gritty neo-western, it refigures the original genre in a darker way - and arguably improves on the form, tropes and all.
A lot of this reinvigorating effect is down to Mia Goth's stellar performance as Pearl. Tightly wound and terrifying when unfurled, hers is a show of manic stares and ruptures in Golden Era gleam.
It becomes abundantly clear that the film (not to mention the franchise) couldn't exist without Goth - after all, she helped write this sequel and will serve as an executive producer for the final instalment in the franchise, Maxxxine, which started principal photography last month.
The formula works well - with Martin Scorsese claiming that he had trouble falling asleep after seeing Pearl. A carefully maintained look reminiscent of 1950s movies goes really well with a nervous tension and air of mania.
Lots of Hitchcock movies are about exactly this, with Pearl going all the way in unleashing the unspoken, unrequited desires in an explosive way.
A clever piece of pastiche in an age of numerous not-so-clever pastiches, Pearl is stylish and frenzied and so loaded with libido that it'd make Sigmund Freud's face flush.
Its release in cinemas has been patchy and unevenly distributed, and given the recent influx of intense horror flicks, it'd feel right at home in Luxembourgish cinemas.
---
The Luxembourg Times has a new mobile app, download here! Get the Luxembourg Times delivered to your inbox twice a day. Sign up for your free newsletters here.
---