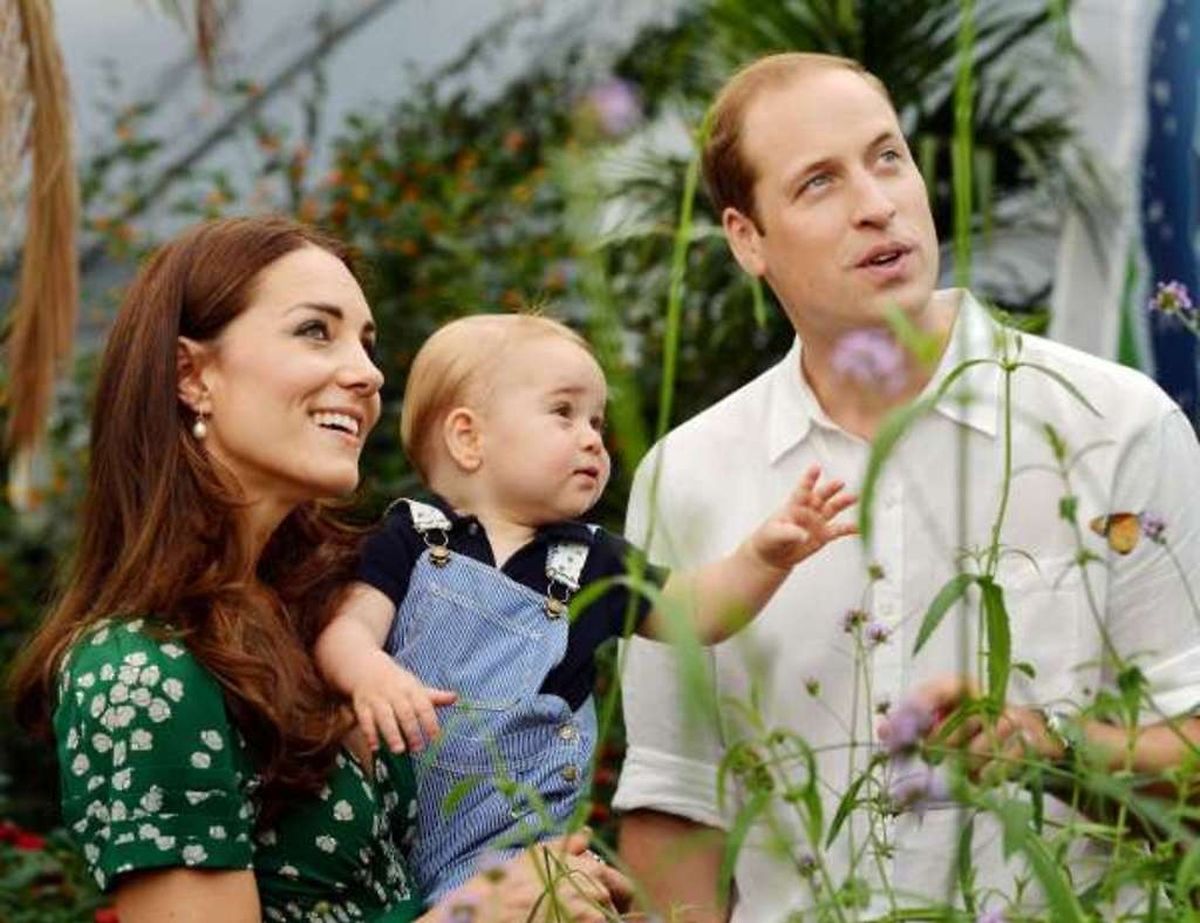 (FILES) A file picture taken on Wednesday July 2, 2014, to mark Britain's Prince George's first birthday, shows Prince William (R) and Catherine, Duchess of Cambridge (L) with Prince George during a visit to the Sensational Butterflies exhibition at the Natural History Museum in London. Prince William and his wife Kate are "very pleased" to announce that they are expecting their second child, Kensington Palace said on Monday September 8, 2014. AFP PHOTO / JOHN STILLWELL/POOL/FILES
(AFP) Prince William will take the place of his wife Kate for a visit to Malta this weekend because she is suffering from acute morning sickness, Kensington Palace said on Thursday.
"The Duchess of Cambridge will no longer visit Malta this weekend. The Duke of Cambridge will undertake the visit instead," read the statement from Kensington Palace.
Kate had been due to make her first solo trip as a British royal to attend the 50th anniversary celebrations of Malta's independence but has not been seen in public since her second pregnancy was announced earlier this month.
"Her Royal Highness continues to suffer from the effects of Hyperemesis Gravidarum. The decision not to travel was taken by the Duke and Duchess on the advice of the Duchess's doctors," the statement said.
Kate, 32, had to be hospitalised due to the morning sickness when she was pregnant with Prince George.
William and Kate's first child, George Alexander Louis, was born on July 22, 2013 in London's St. Mary's Hospital, weighing eight pounds and six ounces (3.8 kg).
As third in line to the throne and the first child of a celebrity couple, George's arrival sparked a media frenzy and prompted messages of goodwill from around the world.
The new baby will be fourth in line to the throne, pushing William's younger brother Prince Harry down the line of succession into fifth place.
Hyperemesis gravidarum is the Latin name for a severe form of morning sickness and affects around one in 200 pregnant women, according to Britain's National Health Service (NHS).
Symptoms can include persistent vomiting, dehydration, tiredness and dizziness, experts say, and hospitalisation may be needed in severe cases to treat dehydration with intravenous fluids for a few days.
The royal couple currently live in London after several years spent in Wales while William worked as a Royal Air Force (RAF) search and rescue helicopter pilot.
William's office announced last month that he was taking on a new full-time role next year with the East Anglian Air Ambulance (EAAA), a charity which provides emergency helicopter cover across eastern England.
Don't miss the news – sign up to receive the wort.lu newsletter in English delivered to your inbox six days a week.