Republicans line up for 2016
Republicans line up for 2016
Republican Mitt Romney said Friday he will not run for the White House and it was up to "other leaders in the party" to forge a pathway to victory in 2016.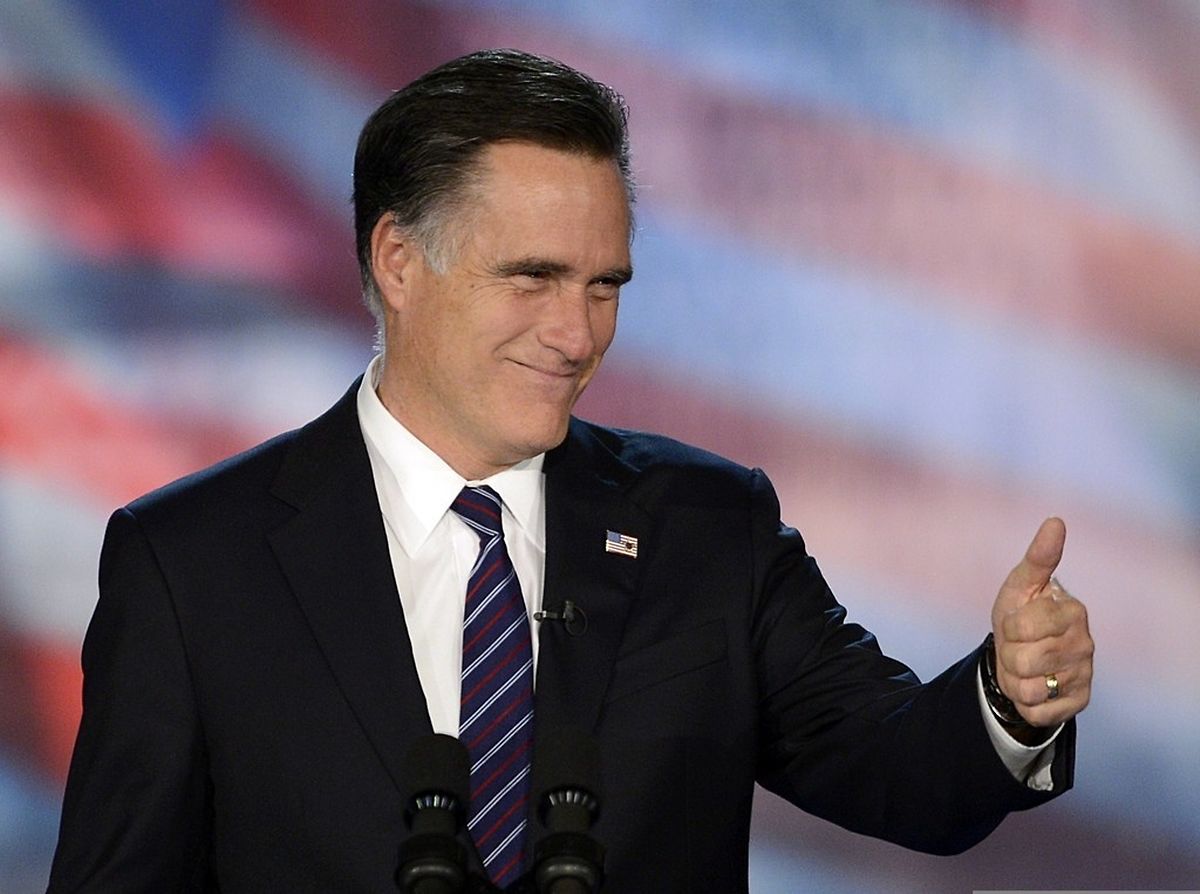 (FILES) This November 7, 2012 file photo shows former US Presidential candidate Mitt Romney in Boston Massachusetts. Republican 2012 presidential nominee Mitt Romney said January 30, 2015 he will not make another White House run in 2016, following weeks of speculation he would mount another campaign. "After putting considerable thought into making another run for president, I've decided it is best to give other leaders in the party the opportunity to become our next nominee," Romney said in remarks on a conference call with supporters, broadcast live by CNN. AFP PHOTO/ TIMOTHY A. CLARY
(AFP) Republican Mitt Romney said Friday he will not run for the White House and it was up to "other leaders in the party" to forge a pathway to victory in 2016.
For those concerned that Republicans have lost their flagbearer, fear not. The party bench is deep, and several conservative luminaries - and plenty of lesser-known politicos - are actively exploring the possibility of a tilt at the presidency.
Here are 13 men and one woman who could challenge Democrats like prospective frontrunner Hillary Clinton in the battle to succeed President Barack Obama.
Top Tier
These hopefuls have spent months engineering candidacies, surrounding themselves with campaign specialists and courting donors. They have each set up political action committees, checking a box crucial to a US presidential run.
JEB BUSH: With Romney out, the 61-year-old Bush, Florida's governor from 1999 to 2007 and son and brother of two US presidents, is the Republican frontrunner. A Spanish speaker, he supports immigration reform and an education system overhaul. He tops most Republican nomination polls, but will the famous family name be a help or hindrance?
RAND PAUL: The senator from Kentucky, 52, was elected in the Tea Party wave of 2010. He wants to shrink the role of government, like most conservatives, but his libertarian bent has led him to deviate from conservative orthodoxy. His non-interventionist foreign policy and defense of civil liberties has attracted young voters and minorities.
CHRIS CHRISTIE: New Jersey's governor, 52, is known for his blunt talk. Despite the iconoclastic image Christie remains close to the party establishment. A scandal over blocking a traffic bridge in a Democratic district tarnished his reputation, and his poll numbers have slid.
MARCO RUBIO: Fresh-faced at 43, the bilingual senator from Florida was born to Cuban immigrants in Miami. He was a Tea Party favorite but grassroots groups rapped him when he helped craft immigration reform legislation that has since died in the Senate. Many see a 2016 Rubio candidacy as premature, but he published a political book this month and has made campaign team hires.
2012 Throwbacks
RICK SANTORUM: The ex-senator from Pennsylvania, 52, is a champion of the Christian right. He electrified the party when he won the closely watched Iowa caucuses in 2012.
MIKE HUCKABEE: The 59-year-old Baptist preacher went from Arkansas governor to TV host, and is popular with evangelicals. He ran for president in 2008 and 2012.
RICK PERRY: Texas governor for a record 14 years, Perry, 64, ran an ill-conceived 2012 campaign. It flamed out after his disastrous performances in the Republican primary debates.
Tea Partiers
BEN CARSON: The 63-year-old retired neurosurgeon is beloved by the far-right. The African-American catapulted to the conservative forefront when he criticized the Obama administration in front of the president at 2013's National Prayer Breakfast.
TED CRUZ: At 44, the Texas senator is a skilled orator, known for stubbornly standing up to Republican and Democratic leaders alike. A torchbearer for conservative causes like defunding Obamacare, many blamed him for forcing a 16-day government shutdown in 2013.
Governors
SCOTT WALKER: The Wisconsin governor, 47, became the bugbear of US unions in 2011 when he eliminated collective bargaining rights for public sector employees. The move, and the months-long clash over the issue, gave Walker national recognition.
BOBBY JINDAL: The governor of Louisiana, 43, of Indian descent, is particularly virulent in his criticism of Obama policies.
JOHN KASICH: Ohio's 62-year-old governor was re-elected in a landslide in the ultimate American swing state. Several signs point to him wanting to replicate that success on the national stage.
MIKE PENCE: Indiana's charismatic governor, 55, is liked by broad swathes of the party, a conservative who has espoused straightforward political solutions rather than cling to ideology. But he barely registers on 2016 polls.
One Woman
CARLY FIORINA: HP's former chief executive, 60, ran unsuccessfully for Senate in 2010, spending millions from her personal fortune.