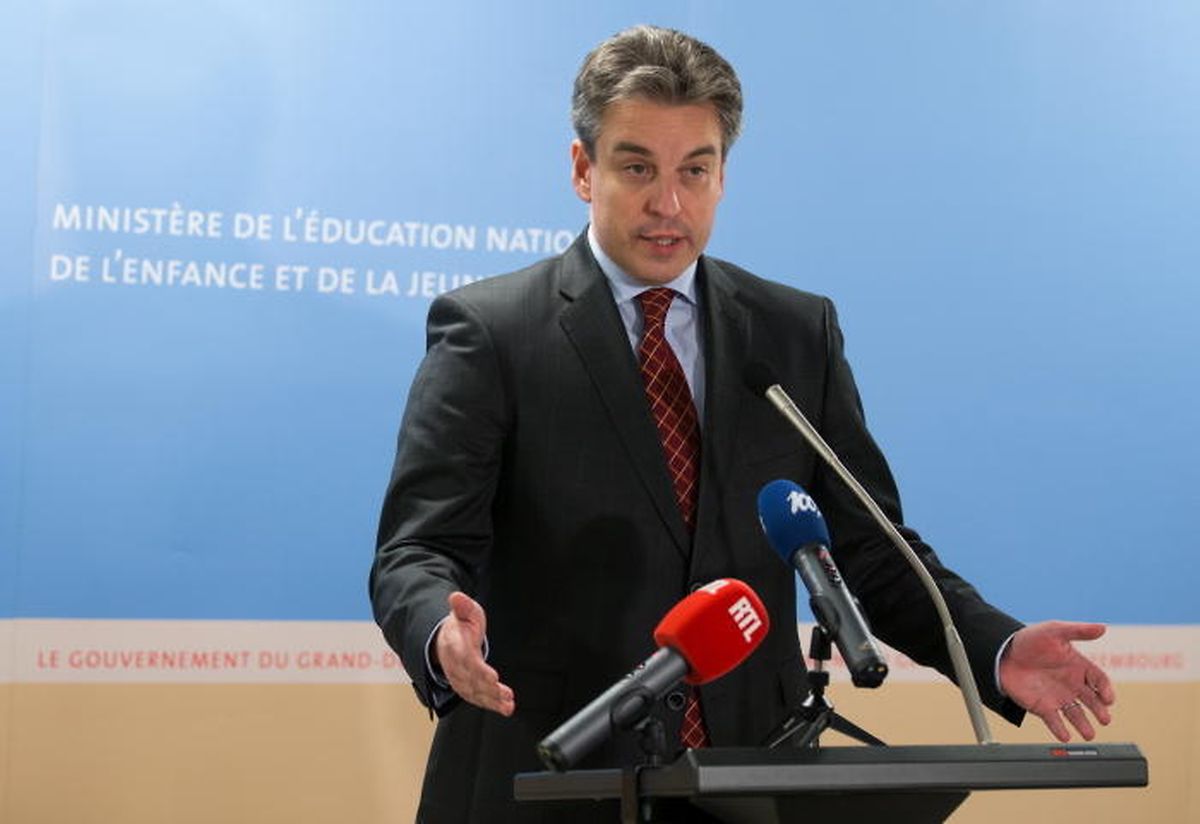 Education Minister Claude Meisch Photo: Chris Karaba
Luxembourg's school students will return to remote learning for at least one week after the holiday period as the country enforces new lockdown restrictions to reduce contacts and coronavirus infections.
Primary and secondary schools will spend the first week after the Christmas holidays, beginning on 4 January, in front of home computer screens, Education Minister Claude Meisch said at press conference on Tuesday.
School lessons will be streamed online and students will primarily review and practice earlier lessons. Teachers will be free to choose their own teaching methods.

The ministry will delay examinations by one week due to the potential shortcomings of remote teaching and add a week in the terms for final year students so they have time to catch up on all the learning material, Meisch said.
"We want everyone to have a fair chance", he said.

After 10 January, schools should resume as normally as possible, with staff and students being able to receive free tests for the coronavirus, the invitations for which will be sent out in the coming days, Meisch said.
Childcare centres also will remain closed until 10 January, Meisch said. Healthcare workers will have access to emergency daycare for their children, and other workers will be able to apply for government-funded leave from their jobs for family reasons, he said.
The government will equip schools with CO2 measuring devices to remind staff to ventilate regularly and not to let the virus spread, Meisch said.
Teachers could be equipped with masks that are more protective than everyday masks, he said. The government also is considering prioritising teachers after healthcare workers and medically vulnerable people for receiving vaccinations, Meisch said.
Remembering those lost
Meisch spoke hours before the Health Ministry reported that three additional people died from Covid-19, bringing the pandemic's total in Luxembourg to 453, and another 193 required hospital treatment. Hospitalisations have been trending downward in the past week.
Luxembourg could hold a minute's silence to commemorate those who died from the disease and those who have battled the pandemic on the National Day (Fête Nationale) on 23 June. The idea was proposed in a public petition signed by almost 5,000 people calling for a moment's silence on New Year's Eve. Deputies on a review committee approved the petition but voted to change the date.
The petition also urged people not to light fireworks on New Year's Eve as a mark of respect to those who have died. During a debate, deputies were reminded that the new lockdown measures taking effect from Saturday include a curfew starting at 21.00, meaning that gathering in public to light fireworks will be banned in any event.
More support for business
To help businesses stay afloat, the government announced an extension of economic support measures for non-essential businesses that will be closed beginning Saturday, assuming parliament approves.
The state will commit up to €2.5 billion to continue guaranteeing loans to Luxembourg companies. Businesses can apply to their bank for loans of up to 25% of their turnover, with the state guaranteeing up to 85% of that revenue.
This measure, initially introduced in April, has now been extended until the end of June, the finance ministry said after negotiations with the country's banks. Large enterprises, small businesses, self-employed people and innovative start-ups can all be eligible for the bank loans, the ministry said.

---
The Luxembourg Times has a brand-new LinkedIn page, follow us here! Get the Luxembourg Times delivered to your inbox twice a day. Sign up for your free newsletters here.