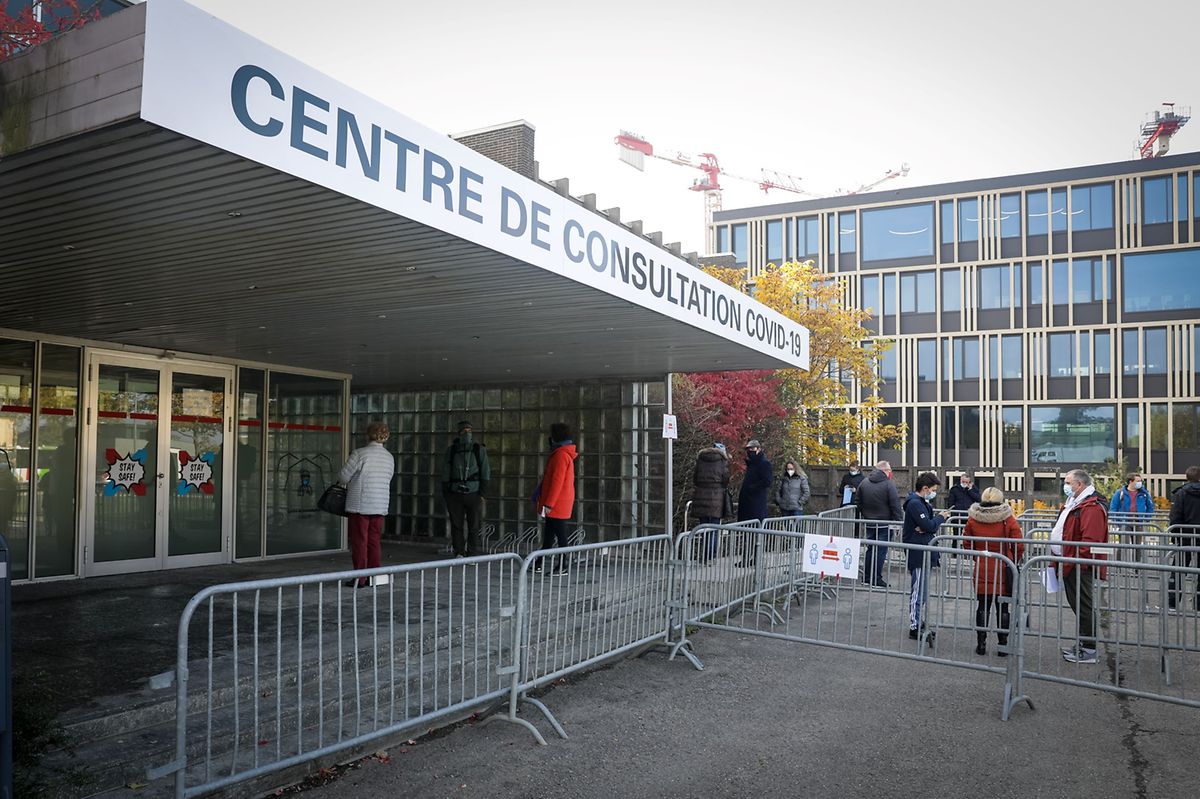 A Covid-19 testing in Kirchberg, Luxembourg Photo: Pierre Matgé
The coronavirus showed no signs of letting up in Luxembourg over the weekend as the country reported seven more deaths and a further 1,161 new infections, after Prime Minister Xavier Bettel on Friday made it sound unlikely there would be another lockdown.

The death toll has risen by a third so far this month - to 226 on Sunday from 161 on 1 November - while the number of active infections currently stands at just over 10,000, five times as much as at the peak during the first Covid-19 wave in March and April.
The number of hospitalisations - now at 207, including 46 in intensive care - is now roughly at the same level as at the first peak, while the reproduction rate indicates that the spread of the virus is slowing, with each patient passing it on to fewer than one other on average.
Prime Minister Xavier Bettel said on Friday that while he could not rule out further restrictions to halt the spread of the virus, another complete lockdown was unlikely to happen. Currently, there is a curfew between 2300 and 0600 hrs, but bars and restaurants remain open otherwise.
"At the moment, the situation is stable, but at a very high level," Bettel said on Twitter. "The possibility that we have to slow down even further cannot be disregarded, but we do not want to stop entirely."
The only way for Luxembourg to overcome the pandemic is for a majority of the population to develop antibodies, he said. Bettel did not say how these antibodies would develop, though theoretically this could happen if enough people had developed natural resistance - a process known as herd immunity - or once they are vaccinated.
On Sunday, Luxembourg became Europe's worst-hit country by the epidemic, alongside the Czech Republic and Austria, according to data from the European Centre for Disease Prevention and Control which measures the cumulative 14-day total of new infections per 100,000 inhabitants. When it comes to the number of deaths, however, Luxembourg holds a more middling position.
This weekend, Austria said it would enter a lockdown again and close schools - a step many European countries have avoided so far.
Medical staff are struggling to keep up tracing down the people those who test positive for the virus have been in contact, a group representing patients said on Friday, and national airway Luxair will lend 68 of its staff to help out the national contact tracing system.
Belgium last week warned its citizens flocking to restaurants and pubs in the Grand Duchy not to cross border to escape the tighter rules that Brussels has issued to stem the spread of the virus.
Indoor dining, cafés and gyms, all of which remain open in Luxembourg, are the major sources of virus transmission, according to a study published in the authoritative science magazine Nature on 10 November by researchers from Stanford University and Northwestern University.
On Saturday, French TV channel TF1 broadcast a feature highlighting tourist attractions in Luxembourg, underscoring the country was not affected by a lockdown, though without directly urging people to visit.
Corinne Cahen, a Luxembourg government minister who amongst other things is responsible for international cooperation in the Greater Region, tweeted a link to that programme, without further comment.
When asked by a journalist whether Cahen had meant that as an advertisement for Luxembourg as a tourist attraction despite the pandemic, Cahen tweeted "It was just a nice feature about Luxembourg."
French residents are not allowed to travel more than a kilometre away from their homes unless for essential travel, which includes crossing the border to work. The Republicain-Lorrain newspaper said that the French Gendarmerie handed out 16 fines within 2 hours on Friday to travellers crossing the border with Luxembourg without a proper permit.
---
The Luxembourg Times has a brand-new LinkedIn page, follow us here! Get the Luxembourg Times delivered to your inbox twice a day. Sign up for your free newsletters here.