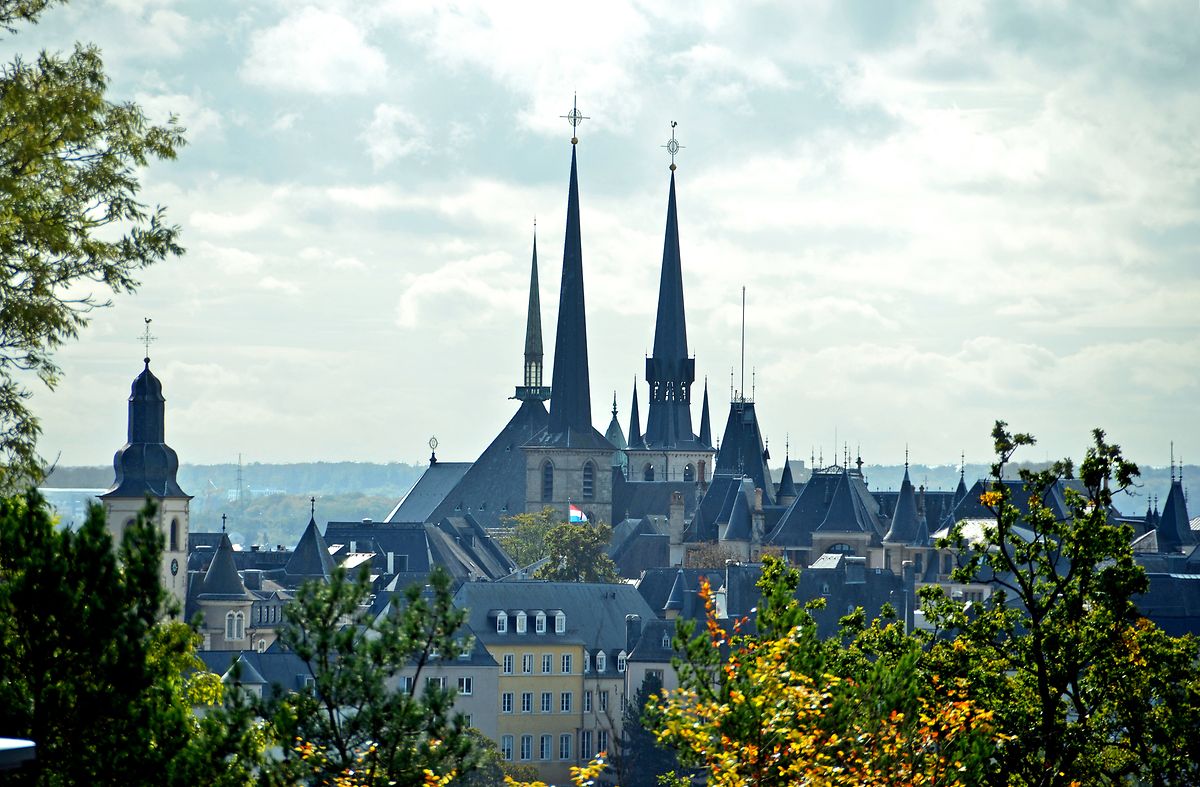 A view of the Cathedral in Luxembourg City (LW)
If the next legislative elections in the Grand-Duchy were held "next Sunday", the Democratic Party (DP) – part of Luxembourg's governing coalition – would suffer a blow in the central voting district and lose one seat.
The opposition Christian Social People's Party (CSV), on the other hand, would gain one seat, according to the latest Politmonitor survey commissioned by the Luxemburger Wort and RTL.

The Sonndesfro (Sunday question) of the survey asked people what party they would allocate the most votes to were the elections to be held the following Sunday.
More than 1,393 people of the central election district were surveyed.
The current voter climate would leave the CSV with nine seats and the DP five.
All other parties would keep the number of seats they have.
The CSV would enjoy a plus of 4.4 percentage points compared to 2013 were the elections to be held now, bringing them to 39.7%.
The DP would lose 4.5 percentage points compared with 2013, leaving the party with 20.5% of respondents' votes.
The Luxembourg Socialist Workers' Party (LSAP) would also lose support (-2.2 percentage points).
The Communist Party Luxembourg (KPL) would see its score fall by 0.7 percentage points, leaving it with only 0.2%, while the Party for Integral Democracy (PID) loses 0.2 percentage points compared with 2013.
The Left (déi Lénk) would gain 1.4 percentage points compared with 2013 in the central district and, with the resulting 6.2%, have a higher score than the Alternative Democratic Reform Party, which comes in at 5.3%, gaining 0.3 percentage points.
The Greens (déi Gréng) and the Pirate Party (Piratepartei) both enjoy a slight uptick of 0.9 and 0.5 percentage points, respectively.
May-December
Shifts in sentiment among Luxembourg's voters mean the seat distribution now would differ from that indicated in May.
The DP was down two seats in May, and the CSV up two, but the liberals managed to gain back some support over the last few months (2.6 percentage points), and the CSV lost some support (-2.1 percentage points).
The DP would, therefore, only lose one seat in December, and the CSV only gain one.
The other notable change is the loss of support for the ADR over the last six months (-1.6 percentage points).
Politmonitor
The Sonndesfro was carried out by TNS Ilres on behalf the Luxemburger Wort and RTL.
The survey is a mood indicator over several months, not an election forecast.
Between the end of May and the end of November 2017, 4,726 eligible residents of Luxembourgish nationality over the age of 18 were surveyed (centre: 1,393, south: 1,807, north: 872, east: 654).
There is no weighting of the raw data. Absolute and proportional corrections guarantee the best possible result.
Methodology information has been submitted to ALIA, the Luxembourgish independent audiovisual authority.