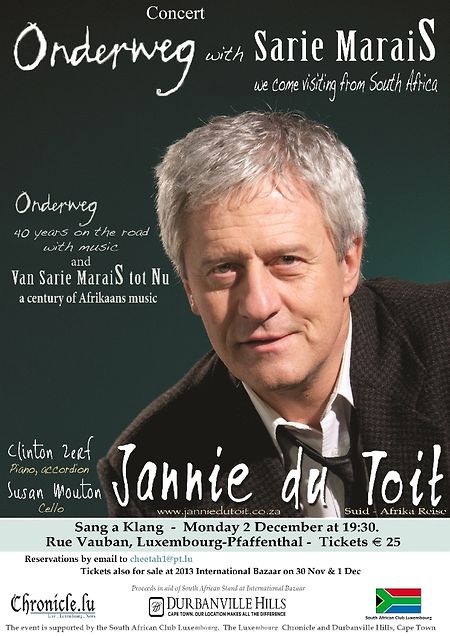 South African musician Jannie du Toit will give a special performance in Luxembourg tonight (Monday), with all proceeds from ticket sales going to charity.
The BeNeLux musuician will perform at the Sang a Klang in Pfaffenthal at 7.30pm with Susan Mouton (cello) and Clinton Zerf (piano, accordion).
Jannie began his music career during the seventies as founder member of Afrikaans folk group Trilogie. In 2011 Jannie celebrated 40 years of working with Afrikaans music by touring South Africa with the production Onderweg ('On the Road'). Last October, he released a new CD with songs that span his musical career and many collaborations.
For the Luxembourg performance, Jannie will present an adapted version of "Onderweg", while after interval the programme consists of a light-hearted look at a century of Afrikaans music.
People attending the concert will also have a chance to taste wines from Durbanville Hills Winelands situated close to Cape Town.
Tickets cost 25 euros and all proceeds will go to the South African stand of the International Bazaar to be distributed among this year's chosen charities.
To reserve your place, please email cheetah1@pt.lu