Kussbus: Redefining the daily commute
Kussbus: Redefining the daily commute
Luxembourg start-up seeks to tackle Grand Duchy's problem of overcrowded roads with (nearly) door-to-door shuttle service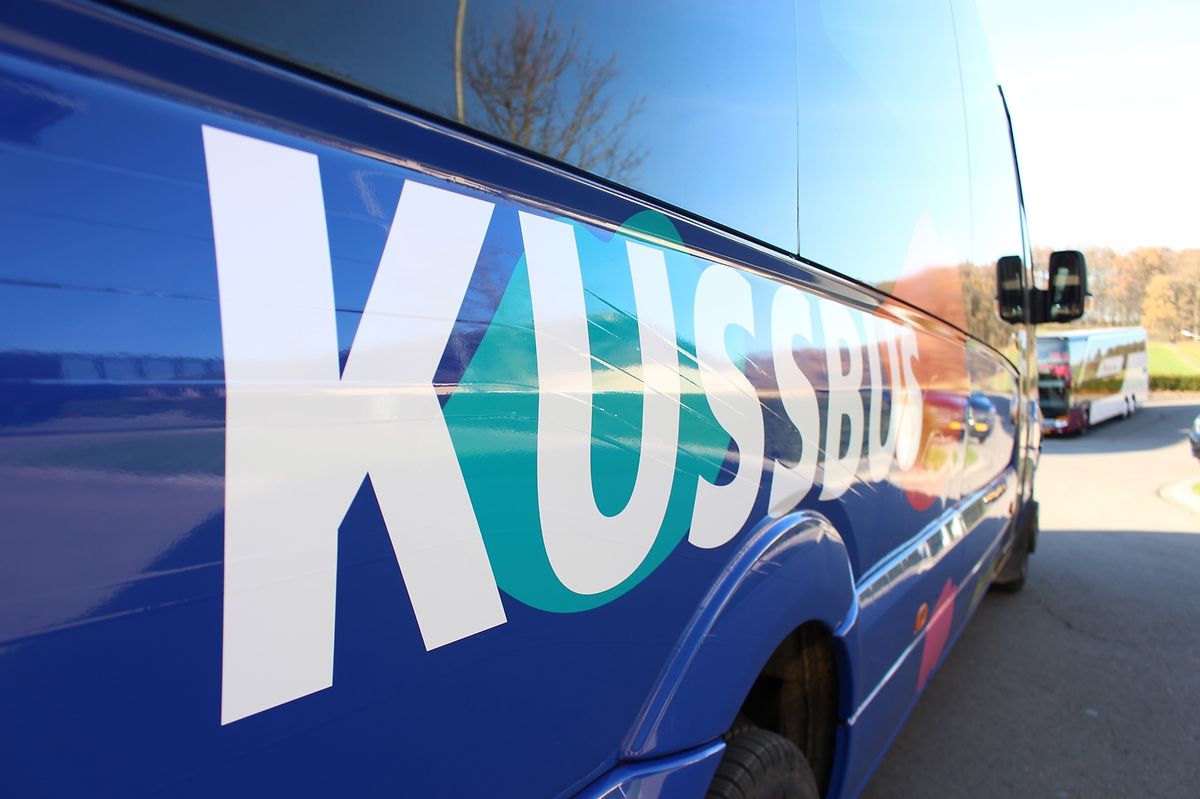 Kussbuss: Offering 19-seat buses and a (nearly) door-to-door shuttle service for people to travel to work together (Kussbus)
The daily commute on Luxembourg's roads is defined by heavy traffic and long journeys into work. The Luxembourg Times' Lisa Laura Ducoli met up with Jean-Luc Rippinger, chief executive and co-founder of Luxembourg start-up Kussbus, and Fabienne Dasnoy, head of corporate culture at BGL BNP Paribas, to discuss the future of commuting in the Grand Duchy.
The traffic problem is undeniably linked to a cultural habit in Luxembourg, where driving to work in one's car is the norm. For many, working from home five days a week is not a likely long-term solution, and public transport can be unreliable or inconvenient. Commuters often have to change trains, which adds time to their journeys. Even though the majority of commuters work in Luxembourg City, most people travel by themselves, and they usually do so by car.
Needless to say, the fact Luxembourg's roads are overburdened isn't helping. Kussbus offers an alternative: 19-seat buses and a (nearly) door-to-door shuttle service for people to travel to work together. One bus could potentially replace 19 cars.
Kussbus chief executive Jean-Luc Rippinger firmly believes the issue does not lie in Luxembourg's road infrastructure. He suggests the roads would be sufficient if they were used more efficiently. However, the reality is that, if 10,000 jobs are created each year, and 70% of workers travel to work by car, which is now the case, this would add 7,000 vehicles to the Grand Duchy's already heavily overburdened roads. Instead of extending the country's infrastructure – which, by the time roadworks were finished, would only need to be extended again to keep up with the increasing number of workers – Kussbus believes the problem should be tackled at its core.
Rippinger says people will be able to book Kussbus shuttles via the Kussbus app. "The app shows a virtual map, which helps customers choose virtual stops they would like to be picked up from," he adds.
Kussbus will be operating routes to Luxembourg City from within the Grand Duchy but also from abroad. Its algorithm defines those stops in a way that allows for minimal walking distance, while remaining as time-efficient as possible and picking up as many people from the same stop as possible. The algorithm is an essential part of the concept, as Kussbus is not a transport company but a technology company.
Kussbus is the brains behind the technology and customer relations, while Voyages Emile Weber provides and operates the buses. The main idea is to find a way to make people more likely to travel in the buses rather than their cars. Unfortunately, the latter is the preferred option for most commuters, which Kussbus wants to change.
"We want to offer a more immediate solution," says Rippinger. Merely responding to the issue by extending Luxembourg's infrastructure would not work for several reasons, he says. Not only are new jobs being created in the Grand Duchy on a continuous basis, the cost of housing in the city is also increasing. As a consequence, people are being forced to move out of the city and travel longer distances to work, which results in more people using cars as the primary form of transport.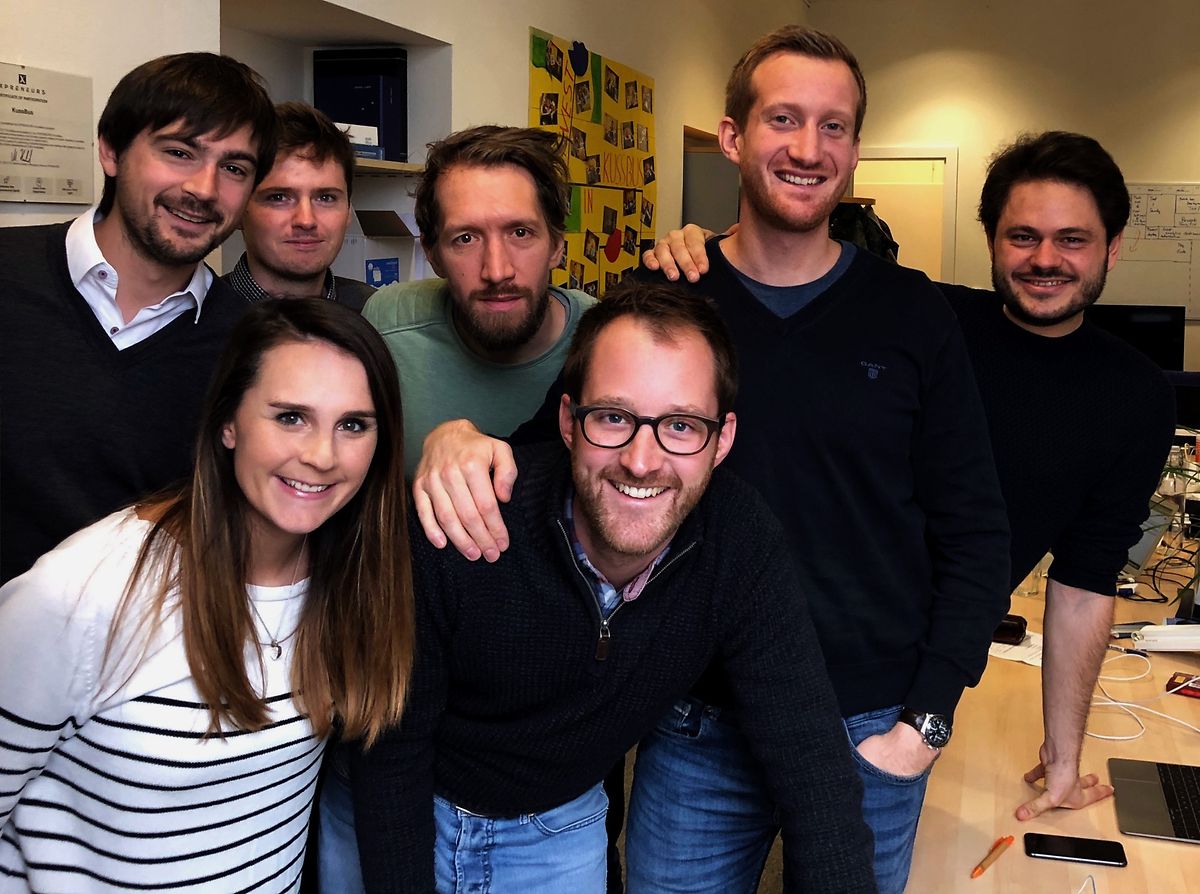 The Kussbus Team (Kussbuss)
BGL BNP Paribas's Lux Future Lab is a project that provides facilities for promising start-up businesses and supports young and dynamic companies like Kussbus. Head of corporate culture Fabienne Dasnoy says: "[It] is a company we firmly believe in, an important reason being the environmental aspect they support."
BGL BNP Paribas was recently awarded Top Employer for the third year running, which, Dasnoy says, entails creating a positive working environment for employees, and this begins the minute they start their commute.
"The daily commute has a negative impact on employees' well-being," she says. "The most significant issue, however, is that travel times are often unpredictable and also uncontrollable."
Employees have expressed the need for a way to resolve this issue, which is where Kussbus shuttles come into play. Both Kussbus and BGL BNP Paribas promote shared rides as an alternative to driving one's own car to work. Not only does Kussbus allow for the daily commute to be used productively, it can also make the journey less stressful.
Concepts similar to that of Kussbus's have already been tested and are being used in larger cities abroad, where 'shared on-demand shuttles' are popular options for commuters or people in the need of flexible transport in their everyday lives. The future of flexible transport rests in the idea that it will eventually adapt to people rather than the other way around, thanks to the algorithms that continuously collect data.
Future plans
Two years ago, when Rippinger went to the BMW production site in Dingolfing, Germany, he discovered they had significantly more employees than parking spots, yet they had an efficient system in place to solve this issue. BMW organise shuttles that drive employees to work.
Rippinger was impressed by this rather simple idea and started thinking about how he could introduce the concept in Luxembourg. He created a business plan and founded Kussbus with Nicolas Back. However, they hit a wall, as they did not have a big enough budget, so they set up a website with the aim attracting potential investors and started a campaign in December 2016, for which almost 6,000 people registered.
Following this success, they met with investors who, along with the Ministry of Economics, decided to financially support Kussbus, which really got the ball rolling in summer 2017. They are now a team of nine and looking for IT specialists to further strengthen the company. A second round of funding is being organised, while the company is working hard to launch officially in the coming weeks.
BGL BNP Paribas supports Kussbus for several reasons, according to Dasnoy. The collaboration allows for a continuous improvement in terms of employees' working environment, which is one of the reasons many expressed their interest in the concept in the first place. Further, Kussbus is a much greener alternative to each person driving his or her own car to work, while still maintaining the flexibility this entails.
In future, Kussbus is hoping to launch in other European cities and work with local bus companies, as well as expand the services offered in Luxembourg. Shared on-demand services, as well as Kussbus Kids, which will drive children to after-school activities, are planned.
Rippinger and his team are also working on setting a reasonable fare for users of Kussbus's services. Because Luxembourg has some of the cheapest bus transport in Europe and is also heavily funded, Kussbus, being a private initiative, will be unable to compete with public transport fares.
"Whilst fares will compare with the costs of owning and using a private car," Rippinger says, "we offer flexibility and the ability to relax – and users will not need to worry about parking."
For updates on a launch date and fares, visit the Kussbus website