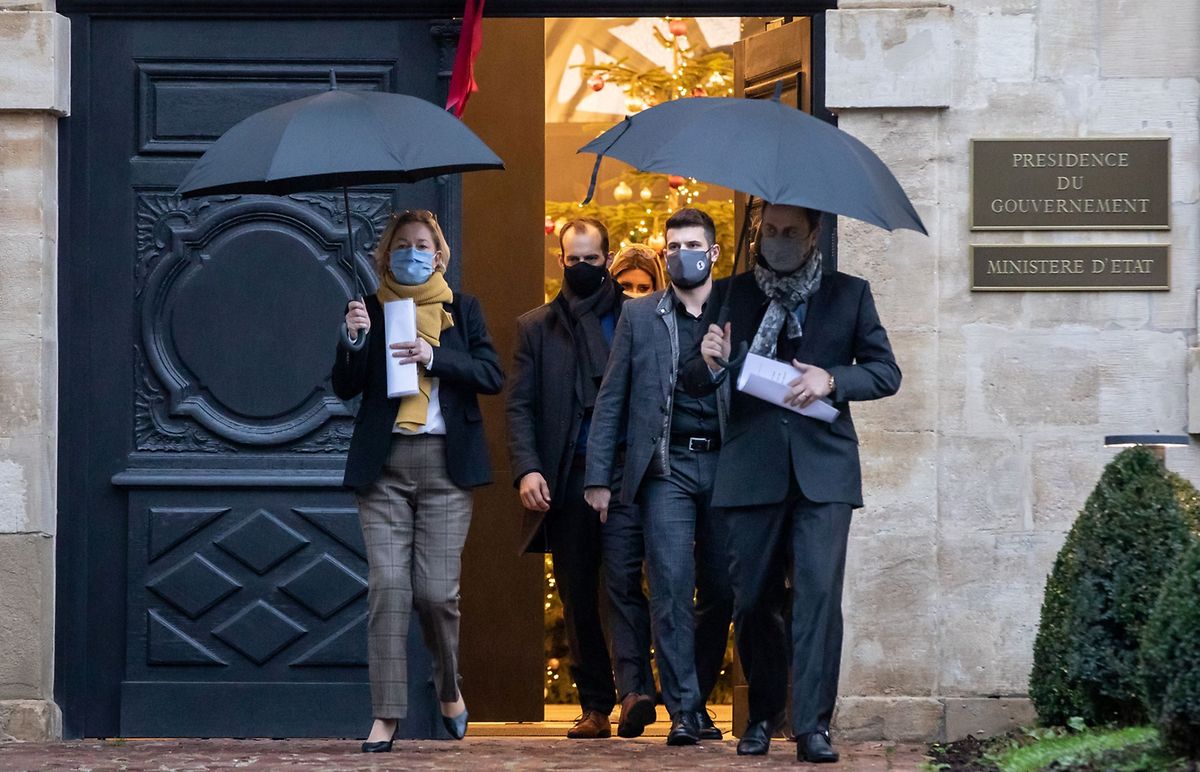 Prime Minister Xavier Bettel (R) and Health Minister Paulette Lenert (L) prepare on Monday to describe the new restrictions to restricting the spread of the virus PHOTO: Guy Jallay
Luxembourg will remain still and most businesses and schools will stay dark beyond the holiday season as defence against the spreading Covid-19 disease which has killed hundreds and sickened thousands, top government officials said on Monday.
A new lockdown will begin on Saturday and continue until at least 10 January, a period that will see health care workers receiving the first vaccinations against the disease, Prime Minister Xavier Bettel said.
Non-essential shops will be ordered closed, the overnight curfew will start at 21.00 instead of 23.00 and schools will stay closed for an extra week after the current holiday break while children study from home, Bettel said at a news conference with Health Minister Paulette Lenert. Restaurants and bars have been closed since 26 November.
The restrictions through at least 10 January match the lockdown period neighbouring Germany entered last week.
Luxembourg's delay in waiting until after Friday's Christmas holiday to impose new restrictions represented "a balance between the psychological impact and the health impact" of a new lockdown, Bettel said after meeting with his government's ministers earlier in the day.
Among the evidence ministers reviewed was a new Research Luxembourg Covid-19 Task Force report describing that already-implemented government measures restricting social contact may be slowing the pandemic. But the slight improvement was coming just as people were expected to gather in groups indoors to celebrate the Christmas and New Year holidays, the report said.
"The expected increased social interactions over the holiday season, in particular with elderly people, bear the danger that more severe cases may be induced", researchers said.
Also factoring into Luxembourg's decision could be news that a genetic mutation that causes the coronavirus to spread more rapidly may have already spread beyond the UK, where it was announced this weekend.
The discovery led British Prime Minister Boris Johnson to clamp down on holiday visits at home and abroad. Luxembourg and other EU countries banned UK flights into their territories. Passenger flights between the UK and the Grand Duchy would be suspended until after 3 January, Luxembourg's Transport Ministry said on Monday.
Although the daily count of new infection cases was dropping recently, there were still too many at more than 400 cases a day, Lenert said.
On Monday, the country recorded six new deaths, raising the death toll to 450, and 91 new cases. The number of new ly reported cases usually drops on Mondays because fewer people take a test on Sunday.
Because infected people can be unaware they have the virus and are spreading it to others, people who are confirmed as having the disease are only the tip of the iceberg and "we do not know how big the iceberg is", Lenert said.
Voluntary isolation measures should go beyond what the authorities will now enforce with fines doubled from €145 per infraction to €300, she said. Because every additional human contact poses a risk, shopping except for essentials should be avoided, and visits between friends and family should be postponed except for people who face isolation or with mental health problems, the health minister said.
Customary winter sales will be postponed and the deadline for submitting tax returns will be extended to 31 March for 2019 business returns and 30 June for 2020 returns, Bettel said.
A list of shops deemed to be essential and non-essential will be released shortly, Bettel said. Education Minister Claude Meisch will offer further details on schools later this week, he said.
Meanwhile, the first health workers in Luxembourg will be vaccinated beginning next week after the European Medicines Agency on Monday approved the treatment developed by US-based Pfizer Inc. and Germany's BioNTech, Bettel said.
The chair of the agency's pandemic taskforce said it was "very likely" the vaccine would protect against the mutated strain of Covid-19 spreading in the UK.
"Even if we don't have yet full confirmation, it is very likely that the vaccine will retain protection and also against this new variant," Marco Cavaleri said at a press conference after the EMA recommended the clearance.
---
The Luxembourg Times has a brand-new LinkedIn page, follow us here! Get the Luxembourg Times delivered to your inbox twice a day. Sign up for your free newsletters here.