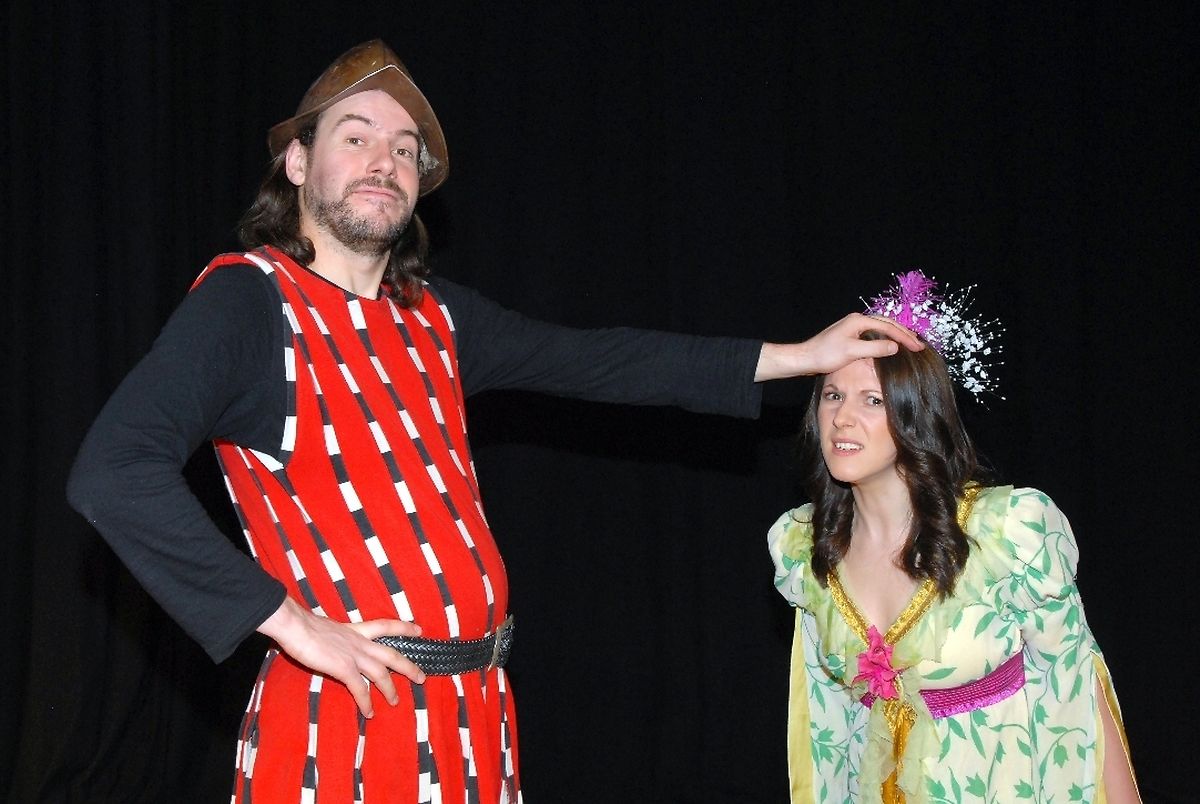 By Erik Abbott
On July 1, TNT Theatre Britain returned to Luxembourg's Chateau de Bourglinster to present Shakespeare's The Taming of the Shrew as part of the American Drama Group Europe's 2013 'Castle Tour'.
The enthusiastic audience was greeted with beautiful weather for an outdoor performance and a boisterous rendition of what has often been deemed a problematic comedy. TNT's Shrew met the concerns head on and mostly overcame them.
Well executed formula
Seasoned TNT audience members likely know what to expect from a TNT production: a large play brought to life by a somewhat small cast (in this case, six actors playing at least twice as many characters) utilising inventive physicality, original music and deceptively simple-looking sets. The formula is well executed here. Shrew lends itself to a broad style of physical comedy and the chosen Commedia dell 'arte style cleverly augmented Shakespeare's repartee.
The play itself is early Shakespeare and is structured as a play-within-a-play. A drunkard, Sly, falls asleep in a tavern and dreams of Petruchio, a soldier, and his most unwilling bride, Katharina, or Kate, as she is known. Kate's father, a nobleman of Padua named Baptista, has two daughters. The younger, Bianca, is sought in marriage by two suitors, Hortensio and Gremio, but Baptista declares that Bianca shall not marry until the strong-willed and bad-tempered Kate is.
Hortensio and Gremio plot to find a husband for Kate so that they can complete for Bianca's hand. Meanwhile, a student, Lucentio, has arrived in Padua and, upon seeing her, falls instantly in love with Bianca. He and Hortensio pose as tutors to woo her, a contest eventually won by Lucentio. Hortensio convinces Petruchio, whose fortune has been lost in battle at sea, to marry Kate for her large dowry. Petruchio agrees, claiming that he can 'tame' her, and proceeds to break her spirit and turn her into an unquestioningly obedient wife with a series of cruel manipulations, threats and punishments.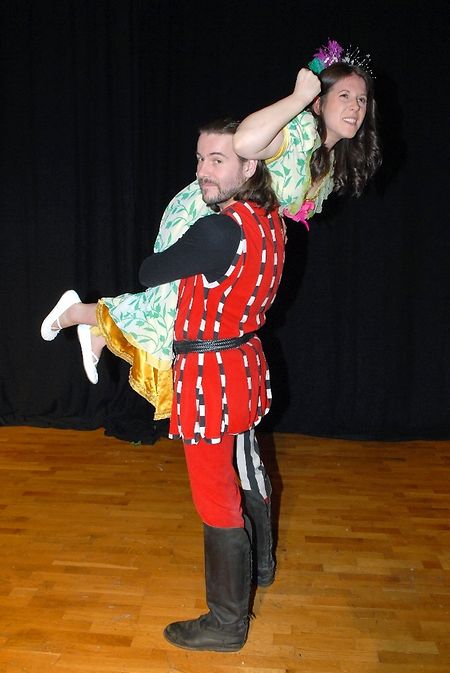 Play in a pub
TNT and director Paul Stebbings placed the opening scene (called the 'Induction') with Sly in a modern pub, a conceit that worked very well and served to draw the production's needed comparison between the worlds of the play and the audience. A very funny Dan Wilder, in character as the drunken Sly, mingled with the audience before the show, trading wisecracks and making gentle comic mayhem. His transformation into Petruchio was assured and often hilarious, as he proved to be as skilled at physical comedy as with Shakespeare's words.
Stacey Devonport's Kate was a worthy and charming foe. Her outbursts before being 'tamed' were spirited and funny and she ably conveyed the transition from sparring partner to subservient one. Kate's 'taming' can be heart-breaking to watch, but Devonport's portrayal tempered it with a comic flair that she maintained through to the end.
It is the central plot element of Petruchio's abusive behaviour towards Kate that makes Shrew a problem for many. It is difficult at best not to view it as an intensely sexist and misogynistic play.
Contemporary productions often attempt to neutralise or avoid these issues—or comment on them by casting them in a heavily ironic light. TNT, as Stebbings explains in his Director's notes, does not make any such effort. The production instead envisions the play in a world besieged by constant war, a world in which violence and misogyny and sexism are omnipresent—a world not so very different than our own.
Commedia influences
This bleak backdrop then is shown through a comedic lens, with heavy doses of Commedia shaping the humour. Some characters wear long-nosed Commedia masks and employ the form's exaggerated postures and movements. The physical comedy is broad and often very slapstick. There are non-Shakespearean asides tossed out to the audience. These elements combine to make a fast-paced, highly enjoyable, very funny evening. The misogyny and sexism and cruelty do not vanish and the audience does not ignore it, but the heightened style and exaggerated humour allows some leave to laugh in spite of the very unfunny circumstances being portrayed.
Stebbings writes, 'The play casts its spell even today because we have learnt nothing,' and this production mostly succeeds in proving those words true. The militarism and sense of a world at war does not come across perhaps as strongly as it might to make the point more fully. The outrageousness of Petruchio's behaviour is perhaps not framed as being quite as over-the-top as it might be, but these are minor criticisms for a production that largely succeeds on the terms it sets for itself.
The cast is uniformly strong. In addition to Wilder and Devonport, Miriam Swainsbury was a properly winsome Bianca and Andrew Goddard an amusing and blustering Hortensio. George McLean as the smitten Lucentio was a delight to watch and Richard Clodfelter was terrific as Baptista and, all too briefly, in a riotously funny turn as the widow. Arno Scholtz's deceptively simple set provided a flexible backdrop with seemingly endless permutations and John Kenny's music (sung a capella) added both melody and, at times, humour.
All in all, a solid evening of theatre under the skies—funny, thought-provoking and finely crafted.